Although to date only four women's colleges have implemented inclusive transgender policies, it is a topic on the forefront at numerous campuses. As the public conversation evolves—with a Time magazine cover featuring Laverne Cox, a best-selling autobiography by Janet Mock and unapologetic characters on popular television series—women's colleges are examining issues of gender identity and who belongs at a women's college in the 21st century.
Campus policies at major schools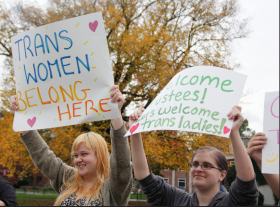 In February, the board at Bryn Mawr College PA revised guidelines for undergraduate admission. Trans women and intersex individuals who live and identify as women at the time of application join applicants who were "assigned female at birth" in the applicant pool. Trans men who were assigned female at birth but subsequently have taken medical and/or legal steps to identify as male are not eligible for admission.
Women's colleges in the South
While open discussion and decisive steps toward inclusion are being taken at schools on the East and West Coasts, the discussion is less prevalent in the South. Bennett College NC, Spelman College GA and Mary Baldwin College VA all declined interview requests.
Patty O'Toole, dean of students at Hollins University VA, did reply to questions and provide the college's policy on transgender issues. Trans men need not apply, and those who transition while a student "will be helped to transfer to another institution since conferral of a Hollins degree will be limited to those who are women."
Trans men are considered trans if they self-identify and take either medical or legal steps to identify as male. Trans women will be considered for admissions if they have completed physical sexual reassignment surgery and legal transformation from male to female.
Mills CollegeCA, the first women's college in the United States to develop a formal admissions policy regarding transgender and transition ing applicants, admits trans men. The only people specifically excluded are individuals who were born male and identify as male. Brian O'Rourke, vice president for enrollment management at Mills, says with the decision last year the board of trustees also reaffirmed the school's identity as a women's college.
"This was not intended to be a first step in the coeducation conversation, but rather a need for a policy to clarify the experience for students we already had interested in Mills," says O'Rourke. "It fits our mission and our identity."
Right from the start of the admissions process, however, it is made clear to trans men that Mills is a women's college. While they will be identified by the pronoun they request—be it he or gender neutral— they should know that classroom examples are often women-centric.
"They are coming to a campus with an environment that is very proud to be a women's college," O'Rourke says. "We want to have the conversation with them to make sure that they are comfortable with the fit and understand the environment as a women's college."
Other institutions, such as Barnard College NY, are having in-depth discussions about creating and implementing new admissions policies. Barnard held a series of town hall meetings in January and February for students, alumnae, faculty, staff and parents—even one virtual for those not residing near campus—to discuss the development of a policy. The board of trustees will meet again for further discussions with an eye toward creating a policy by the end of the spring semester.
"I believe one of the goals of a higher education, as a whole, is to foster conversation around a variety of topics and different trains of thought/points of view. Freedom of expression and thought are important. With that comes different opinions, and people may agree to disagree," says O'Toole.
Conversations are beginning at some institutions in the South and being avoided at others, but the avoidance cannot go on indefinitely. Dr. Tonya M. Williams, assistant professor of political science at Johnson C. Smith University NC in Charlotte, says single-sex institutions have to address the needs of their communities.
"Black trans people live where black people live," says Williams. "While they may have been invisible or marginalized, they'll want to have their aspirations in higher education addressed in historically black colleges and universities."
Why choose a women's college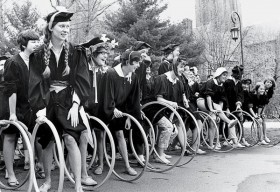 If there is a question of why transgender women and men are seeking admission to women's colleges, Dr. Moya Bailey, a postdoctoral fellow at Northeastern University MA, says it's a natural fit.
"If you think about the history of what women's colleges are actually trying to achieve, there's a way to incorporate that definition and broaden it so that it includes all people who are gender marginalized in some capacity," says Bailey, a graduate of Spelman whose doctorate is in women's studies. "I would want anyone who wants that experience and feels that they have a place in the space of a women's college to be able to experience it."
As women's colleges debate, develop and implement inclusive policies for transgender students, they must consider the details for such policies—from housing to health services to the use of gender-specific pronouns. Colleges avoiding public discussion may be considering issues behind closed doors, hearing the concerns of students already on campus or communicating with students desirous of attending.
Establishing and enforcing policies
For Mills College NC, the first women's college in the United States to develop a formal admissions policy regarding transgender and transitioning students, it was a two- year process leading up to the board's approval in May 2014.
Despite careful consideration and legal vetting, it is still a learning curve when it comes to implementation. Brian O'Rourke, vice
president for enrollment management, says housing wasn't an issue at Mills because there already were gender-neutral dormitory floors
as well as housing for males in the college's coed graduate programs. However, converting facilities such as restrooms and locker rooms will take place over time and cost money.
A bigger issue was how to implement information regarding gender pronouns. Training was conducted with the office of student life as well as admissions staff on appropriate use of pronouns. There is a system that adds to class rosters at the beginning of each semester information on preferred names and preferred gender pronouns. The school is still fine-tuning details on how to list someone's name on a diploma who may have gone through a gender transition but not yet legally had a name change.
Listening to the students

In recognition of the fact that some small details are very important to the students involved, Mills' administration is trying to establish guidelines as quickly as possible.
O'Rourke says the students at Mills are very much activists. The same can probably be said at virtually every college engaging in conversations about transgender issues— either official or unofficial—about the admissions policy and policies pertaining to currently enrolled students.
"The pressure is going to come from the student body that the institutions become more inclusionary," says Dr. Tonya M. Williams, assistant professor of political science at Johnson C. Smith University NC, a coed institution. "There's a larger issue about how people's identities and presentations are policed by their institutions. That also has been addressed by people who may be gender nonconforming."
Shane Windmeyer, co-founder and executive director of Campus Pride, says that students have propelled many transgender-inclusive discussions, which puts undue pressure on students.
"[Institutions] expect the trans students to come forward and say, 'We're having this problem,' 'I was harassed' or 'I was physically assaulted,'" says Windmeyer. "The same has been true for LGB [lesbian, gay and bisexual] populations in the past. Definitely, today you see—regardless of whether it's a women's college or coed—the schools are not being proactive. Rather, they are reactionary in their trans inclusion and waiting for students to initiate the conversation."
Schools must also take action, not just students
"That's why the trans-inclusive policies of the women's schools are important," Windmeyer adds. "That's why at an institution, involvement with athletics, fraternities and sororities, all the organizations and services provided that are male or female or binary focused around men or women, we need policies to be inclusive of trans students who are trans women or who are trans men.
"The women's colleges that have these policies in place, they know it's not the future, it's the present." Windmeyer says the women's colleges that have established or will soon establish inclusive transgender policies are propelling action from the top and hopefully motivating other institutions to take the onus off students and onto administration. He hopes that women's colleges will engage in meaningful dialogues with other women's colleges as well as coed schools to create a learning environment where all students can academically succeed.
In a statement about Bryn Mawr College's new inclusive policy, board chair Arlene Gibson said the mission of the college is educating women to be future leaders. The college's president, Dr. Kim Cassidy, noted in her statement that the board's decision reflected an awareness that gender is fluid and traditional notions of gender identity and expression are restrictive.
Bryn Mawr's board created a working group in September 2014 to review transgender inclusion. Crucial to the new policies is retaining Bryn Mawr's identity as a women's college, which includes the use of language that affirms the institutional identity. While the admissions policy excludes applicants assigned female at birth who have taken medical or legal steps to identify as male, students already enrolled who transition will be welcome to remain. Both Gibson and Dr. Cassidy wrote letters to the public that noted all students will continue to be valued and supported members of the community, regardless of gender-identity shifts. Such welcoming policies may ultimately impact higher education in a larger picture.
"All institutions must do something to accommodate different gender nonconforming people," says Williams, who includes LGBT issues in her political teaching. "That's one of the things that I can appreciate about working at an institution like Johnson C. Smith because it creates a circumstance where students can be free to learn, feel safe and really actualize their entire selves without the fear of harassment and intimidation or that their presentations or genders are policed by the institution."
Lois Elfman is an award-winning writer and editor who often focuses on higher education. She has examined complex contemporary issues, including the enduring value of arts education and LGBT inclusion in college sports, for publications such as Diverse: Issues in Higher Education and HBCU Digest.
Reprinted with permission from Women in Higher Education.