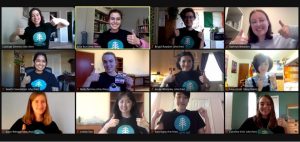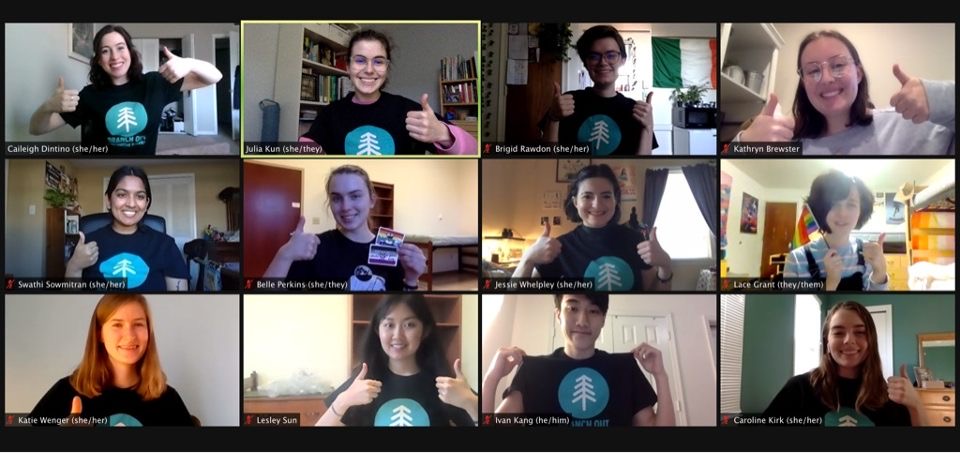 During the last week before spring semester began, 13 students from the College of William & Mary participated in an Alternative-Alternative Break with Campus Pride. Hoping to learn more about how to create a safe space for LGBT+ students on our campus, we were excited to volunteer our time with one of our 2021 service partners, Campus Pride, whose focus is creating a safer college environment for LGBTQ students.
Because we were working virtually this year, during the first morning of the trip we hopped on a Zoom call with Tom Elliott, Campus Pride's Board Chair, to learn more about the founding of the organization and the programs that Campus Pride has, including Camp Pride and the Campus Pride Index. We were surprised by the score that the Campus Pride index rated William & Mary. Seeing this rating and watching videos from the organization's Campus Spotlight Youtube series encouraged us to brainstorm about what makes a campus inclusive and how other college campuses have engaged with their LGBTQ+ student base in order to make their campus more open and accepting. One quote that particularly stood out to us was, "Community is not proximity but the effort you put into it."
After that, we watched a webinar by Robyn Ochs about the struggles and stigma that many bisexuals face and how we can challenge those stigmas. Once we finished watching this webinar, we got the chance to ask Robyn questions about how to be more accepting and inclusive of our bisexual peers. After a quick lunch break, we got to work on our individual service projects.
During the afternoon, we continued our individual projects which included watching Safe Space and Stop the Hate training videos and creating Kahoot games about those videos that would serve as a quiz and refresher to future trainees. While one group was doing that, another group was uploading queer history profiles to the Campus Pride website. This was an activity that we quite enjoyed, as it gave us an opportunity to learn about LGBTQ+ figures that we had previously known nothing about. 
The next morning, we watched a webinar by Dr. Genny Beemyn about trans inclusion and had a Q&A with them once we finished. We learned about the experiences of transgender people in healthcare and how to use trans-inclusive language in our day-to-day lives. After lunch, we worked on a data cleaning project in which we made sure that all names on a list of donors were accurate and correctly formatted. In addition to this, some of the William & Mary students made videos to support Campus Pride's "Send a Love Note to the LGBTQ Community" fundraising campaign. 
Saturday morning, we once again met with Shane to discuss the state of higher education for LGBTQ+ people. We got to ask questions about how anti-LGBTQ+ prejudices affect the mental health and academic success of LGBTQ+ college students. After this Q&A session, we did our final evening of service. One project that we found particularly insightful was one in which we came up with questions to ask LGBTQ+ college alumni about their experiences and what advice they would have for us. Another project that allowed us to gain awareness of university policies that impact the LGBTQ+ community was an activity in which we researched the policies that different universities have in place to protect their transgender and nonbinary students from discrimination. 
When our alternative break weekend came to an end, we had learned so much and were ready to get to work in our community, making William & Mary more inclusive with the tools we had gained from partnering with so many of the amazing staff members at Campus Pride.