World AIDS Day Google+ Hangout hosted by Campus Pride & AIDS United Dec 1 at 4pm EDT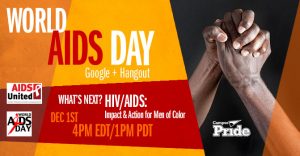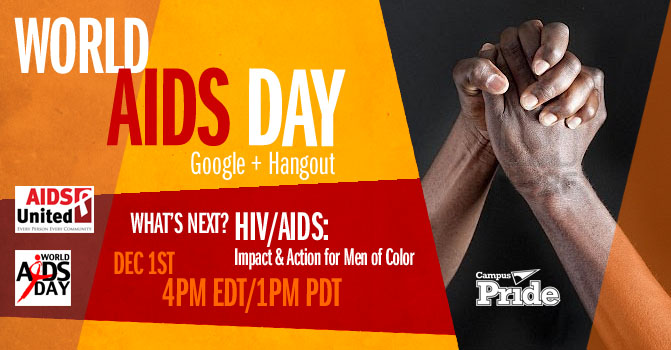 Join Campus Pride and AIDS United on World AIDS Day December 1 in a Live Google+ Hangout discussing HIV/AIDS from "Impact to Action" at 4 p.m. EDT. This discussion will be specifically geared toward our future work and necessary actions for young men of color. Statistics tell us that men who have sex with men, gay and bisexual men are more severely affected by HIV than any other group in the United States. Among all gay and bisexual men, black/African American gay and bisexual men bear a disproportionate burden of HIV. The focus will be addressing for/by men of color what more is needed in terms of prevention, education, treatment, awareness, etc.
World AIDS Day is held on 1 December each year and is an opportunity for people worldwide to unite in the fight against HIV, show their support for people living with HIV and to commemorate people who have died. World AIDS Day was the first ever global health day and the first one was held in 1988.
Panelists include:
Justin Lofton, AIDS/HIV Educator, Macomb, MS
Francisco White, EPY Peer Navigator, Regional AIDS Interfaith Network, Charlotte, NC
Jonathan Green, UNC Greensboro, Greensboro, NC
Brandon King, Elite Project, Birmingham, AL
Warren Radebe, Johnson C. Smith University, Charlotte, NC
Yolo Robinson, Capacity Building Assistance (CBA) trainer at AIDS United
Romeo Jackson, Moderator, Campus Pride, Northern Illinois University, DeKalb, IL
Campus Pride is the leading national educational organization for LGBTQ and ally college students and campus groups building future leaders and safer, more LGBTQ-friendly colleges and universities. The organization provides resources and services to thousands of college students and nearly 1400 campuses annually. Learn more online at campuspride.org.