Campus Pride is proud to announce the 2017 Summer Fellow joining the Charlotte office. The Campus Pride Summer Fellowship Program provides college students with learning experience around campus organizing and social justice issues. Summer Fellows have many opportunities to observe and participate in substantive work and develop resources to support student leaders across the United States.
The Campus Pride Fellowship Program started in 2012 with Jess McDonald, Elon University. The program continues to grow and we are excited to welcome Elizabeth Ponds to the Campus Pride office.
Learn more about her below: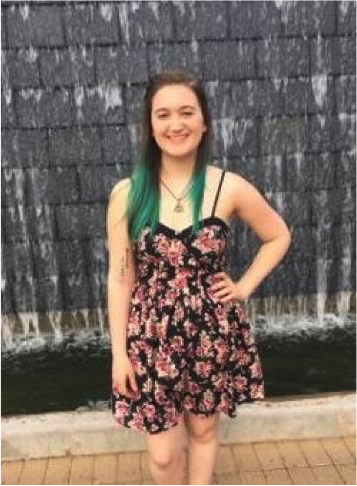 Elizabeth Ponds (she/her/hers) is a 21-year-old biromantic, asexual female who just graduated from Winthrop University in Rock Hill, SC.
She received a Bachelor's degree in English – Creative Writing with a minor in International Studies. She made the most of her three years at Winthrop by joining Winthrop's LGBTQ organization GLoBAL, editing and writing for Winthrop's newspaper The Johnsonian, and studying abroad in Ireland for a semester.
As a senior at Winthrop, Elizabeth was president of GLoBAL. She worked to create a supportive, intellectual environment for LGBTQ students in weekly meetings while raising awareness of lesser known LGBTQ issues and identities through educational events like a Queer People of Color panel, an Asexual and Aromantic panel, an Intersectionality panel, and Transgender Talks. Through working with her fellow queer folk, Elizabeth has realized her love of listening to people's diverse stories and helping them work through difficulties on their way to self-love and empowerment.
Because of this, she plans to get her master's in counseling and then work with LGBTQ youth through high schools or nonprofit organizations. As a creative writer, she is passionate about the power of literature to effect social justice, so publishing her creative nonfiction stories is a future goal as well. She is overjoyed to have the opportunity to work with Campus Pride this summer so that she can develop her activism and leadership skills while she learns how a nonprofit really works.
Learn more about becoming a Campus Pride Summer Fellow and about previous Summer Fellows.
Campus Pride is the leading national educational organization for LGBTQ and ally college students and campus groups building future leaders and safer, more LGBTQ-friendly colleges and universities. The organization provides resources and services to thousands of college students and nearly 1400 campuses annually. Learn more online at CampusPride.org.