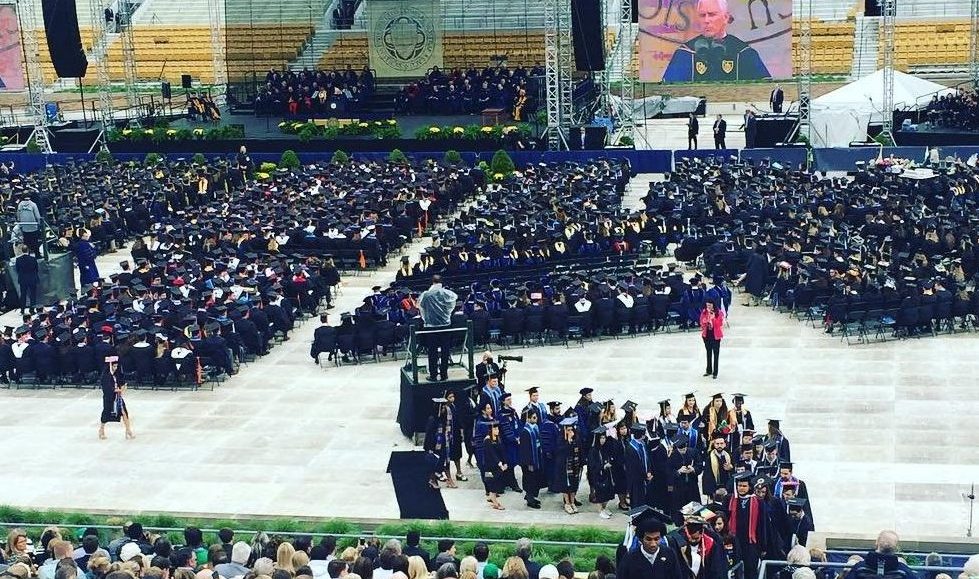 College graduation is a milestone. For this year's graduating class at Notre Dame however, it was a political statement. Vice President Mike Pence was chosen as the commencement speaker and received an honorary degree at the ceremony on Sunday, May 21. In response, members of the graduating class staged a walk-out to show their solidarity with those in their community who are affected by the Vice President's policies.
"Campus Pride commends the actions of the Notre Dame graduating class to stand up against bias and discrimination in all its forms," said Shane Windmeyer, Executive Director of Campus Pride. "The walkout by over 100 of the graduating students sends a strong message that the next generation of leaders will not tolerate anyone in this country being left behind."
Before Pence was sworn in as the 48th Vice President, he made waves as a United States Congressman, a Member of the House of Representatives and as Governor of Indiana. Pence spoke out in favor of a constitutional amendment that would define marriage as between a man and a woman. He fought against the pro-choice movement and signed into law a religious freedom bill which targeted the LGBTQ population.
In addition, the Vice President continues to advocate and push forward the polarizing polices of the Trump Administration including the repeal and replacement of the Affordable Care Act which jeopardizes millions of American's losing healthcare.
Campus Pride strives to irradiate discrimination against LGBTQ persons.  The organization tweeted on Sunday support for the actions of Notre Dame students and shared a video of the walk-out on social media.
"By standing up for what is right and pushing for social change, Notre Dame is standing up and together we can build a coalition of future advocates for equality and fairness," Windmeyer said.
Campus Pride is the leading national educational organization for LGBTQ and ally college students and campus groups building future leaders and safer, more LGBTQ-friendly colleges and universities. The organization provides resources and services to thousands of college students and nearly 1400 campuses annually. Learn more online at campuspride.org.