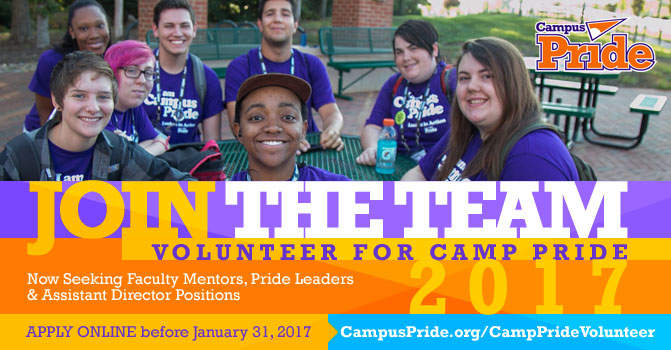 Join the Campus Pride Team this Summer 2017!
The following opportunities are for any individual interested in volunteering in a  leadership capacity for the Camp Pride Summer Leadership Academy which includes Camp Pride & the Advisor Academy.  There are three types of roles available for volunteers: Faculty Mentor, Pride Leader and a new opportunity as Camp Pride Assistant Director. Please read carefully along with the applicable deadlines.
Any questions please email Shane Windmeyer, the Executive Director of Campus Pride at shane@campuspride.org.  Thank you for your support of Campus Pride!
CAMP PRIDE ASSISTANT DIRECTOR – 
NEW OPPORTUNITY 
Application Deadline: January 31, 2017
Camp Pride Assistant Director Application  – Apply Now
___________________________
CAMP PRIDE FACULTY MENTOR & PRIDE LEADER
Application Deadline:

January 31, 2017
If you have never served as a Faculty Mentor or Pride Leader, please use the following forms for the role you are applying for:
New Pride Leader Application – Apply Now 
New Faculty Mentor Application – Apply Now 
If you have served as a Faculty Mentor or Pride Leader in a prior year, please use this form to apply:
Returner Faculty Mentor and Pride Leader Application – Apply Now