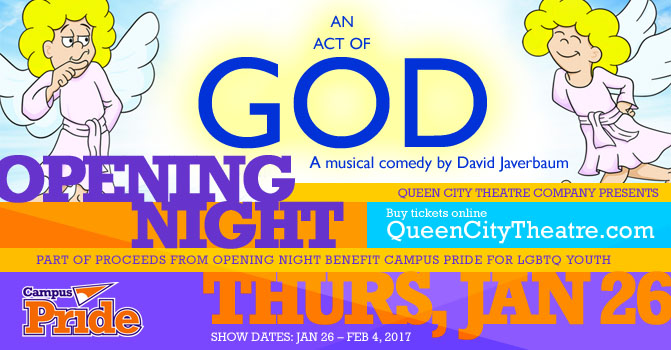 Help support Campus Pride by purchasing tickets to the comedy "An Act of God"  for opening night, January 26th at 8:00pm
Part of the production's proceeds will go toward Campus Pride on opening night only.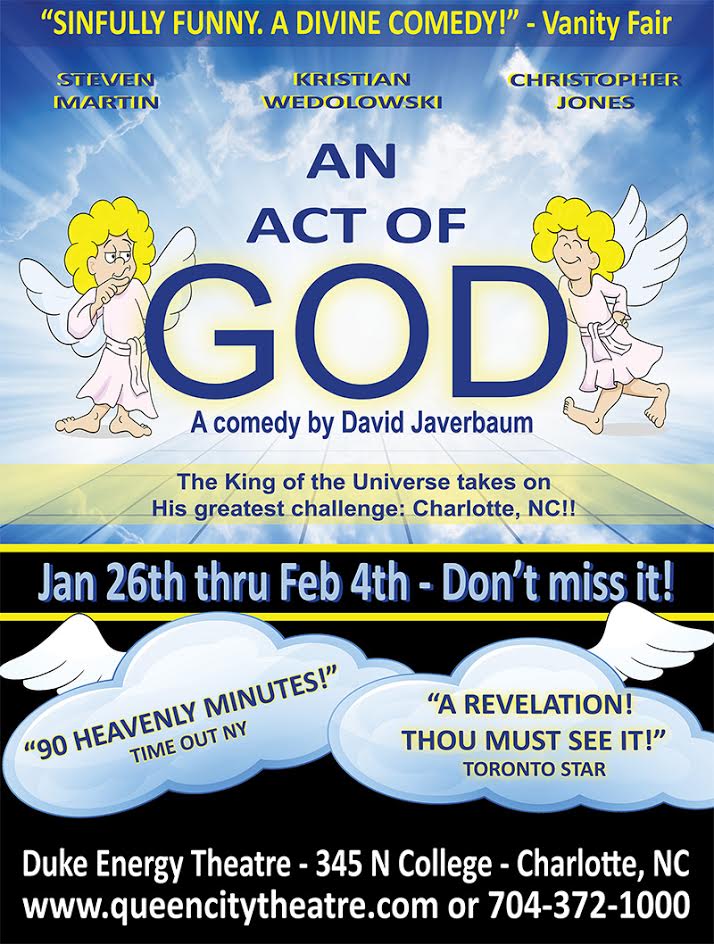 The Queen City Theatre production of An Act of God is the local premier of the Broadway hit written by 13 times Emmy award winner David Javerbaum. In the comedic 90-minute play based on a satirical book and Twitter account, God explains the mysteries of the Bible and universe with a few of his chosen saints. With hilarious wit and charm He delivers a new set of Commandments and answers some of the greatest existential questions of our time. It is not a show to be missed!
Starring in this highly anticipated production are local actors Kristian Wedolowski, Steven Martin, and Christopher Jones, and it is under the direction of Glenn. T Griffin.
The critics are saying:
"Sinfully funny. A divine comedy"- Vanity Fair
"It's most remarkable and inspiring! I can't describe it. You'll have to see it for yourselves." – James Lipton from Inside the Actors' Studio
"Deliriously funny! It's John Stewart funny plus Stephen Colbert funny!" – The New York Times
BUY TICKETS ONLINE at  QueenCityTheatre.com
Come out and support both Queen City Theatre Company in their 10th season and Campus Pride's wonderful cause!
Campus Pride is the leading national educational organization for LGBTQ and ally college students and campus groups building future leaders and safer, more LGBTQ-friendly colleges and universities. The organization provides resources and services to thousands of college students and nearly 1400 campuses annually. Learn more online at CampusPride.org.