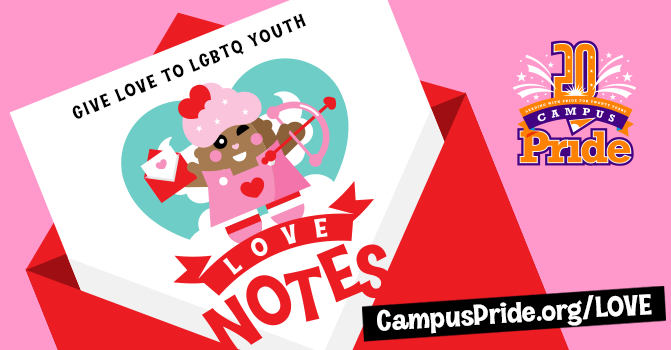 Love

 it or hate it, Valentine's Day is just around the corner!

What better opportunity to show your love for the work our LGBTQ leaders are doing than by sending a love letter to the students, faculty, staff, and administrators who make up the Campus Pride community?
As the COVID-19 pandemic continues to limit in-person activities on campuses across the country, LGBTQ students are feeling isolated and alone. Your love note tells a student that you care about them, their well-being, their health, and their future.
We are working every day to connect LGBTQ students to the larger Campus Pride community, through our innovative programs including Camp Pride, our Safe Space trainings, Lavender Graduation, and virtual events.
But nothing makes someone feel more connected on Valentine's Day than getting a valentine – so send one today to tell a student that they matter!