Ready to start an LGBTQ and ally student organization on campus? Start with these tips
by Isabel Williams, College of Charleston
LGBTQ and ally student groups can serve a very important function on campus and in the lives of students. The philosophy and purpose of such a group can take many forms, but most serve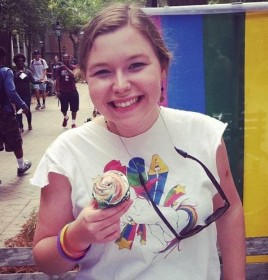 as a safe space for LGBTQ and ally students to share their experiences with each other and meet other LGBTQ and ally identified students in a social environment. This function allows students in varying stages of the coming out or identifying process to support each other through fun, friendship, and understanding.
Keep in mind that sometimes the most outgoing, confident, and open LGBTQ and ally people may have experienced periods of doubt, fear, shame, anger, or isolation during their journey. When individuals find safe environments and a place in a community, many can overcome these obstacles and come out stronger on the other side.
A student group can be that first point of contact for students during the coming-out process. That being said, managing an LGBTQ and ally student group does carry the responsibility of managing a group of people who may be in very different places in their lives and have different needs. Therefore, whether your group focuses on support during coming-out processes, functions as a social group, works together as an activist group, or provides educational programming that is relevant to LGBTQ and ally students, the goals and purposes or your group need to be made clear to potential members and to your administration. Often your group may serve a combination of these functions but they may need to be addressed on a more strategic basis such as rotating the function of weekly meetings during the month.
Start Up:
Learn from example: How are leaders of your campus student groups running their organizations? Contact your Student Government, Administration,Campus Activities Board, Student Life Office, find proper procedure for creating a new group. This may require you to collect signatures or some other evidence that students would want and benefit from your group. Many institutions  require student organizations to complete an application and/or training session for new officers. In a addition to a specified number of members it may be required to have a certain number or specific officer positions such as president and treasurer. Another component of many campuses procedure is to have a faculty or staff advisor for your group so think about who on your campus would be best suited to fill this role. Some institutions ask student groups to submit their constitution before they can be formally recognized.
Campus relationships are key: Forge relationships with your school's Multicultural Services, Health Services, Student Affairs, or Student Government Department. Finding advisors and allies can help make the process of establishing a new group much smoother.
What's your mission and vision? Gather students who support your cause and create a mission statement, vision statement and list of core values for your group. This will be the best building blocks for writing your constitution and bylaws.
Build:
Understand mental heath needs: Work with other departments on your campus like Health Services and Counseling Services to build a partnership where your group can be referred to by professionals in these departments. Protecting the best interests of your members requires understanding about the limits of the group or of individuals ability to deal with serious concerns. For example, while respectfully listening to your peers can be very meaningful for them if you learned that a student may be at risk for harming themselves or others you need to have a plan in place about who else to contact.
Information about outside resources could be advertised regularly at meetings so members did not have to come forward with a sensitive issue in order to find the care they need.
Maintain:
Self-care is crucial: Don't stretch yourself too thin. As an officer or organizer in any student group you must practice effective self care in order to be your best for your whole group. Failing your classes or pulling all nighters, will result in a cranky, overworked student leader, who frankly isn't a model leader at all. Balance is key! Delegate, delegate, delegate to a team of students who are organized, responsible, and care about the good of the group.
Remain inclusive: Student organizations are in a world of their own between a group of friends and a formal workplace. In the long run you could be really glad that you have sacrificed exclusive jokes and actions in order to make the group more comfortable. Of course student groups serve the important function of connecting students as friends and possibly romantic partners, however maintaining an atmosphere of inclusion and one that is drama-free (or at least drama-light) does an organization good.  Bullying and cliques can destroy a positive and supportive environment for all members.
Have Fun! LGBTQ and Ally Student group meetings and events can be the highlight of someone's week, month or year! Creating positive prideful memories with your group makes your hard work totally worth it.


Good Luck! Share your success, photos & memories with Campus Pride!   Tweet at us on Twitter @CampusPride or email us your photos at info@campuspride.org – who knows we may feature YOU and highlight your campus!

Isabel Williams is a 2014 Summer Fellow at Campus Pride. She is a rising senior at the College of Charleston studying Political Science. Isabel is the Student Organizer for College of Charleston's SafeZone program and the president of the Gay-Straight Alliance. Learn more about Isabel