by Allison Marie Turner
LGBTQ students at Tribal Colleges and Universities (TCUs) face many different challenges than those at other colleges and universities. This resource highlights efforts involving TCUs and concerns regarding the LGBTQ climate.
Current Climate
There are few specific resources for LGBTQ students at TCUs. We R Native and the Native Youth Sexual Health Network are excellent starting points for Native LGBTQ students and their TCUs. The website includes books, films, and specific information on native LGBTQ identities, such as the two-spirit community.
TCUs throughout the country are committed to creating inclusive policies for LGBTQ people. Below are examples of some non-discrimination policies used at TCUs. This list does not include every TCU committed to creating inclusive policies for LGBTQ students, but provides some excellent examples:
Institute of American Indian Arts Equal Opportunity Policy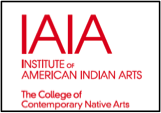 Under Public Law 99-498, IAIA applies Indian Preference within the limits of its Indian Preference Policy. The Institute of American Indian Arts provides equal opportunity in education, activities, admission, scholarships, and employment. IAIA subscribes to all federal regulations relating to non-discrimination based upon sex, race, color, national origin, age, religion, sexual orientation, or disability. 2015 web source

Southwestern Indian Polytechnic Institute's Policy Statements Regarding Application for Admissions Anti-Harassment
It is the policy of SIPI to prevent and eliminate forms of unlawful harassment in employment and educational settings. SIPI prohibits harassment of people on the basis of race, color, religion, national origin, physical or mental disability, age, gender, sexual orientation, ancestry, medical condition or other protected status. SIPI is committed to creating and maintaining an atmosphere free from all forms of harassment.
SIPI is committed to providing equal educational opportunities and forbids unlawful discrimination on the basis of color, religion, physical or mental disability, age, gender, sexual orientation, ancestry, or medical condition. Equal educational opportunity includes admission, recruitment, extracurricular programs and activities, and housing. Sourced directly from the 2013-2015 SIPI Catalog

Tohono O'odham Community College Non-Discrimination Policy
The Tohono O'odham Community College (TOCC) is committed to the policy that all persons shall have equal access to its programs, facilities, and employment opportunities. We provide educational opportunities for all area residents, and we encourage all members of the community to utilize programs offered at the College in order to promote Tohono O'odham's him dag (culture) and to strengthen families and communities.
TOCC admits students of any race, color, and national origin or ethnic origin to all of the rights, privileges, programs, and activities made available to students of the College. TOCC does not discriminate on the basis of race, color, or national or ethnic origin in the administration of its educational policies, scholarship and loan programs, or athletic and other school-administered programs.
One of the goals of the College is to recruit highly qualified faculty and staff who are dedicated to the art of teaching, advising, and service specifically to the Tohono O'odham community. We are committed to not discriminating in recruitment on the basis of race, creed, color, religion, national origin, sex, age, sexual orientation, marital status, ancestry, disability, or veteran status. We are equally committed to providing employment opportunities for members of the Tohono O'odham Nation as part of the Nation-building goals of the College in accordance with Section 7.10 of the College Charter. 2015 web source
TCU LGBTQ and Ally Organizations
Below is a listing of TCUs and their respective LGBTQ organization. If you know of a college or university that has an LGBTQ organization that is not on this list, please add the information to the Campus Pride Map and also e-mail info@campuspride.org.
| | |
| --- | --- |
| College or University | Name of Organization |
| Diné College, Tsaile, Arizona | Gay Straight Alliance |
| Fond du Lac Tribal and Community College, Cloquet, Minnesota | Two Spirit Association |
| Southwestern Indian Polytechnic Institute, Albuquerque, New Mexico | Gay Straight Alliance |
A Look to the Future
As we look to the future, Campus Pride is committed to having hopefully more TCUs with active LGBTQ organizations, more LGBTQ events, and to have greater involvement with tools like the Campus Pride Index to benchmark LGBTQ-inclusive policies, programs, and practices.
Further Resources
Allison Marie Turner is an alumnus of the University of North Carolina at Chapel Hill, where she studied journalism and mass communication and women's and gender studies. She is a 2015 Summer Fellow for Campus Pride. Follow her on Twitter @amturner1993.