by Karen M. Williamsen-Garvey and Steve Wisener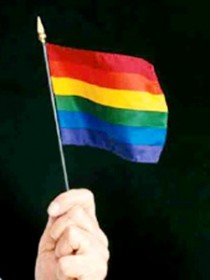 WHERE ONE LIVES is among the biggest areas of concern for LGBTQ college and university students. The basic need for safety and security in student housing is particularly intense for LGBTQ students. Because of the vast diversity in the LGBTQ student community, it can be tricky for those who oversee campus housing to address the myriad concerns and needs from LGBTQ students. The following list of eight steps provides practical guidance to help you begin to improve or reevaluate your campus housing for LGBTQ students.
1. HOUSING STAFF – The foundation for any good housing program is its staff. From front line student staff to the people in the central office who make the decisions, these people have direct impact on the overall climate for LGBTQ students living in campus housing. Because of this, it's imperative that you are intentional in your recruiting, hiring, and training to ensure that staff at all levels are willing and able to deal with issues of sexual orientation and gender identity/expression.
When recruiting and hiring staff, it is important to make an effort to have a staff that consists of   visible role models for all of your student populations, including LGBTQ students. To be able to do this effectively, you must have an open and accepting LGBTQ climate in your housing department so that these potential staff members want to work for you and can be comfortable   being out on the job.
There should be significant training that addresses the needs of LGBTQ students and the available resources in and around your community. Staff need to be comfortable with the issues sounding LGBTQ students before such students move into their buildings and onto their floors. Ongoing training that focuses on issues such as coming out, heterosexism and homophobia, gender diversity, and current social and legal issues, also helps to keep your staff up-to-date with LGBTQ concerns. This also sends a message that you are serious about your support for LGBTQ students.
Nevertheless, you should also work to make sure that live-in graduate and professional LGBTQ staff have the same rights and domestic partner benefits (including health coverage for a partner, allowing a partner to live with them, and allowing a partner to be on the meal plan) that straight employees have access to and are allowed for their loved ones. Having visible same-sex couples who are on staff is just one more way to role model to all of your students.
2. HOUSING POLICIES – Housing policies should include clear language that communicates to LGBTQ students that their needs can and will be addressed by your staff. LGBTQ students need to know that if they have issues surrounding their identity, it's okay to talk to housing staff and that there are policies and procedures in place to address those needs. These policies should be clearly published in all of your publications so that a student never has to wonder if they exist. Examples of such policies that are often LGBTQ applicable include changing roommates, requesting single rooms, and how to get a housing requirement exemption if appropriate campus housing is not available.
A noteworthy caution in writing policies that address LGBTQ students' needs is finding the   balance between having good policies that address the needs, but also flexible enough policies to allow for the diversity of needs that can be present in the LGBTQ community. You don't want   to write a policy that is so firm and specific that it will not allow for exceptions and actually works against the students it's written to support.
3.  HOUSING OPTIONS – The needs of LGBTQ students can be as diverse as the students themselves. Because of this, it's important to have as many campus housing options as possible for LGBTQ students, including:
Single room availability for students who don't feel safe or comfortable living with a member of the same gender.
Housing options that specifically address the needs of LGBTQ students, such as and LGBTQ floor or house.
Gender-neutral housing options. Having housing options where students don't have to be housed according to gender restrictions on rooms and roommates can address concerns for transgender students and LGBTQ students. The more options you have, the more students you canaccommodate.
Private or coed bathroom availability for safety and privacy.
LGBTQ students and other campus populations often find it difficult, if not impossible, for whatever reason, to return home over breaks. If your college offers campus housing over these breaks, make sure there is the possibility for LGBTQ students to access this housing if needed.
4. VISIBLE SYMBOLS OF SUPPORT – LGBTQ students will not know that they are supported unless it is clearly communicated. Early on this an be accomplished through simple steps such as inclusive forms (with gender identity options beyond male or female) and clear information about community standards and LGBTQ support on the housing Website and in general brochures. Throughout the year support can be made visible in a number of possible ways including:
Displaying LGBTQ resource or event posters or Ally or Safe Space/Zone stickers.
Placing LGBTQ programming in the halls or planning a floor activity to go to an LGBTQ event together.
Providing surveys and other assessment tools inclusive or climate questions for LGBTQ issues.
Students will be watching to see if housing staff are supportive and whether it is safe to come out. Other students will also be watching to see what kind of behavior is expected and appropriate in the regard. Visible symbols of support can go a long way in creating an LGBTQ-  welcoming living environment.
5. COMMUNITY STANDARDS – Most housing programs have a list of community standards that they expect their communities and residents to support and uphold. Another way to ensure this support for LGBTQ students is to make sure that sexual orientation and gender identity/expression are included in any standard or language addressing the acceptance and/or appreciation of diversity and freedom from harassment.
6. NETWORK – As housing professionals it can be very easy to be all consumed by the hustle and bustle of residential life. But to best support all students, it is very important to create a positive collegial network on campus. This means knowing who works where and making it a priority to attend other events. Students notice who shows up where, and housing staff will be able to communicate support very clearly just by showing up to an LGBTQ event.
7. DOCUMENTATION AND FOLLOW-UP – No one wants discrimination or harassment on their campus. But ignoring these instances doesn't make them disappear. When housing staff document and respond to graffiti, hate speech, or other instances of discrimination, it helps to create an environment where this behavior is not tolerated. An effective response is also a way to prevent future bias from happening.
Procedures for reporting incidents should be clear and readily accessed by all students. Students, especially LGBTQ, should know what and how to report bias and discrimination in all its forms. Housing staff should also receive training in responding to these reports and on supporting individuals who are affected by the harassment. Appropriate follow-up may also include a facilitated community discussion on the effects of the harassment. Helping students communicate to each other-including how the harassment has affected them can be very educational. Housing staff, as a result of their role on campus, can be the best resource for helping students interrupt anti-LGBTQ behavior and actions.
8. BE THE CAMPUS ROLE MODEL – When students feel comfortable in their home they are better prepared to succeed academically and elsewhere on campus. Campus housing offices have a major impact on the lives of LGBTQ students, and have the opportunity to serve as positive role models for other campus offices in offering support to this population of students.