Queer History 101 is an ongoing blog series by Campus Pride to elevate the stories of LGBTQ activists and advocates who you may never have known, or never knew were LGBTQ in life. This series will explore these important LGBTQ historical figures, their life and accomplishments.  In this edition of Queer History 101, learn about homeless youth advocate Ali Forney.
_____________________________________________________________________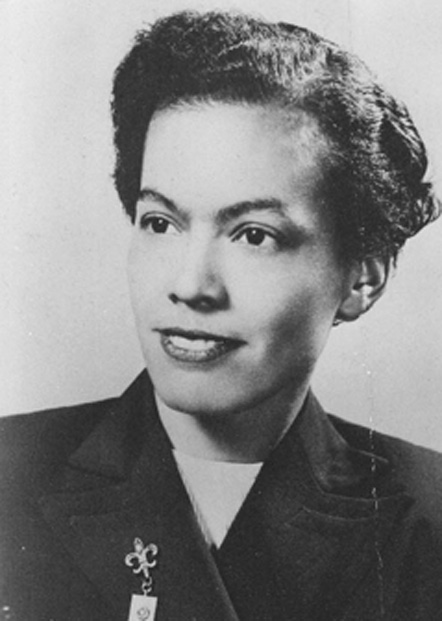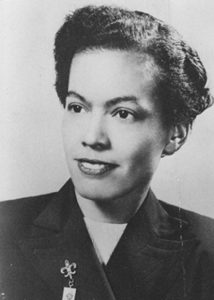 Dr. Pauli Murray is one of the most important legal scholars that most people have never heard of. A pioneer in intersectionality (before the word was even coined), Murray addressed the ways her blackness, spirituality, feminism and queerness came together.
Murray was a North Carolinian; she moved in with her aunt in Durham at a young age and graduated from Hillside High School in 1926.  She attended Hunter College in New York, but did not finish her studies due to the Wall Street Crash of 1929. She began to work as a teacher through the Works Projects Administration (WPA), and became involved in the Civil Rights Movement. She often used her position in the movement to call out the marginalized role Black women had in society, and also called out the marginalization of Black women within the Civil Rights Movement.
In 1938, she petitioned the University of North Carolina, then an all-white school, to allow her to attend classes. While she did not achieve her goal, she set the stage for future Black students to enter the school, which finally happened 13 years after Murray's petition. She went on to complete school at Howard University, where she felt unique oppression that drew from her gender and race. She named this phenomenon "Jane Crow," and later in life co-authored a paper called "Jane Crow and the Law" in 1964.
She went on to graduate valedictorian from Howard University, and earned the prestigious Rosenwald Fellowship to go toward her law degree. She was rejected from Harvard on the basis of her gender, despite listing Harvard as her first choice on her fellowship application. Instead, she earned her law degree from the University of California Boalt School of Law. After graduating, Murray had many achievements, including being California's first Black deputy attorney general, the first Black person to earn a Doctor of Juridical Science from Yale Law School, a co-founder of the National Organization for Women (NOW), and a professor at Brandeis University.
Due to the times, not much is known about Murray's sexuality or gender identity. It is known that she presented as masculine-of-center during her life, changing her birth name to a more gender-neutral "Pauli" during her early 20s. She had long-term romantic relationships with women throughout her life, calling her short marriage to a man as a "grave mistake." Dr. Brittney Cooper, an assistant professor at Rutgers University, has researched Murray's personal letters to others, and believes that Murray might have identified as a trans man, if the terminology were available to her at the time, and if nonconforming genders were not seen as a mental illness during her life. It is documented that she asked asked a doctor for testosterone injections early in her life (Ordover 109). During her activism, she worked closely with other LGBTQ people of color, including Bayard Rustin.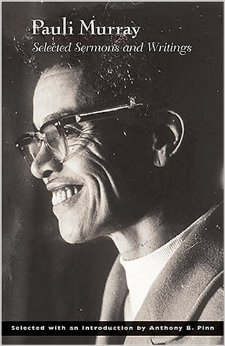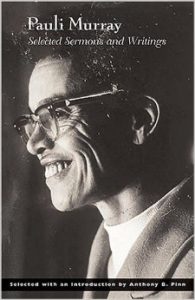 Murray was also a deeply spiritual person, and entered New York's General Theological Seminary at the age of 62. She was ordained in 1977, and celebrated her first Holy Eucharist at the Chapel of the Cross in Chapel Hill, NC. This was a significant location for Murray, as her grandmother was baptised in this same church as a slave.
A famous sermon of hers is as follows:
It was my destiny to be the descendant of slave owners as well as slaves, to be of mixed ancestry, to be biologically and psychologically integrated in a world where the separation of the races was upheld by the Supreme Court of the United States as the fundamental law of our Southland. My entire life's quest has been for spiritual integration, and this quest has led me ultimately to Christ, in whom there is no East or West, no North or South, no Black or White, no Red or Yellow, no Jew or Gentile, no Islam or Buddhist, no Baptist, Methodist, Episcopalian, or Roman Catholic, no male or female. There is no Black Christ, no White Christ, no Red Christ – although these images may have transitory cultural value. There is only Christ, the spirit of love.
Murray died in 1985, and her legacy as a legal scholar, feminist, civil rights activist, priest and queer person lives on. The Pauli Murray Center for History and Social Justice, located in Murray's childhood home in Durham N.C., continues her legacy of discussing the need for intersectional activism and serving the community.
You can celebrate the life of Dr. Pauli Murray and continue her life's work by learning about intersectionality and applying it to the activist work that you do. You can donate to the Pauli Murray Center for History and Social Justice, or create a fundraising event to teach your community about her work and contribute the proceeds to the Center.
References:
Ordover, Nancy. "Homosexuality and the Bio/Psych Merge." American Eugenics: Race, Queer Anatomy, and the Science of Nationalism. Minneapolis: U of Minnesota, 2003. 109. Print.
Campus Pride freelance writer Allison Marie Turner, an alumnus of the University of North Carolina at Chapel Hill, contributed to this article. Follow her on Twitter @amturner1993.
Campus Pride is the leading national educational organization for LGBTQ and ally college students and campus groups building future leaders and safer, more LGBTQ-friendly colleges and universities. The organization provides resources and services to thousands of college students and nearly 1400 campuses annually. Learn more online at CampusPride.org.