OpEd: Why we need a pride-filled Juneteenth
By Jerry St. Louis, Campus Pride intern
The history of Juneteenth
On January 1, 1863, President Abraham Lincoln issued the Emancipation Proclamation. Lincoln proclaimed that he was to free "all persons held as slaves," but it wasn't until June 19, 1865, that the last enslaved African Americans, located in Galveston, Texas, were notified that they were finally free. Today, Galveston is now best known as the birthplace of Juneteenth, and we celebrate the freedom of the last enslaved people every year on June 19. 
The following year, freedmen in Texas organized the first celebration of what later became known as Juneteenth. In subsequent years, Juneteenth was revered and celebrated as a day of liberation. However, this "liberation" was short-lived due to the implementation of Jim Crow laws in the United States South. Although the emancipated were freed from formal slavery, they still had not reached complete liberation.  
The importance of community
The Black community refused to allow those Jim Crow laws to get in our way. In true resilient form, the community came together and erected 107 Historically Black Colleges and Universities (HBCUs) and cultivated thriving communities, like the African American-founded Greenwood District of Tulsa, Oklahoma. Tulsa's "Black Wall Street" flourished as a Black economy, until the massacre in 1921. These stories are often hidden from American history books, adding to the knowledge gap in our shared history. For many years, Black communities and HBCUs were some of the few places where Juneteenth was acknowledged.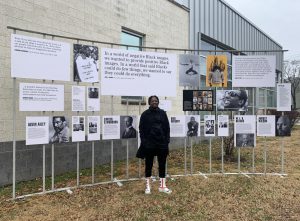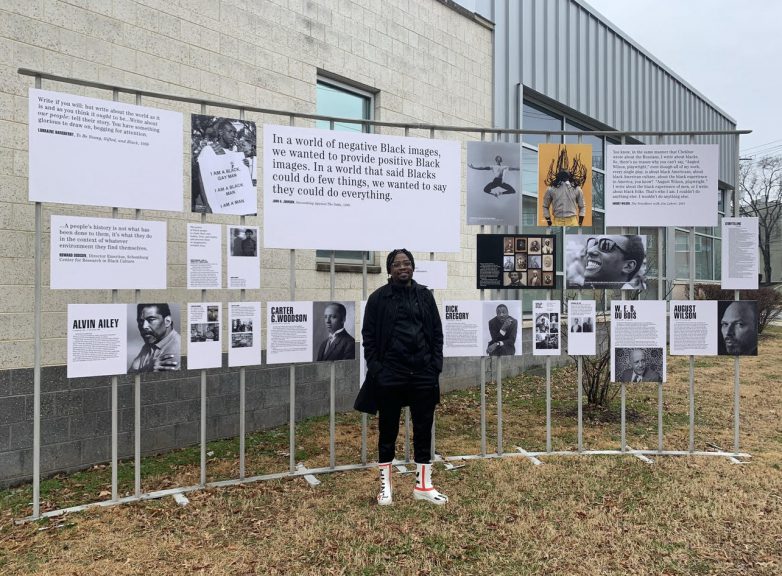 Today, we see Juneteenth celebrated through parades, barbecues, live music and art. On Tuesday, June 15, the U.S. Senate passed a bill that recognizes Juneteenth as a federal holiday commemorating the end of slavery in the United States. Some see it as a good start, but I think there is more work to be done.
Elevating Black LGBTQ voices
As a Black queer man, I often think about liberation and freedom. I find myself lost in books by James Baldwin, who was one of the first black gay men and to write from a black gay perspective. In his many works, like The Fire Next Time, Baldwin speaks on his experiences with racial injustice in America. To honor Juneteenth, we should celebrate by acknowledging the contributions made by those that led the way before us and educate others about these Black LGBTQ trailblazers. 
I acknowledge and uplift the voices of trans* men and women who fought against racism, sexism and homophobia. I honor activists like Stonewall's Marsha P. Johnson and Bayard Rustin, Civil Rights Movement leader, by sharing their stories and continuing the fight.   
The modern holiday of Juneteenth places emphasis on teaching African American heritage, and it's important that we retell a history that includes LGBTQ folx. This Juneteenth and Pride Month, I remember those who fought for the duality of our existence. 
Happy Juneteenth!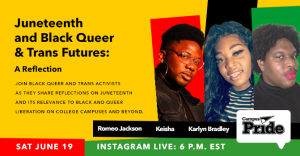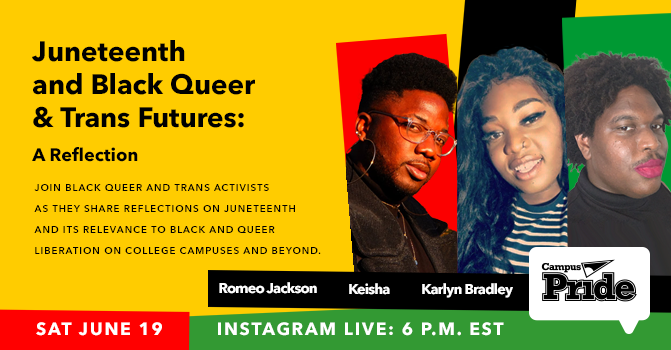 Juneteenth and Black Queer & Trans Futures: A Reflection 
Today, Saturday, June 19, join Romeo Jackson and other Black queer and trans activists as they share their reflections on Juneteenth and its connections to Black queer liberation on college campuses. Starting at 3 p.m. PST/6 p.m. EST, attendees can watch the IG Live on Campus Pride's Instagram. Learn more about Romeo Jackson, Campus Pride alumnus, and their work in intersectional justice and higher education.
# # #
ABOUT CAMPUS PRIDE
Since 2001, Campus Pride has been the leading national organization building future LGBTQ and ally leaders as well as creating safer communities at colleges and universities. The Campus Pride Index annually helps 80,000 people find LGBTQ-inclusive colleges and universities.  In addition, the organization has specifically tailored programs and resources to support LGBTQ youth and campus communities. Learn more at CampusPride.org.