Transgender Day of Remembrance is November 20, 2014 – Take action now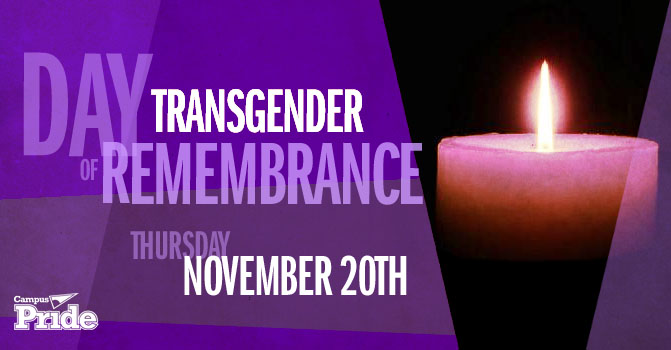 Transgender Day of Remembrance has been established to honor and remember those who have been killed as a result of transphobic and anti-trans hate or prejudice. Every year vigils, events and special gatherings are held to honor these lost voices. On November 28th, 1998 Rita Hester was murdered in a cold case which sparked "Remembering Our Dead" in San Francisco in 1999 which inspired events years after and evolving into TDOR.
Take Action Today:
Transgender Day of Remembrance website
Visit the TDOR website and learn more about what the day stands for and how to best support it.
Find a local event
There are events being held across the nation, on college campuses and in your community to honor this day. Get involved by finding where you can participate.
Activate campus organizing
Organize events on campus this month using the Campus Pride Speakers Bureau and trans resources.
Join the conversation online
MTV and Logo TV are hosting a special Twitter chat at 12 noon featuring Mara Keisling, Alok Vaid-Menon and Daniella Carter. Follow the conversation at #TDORchat.
Campus Pride is the leading national educational organization for LGBTQ and ally college students and campus groups building future leaders and safer, more LGBTQ-friendly colleges and universities. The organization provides resources and services to thousands of college students and nearly 1400 campuses annually. Learn more online at campuspride.org.