Recent controversial administrative changes by Florida Governor Ron DeSantis on the campus raise concerns over continued safety and support for LGBTQ+ students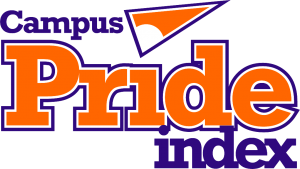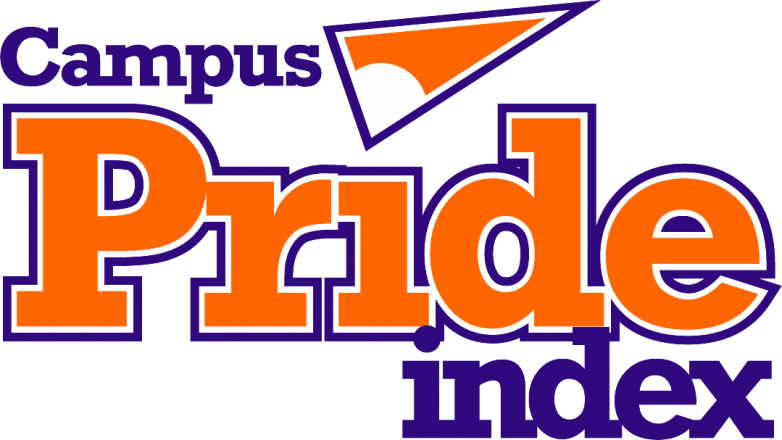 CHARLOTTE, N.C., March 8, 2023 — Dramatic and contentious administrative changes at New College of Florida prompted Campus Pride to remove New College of Florida from its Campus Pride Index (CPI), which rates colleges and universities on a range of LGBTQ-friendly policies, programs and practices. 
Based on the voluntary self-assessment completed in 2022, New College of Florida earned a rating of 3 out of 5 stars on the CPI. This score was based on the reporting LGBTQ-friendly policies, programs and practices, such as a non-discrimination statement inclusive of sexual orientation and gender identity/expression, faculty and staff training on sexual orientation and gender identity, LGBTQ-specific major and course offerings, and an LGBTQ & ally student organization.  
On January 31, the New College Board of Trustees—with six of its 13 members appointed only weeks earlier by Florida Governor Ron DeSantis—voted to remove college president Dr. Patricia Okker, a former dean and professor of English, as part of what Okker called a "hostile takeover." Richard Corcoran, a former state education commissioner and Republican speaker of the Florida House of Representatives, was selected as interim president. The new board also set an agenda to consider proposals to abolish DEI (diversity, equity and inclusion) offices and end mandatory diversity training, mandatory diversity statements, and identity-based preferences. Meanwhile, Governor DeSantis is backing Florida HB 999, which would ban college spending on DEI, give control over curriculum to appointed boards of trustees, and eliminate majors in Critical Race Theory, Gender Studies, or Intersectionality.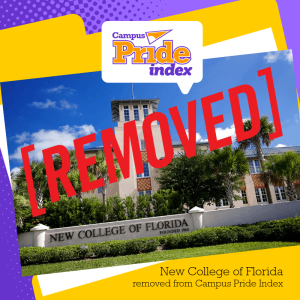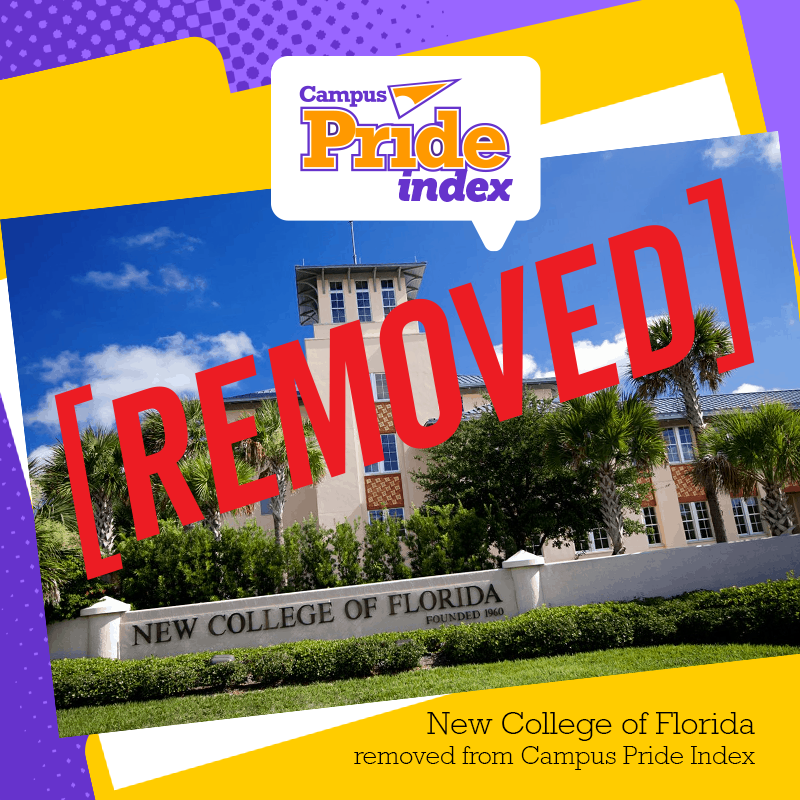 "The Campus Pride Index is the most reliable resource for LGBTQ+ inclusion within higher education. We cannot allow information that is no longer accurate, or highly credible based on these controversial changes to the campus administration, to be part of our trusted resource. This 'hostile takeover,' as it has been characterized, brings into question the current 3 star rating.  In addition, these egregious actions by Governor Ron DeSantis concerning Florida's colleges and universities—and particularly New College of Florida—represent attempts to stifle free thought and reverse years of progress to recognize the rights, history and contributions of LGBTQ+ people. These actions raise grave concerns about the safety and well-being of LGBTQ+ students at New College," said Campus Pride Founder, CEO and Executive Director Shane Mendez Windmeyer.
Campus Pride has decided to remove New College of Florida from the CPI until a representative of the college completes a new self-evaluation that reflects the current status of its LGBTQ-friendly policies, programs and practices. The CPI is an overall indicator of institutional commitment to LGBTQ-inclusive policy, program and practice. A new self-evaluation can be submitted at any time. Learn more at CampusPrideIndex.org
"Campus Pride supports the LGBTQ+ students as well as faculty and staff that are working hard to maintain the LGBTQ+ progress at New College of Florida. The campus has been a safe haven for LGBTQ+ students in Florida and still currently has young adults who are worried for their safety and future on campus. We are here to assist and support you," Windmeyer said. 
# # # 
ABOUT CAMPUS PRIDE
Since 2001, Campus Pride has been the leading national organization dedicated to building future LGBTQ+ leaders and creating safer communities at colleges and universities. Learn more at CampusPride.org or view the full listing of LGBTQ-friendly colleges and universities at CampusPrideIndex.org.