Early Registration Discount Available Through April 15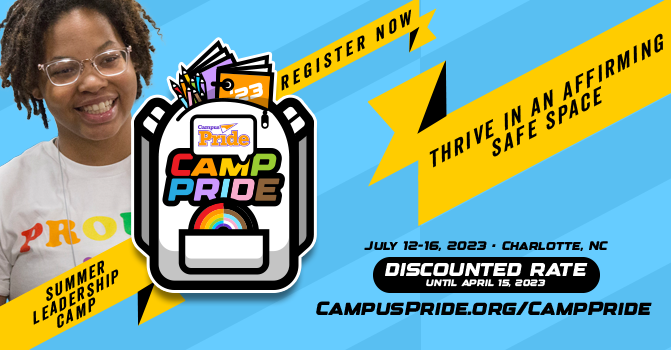 CHARLOTTE, N.C., March 14, 2023  — Registration is open for Camp Pride, the nation's premiere LGBTQ+ leadership academy for college students. An early registration discount of $250 is available through April 15.
Since 2007, LGBTQ+ college students have gathered at Camp Pride to develop campus organizing, social justice and leadership skills. Each year, students come from a wide range of educational settings—two-year, four-year, rural, southern, minority-serving (HBCU, TCU and HSI) and religiously-affiliated colleges and universities—and from all over the country.
After three years of being held virtually due to the COVID-19 pandemic, the event will be held in person in Charlotte, North Carolina, July 12-16, 2023. The much-anticipated return of the in-person camp will allow students to gather in an affirming safe space where they can build friendships and shared community. 
"With the recent onslaught of anti-LGBTQ legislation, we need spaces where students can find community and learn valuable leadership skills, now more than ever. Camp Pride has been that safe space for LGBTQ+ young adult leaders for 17 years," said Campus Pride Founder, CEO and Executive Director Shane Mendez Windmeyer. "Gathering with other LGBTQ+ students to share experiences and advocacy efforts is a transformative experience for many Camp Pride attendees. This year, especially, students need to find support, a deepened sense of belonging and strategize around current issues they face on college campuses."
In addition to the student leadership camp, Camp Pride offers a concurrent Advisor Academy for professionals who work with LGBTQ+ students on campus. The Advisor Academy supports faculty, staff, graduate students and administrators with training in best practices, advising skills, and other ways to actively support students. 
The cost for attending the five-day, four-night event is $1395, which includes lodging and food. The early registration discount reduces the cost to $1145. Campus Pride offers a limited number of full and partial scholarships, which support the aim of drawing a diverse cohort of student leaders and advisors. Those who intend to apply for a scholarship are encouraged to register early. Camp Pride is open to college students who are 18 and older. Graduate students may attend Camp Pride's student leadership camp or the Advisor Academy. Information about both events can be found on the Campus Pride website (CampusPride.org).
# # # 
ABOUT CAMPUS PRIDE
Since 2001, Campus Pride has been the leading national organization dedicated to building future LGBTQ+ leaders and creating safer communities at colleges and universities. Learn more at CampusPride.org.