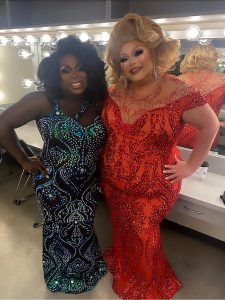 Earlier this year, Campus Pride's founder and executive director Shane Windmeyer (stage name "Buff Faye") competed alongside former Camp Pride leader Danny Thomas (who performs as "Cherry Poppins") for the prestigious title of Miss Gay America 2023- the premiere and longest running drag competition in the world. The two have stayed in touch since Danny's days at Camp Pride, who commented that Buff Faye is "an amazing entertainer, and an amazing person […] it's an honor to compete alongside a person who also uses their platform for change."
Danny first attended Camp Pride in 2009 and returned the next year as a Pride Leader while he was earning his BA in Sociology at Wright State. He has been doing drag since 2008, and performed at Camp Pride both years he attended. We spoke with Cherry Poppins about her experiences with drag and Camp Pride and how camp has influenced her career as a drag queen:
Q: What did you learn at Camp Pride?
A: My learning experience was fantastic! I was able to meet a lot of different people and learn about different identities. It's one thing to learn about gender and sexuality in a classroom, but to be able to interact with those who have different identities than you and truly learn from them is one of a kind. I learned that "a wish bone is nothing without a backbone," meaning if I want change, I can't be afraid of being educated and putting what I've learned to use. Although I was only involved for two years, the experience is one that has truly helped shape me personally and professionally. I work in HIV/AIDS prevention and outreach, where I interact with queer people from all walks of life. Experiences like Camp Pride helped me to know how to make my patients feel safe and cared for without judgment.
Q: What is your favorite memory from Camp Pride?
A: At Camp Pride, I was able to meet so many new people and even make friends who I still keep in contact with today! My favorite memory from camp is being in a restaurant in Dupont Circle where our entire group screamed the lyrics to La Vie Boheme! It was a feeling you had to be there to experience. 
Q: How do you describe Cherry Poppins?
A: Cherry Poppins is an upbeat and soulful entertainer that embraces her culture on and off stage. She stays humble yet confident, and tries to maintain a positive atmosphere. Don't let the kindness fool you, she can read if she needs to- but it's usually with love, LOL!
Q: Why did you compete in Miss Gay America?
A: Miss Gay America is a system that challenged me to be a better version of myself. The sisterhood is unmatched! Even if you don't win, the entertainers you compete with still keep in touch and treat you like family. I highly recommend this system to up and coming entertainers.
Q: Why do you do drag, and what do you hope to accomplish as a drag queen?
A: I do drag for the culture and for my community. I get to create a character that's a more fabulous version of myself. Drag gives me a platform to use my voice for change. I also get to show young entertainers- especially entertainers of color- that no matter how the cards are stacked, you can do and be whatever you want. As a queen, I hope that I leave a legacy that can inspire people. I hope that my voice can help create change for POC and the queer community. I also hope to be Miss Gay America and travel the country doing what I love.
Beginning in 2007, Camp Pride is one of the longest-running LGBTQ+ summer leadership camps for youth across the country and the only one of its kind for college students. Camp Pride is back in person this year and will be July 12-16 at UNC Charlotte. Register here: https://www.campuspride.org/camppride2023