Attending the Charlotte City Council meeting: My journey from being an ally to advocate.
Written by Lindsay Betros, University of South Florida 
Welcome to Charlotte, North Carolina – where you can get married on Sunday, put your wedding picture on your desk on Monday, and get fired for it on Tuesday. This sounds awful, you might think. However, it's possible in Charlotte, because the non-discrimination ordinance has not been updated to reflect protection on the basis of marital status, familial status, sexual orientation, and gender identity and expression. This bill would also reflect public accommodations, which is why it is commonly referred to as the "bathroom bill."
I want to be an attorney, so I sometimes have difficultly deciphering and being able to form emotional connections with legal arguments. For this case, I felt something different. Right now in Charlotte, you can get fired for being who you are. You can be refused a ride home on a late night because of a certain, personal way you feel about yourself. I feel for these individuals. I am an ally to these individuals. I want to become an advocate for these individuals. That's why I had the pleasure of attending the Charlotte City Council meeting last night.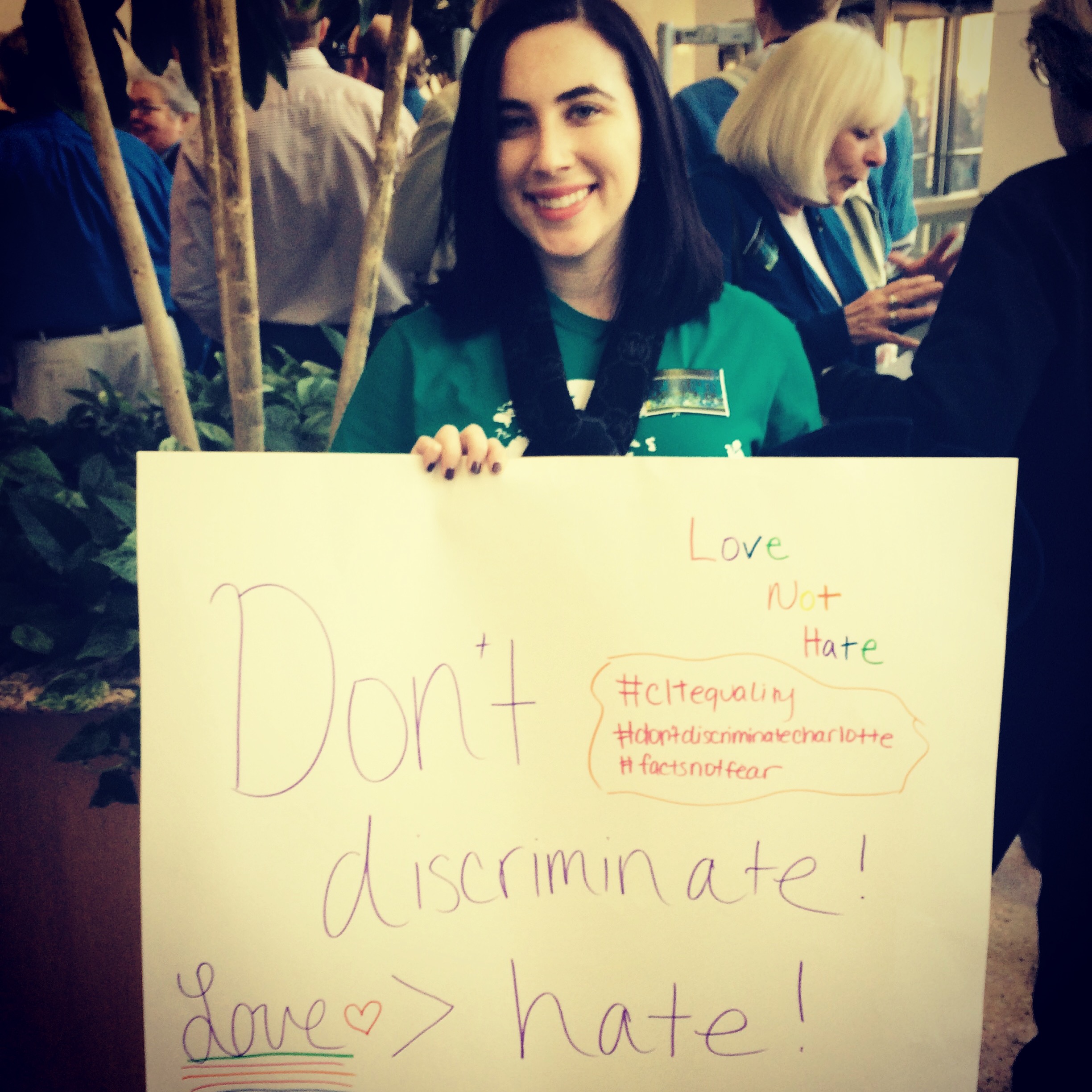 When I walked inside the government building, a wide variety of people were there, each equally passionate about their respective side – either supporting the passing of amending the original non-discrimination ordinance to include the statutes I mentioned above, or urging the council to vote no on this amendment. On the "no" side, I felt an uneasy feeling of hate when I walked into the room with my sign.
It is an uneasy feeling when you have hundreds of sets of eyes on you. However, that didn't stop my journey to becoming an advocate. It only fueled the burning passion that I have for equality and justice for all. Myself, along with my fellow advocates, decided to hold up our signs in the window. This showed to the LGBT community that even if we don't have a fancy microphone, or has-been celebrities that hosted a show, we still had a voice. And we were not going to be silenced.
After hours of waiting, we were finally ready to sit through the 100s of speakers to speak for and against this ordinance. You could tell the room was uneasy. You could see the sweat running off of people's faces. You could feel the fear someone had sitting next to someone from an opposing viewpoint. It was an experience that I had never been through before. Finally, after 6pm, the Mayor started lining up the speakers to talk. Now, I won't go into detail of what everyone said because everyone pretty much repeated the same ideals. It was intriguing, and a bit disturbing on what the opposing side argued. From a legal standpoint, all I could think about when they compared trans women to pedophiles was, "Where is your factually based evidence?!"When a speaker would argue that the ordinance would violate their first amendment right to freedom of religion I thought, "Your religious freedom ends when you use it to legally violate the rights of other tax-paying members of your community."
It was honestly extremely frustrating hearing the lack of a sound argument heard from the opposition. Councilwoman LaWana Mayfield said it best with this ordinance, "I cannot support an amendment that doesn't protect all of our citizens." That statement right there is a sound argument. Equal protection under the law is a right given from the United States Constitution.
I heard many, many moving stories about trans men and women and their families who have been discriminated against for being who they are. I am not transgender, but I feel a strong need to protect them as well. We are all one community, and we need to stick together. That's why when an amendment was added to the ordinance to do away with the "public accommodations" section, our true allies Lawana Mayfield and John Autry held to their values to vote against the amendment. They are true advocates of the LGB and T communities.
Five hours passed, and it was then time for the council to vote. Holding my breath, I watched with anticipation. The final vote count was 6-5. Against. A dark cloud flew over my head as I tried to process this information. After seeing all these tremendous people with their heart wrenching stories and the torment that they have gone through, it turned out for nothing. After I had thought that I proceeded to slap myself in the head. Their speeches today WERE NOT for nothing. If any young person is going through a rough time with their identity, and they heard these wonderful people tell their stories, a life would be saved. I also come to realize that unfortunately in the society we live in, democracy is a slow process that requires many, many tries. You know what this means? It just means that we are going to try even harder than we did before to get that amendment passed with the original language.
When I realized this, I knew that my journey from an ally to an advocate had begun.
Lindsay Betros is a double major in Political Science and International Studies at the University of South Florida. She is the Site Leader for the University of South Florida LGBT Bulls Service breaks, a program that promotes social justice issues all throughout the country. She is a member of the LGBTQ+ community and actively involved in LGBTQ+ issues in her community.