Today is Giving Tuesday — Give back to LGBTQ youth this holiday season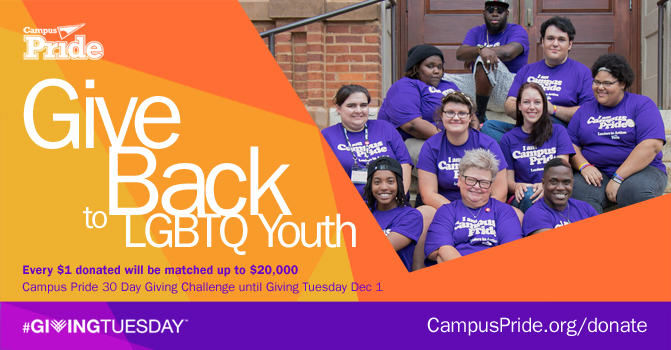 Giving Tuesday is a global initiative to encourage more meaningful spending during the holidays. Campus Pride is participating in Giving Tuesday for the third year in a row since the inception of the movement.
Every dollar raised during Campus Pride's 30 Day Giving Challenge through Giving Tuesday will be matched up to $20,000. Now is the best time to make your end of the year gift of $25, $50, $100 or more. Every dollar counts.
Donations to Campus Pride on Giving Tuesday go to support programs and services directly benefitting LGBTQ students to create safer, more LGBTQ-friendly college campuses and develop student leaders.

---
The work that Campus Pride is doing on campuses all across the country is monumental and life changing for so many students. I wouldn't be the powerful leader that I am today without the support and resources of Campus Pride. They have given me the confidence to believe in myself and the changes that I can make not only on my campus, but in this world.

Today, I am writing to ask you to support and help LGBTQ+ youth by donating to Campus Pride. With a gift of $10, $25, $50, $100, or more, Campus Pride can continue building future leaders and safer communities.

Campus Pride is the leading national educational organization for LGBTQ and ally college students and campus groups building future leaders and safer, more LGBTQ-friendly colleges and universities. The organization provides resources and services to thousands of college students and nearly 1400 campuses annually. Learn more online at CampusPride.org.