LGBTQ equality in the United States has seen dramatic progress in the past decade with such things as marriage equality, the repeal of "Don't Ask, Don't Tell," and steady pushback in certain states against discriminatory laws. There is still much work to be done, however; and particularly for LGBTQ youth, who still face many negative health harms including depression, suicidality and discrimination.
To raise awareness of LGBTQ youth and their negative health harms, the Suzanne Dworak-Peck School of Social Work online program at the University of Southern California started a "Forward Thinking Campaign." After compiling research on LGBTQ youth, they made infographics outlining the increased risks that LGBTQ youth experience compared to other youth. Their infographics illustrate startling statistics that LGBTQ youth face higher rates of depression, suicidal thoughts, HIV, homelessness, and physical violence.  Please help us share and use these infographics on social media.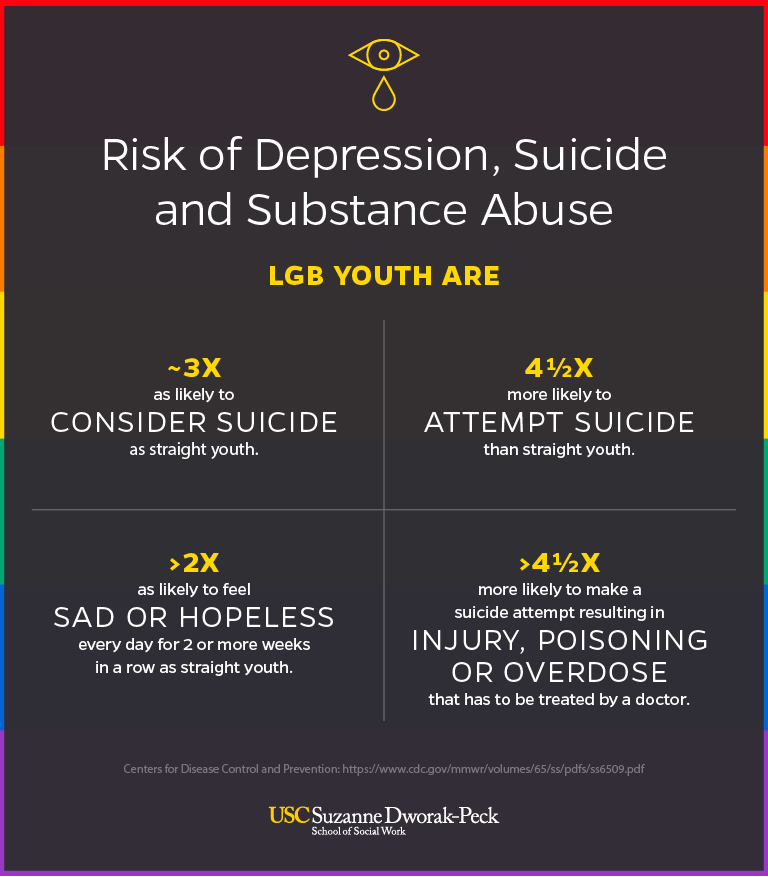 MENTAL HEALTH
The numbers are stark, but the best ways to combat these mental health statistics is for LGBTQ youth to have a supportive environment in their family, community, and overall society.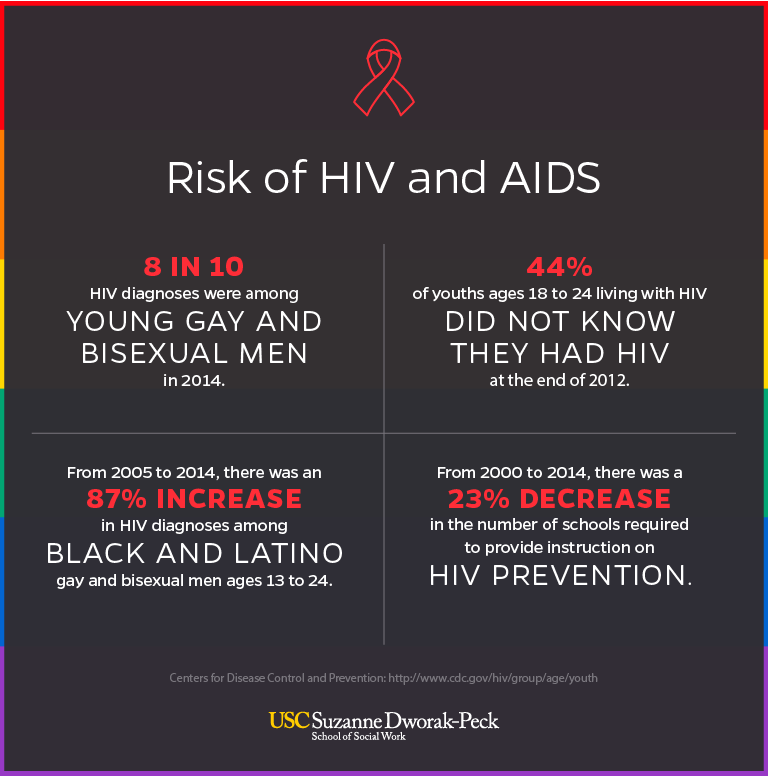 HIV/AIDS
It is unsettling that gay and bisexual men are only 2 percent of the American population while being 62 percent of the 50,000 new HIV infections every year. According to USC, the best solution to this is testing, education, and consistent treatment.
TRANSGENDER YOUTH
Transgender youth in particular face even higher risks of violence, homelessness, mental illness, and HIV than LGB youth. However, there is not nearly as much research done about transgender people as there is about LGB people, which is vital for progress to be made.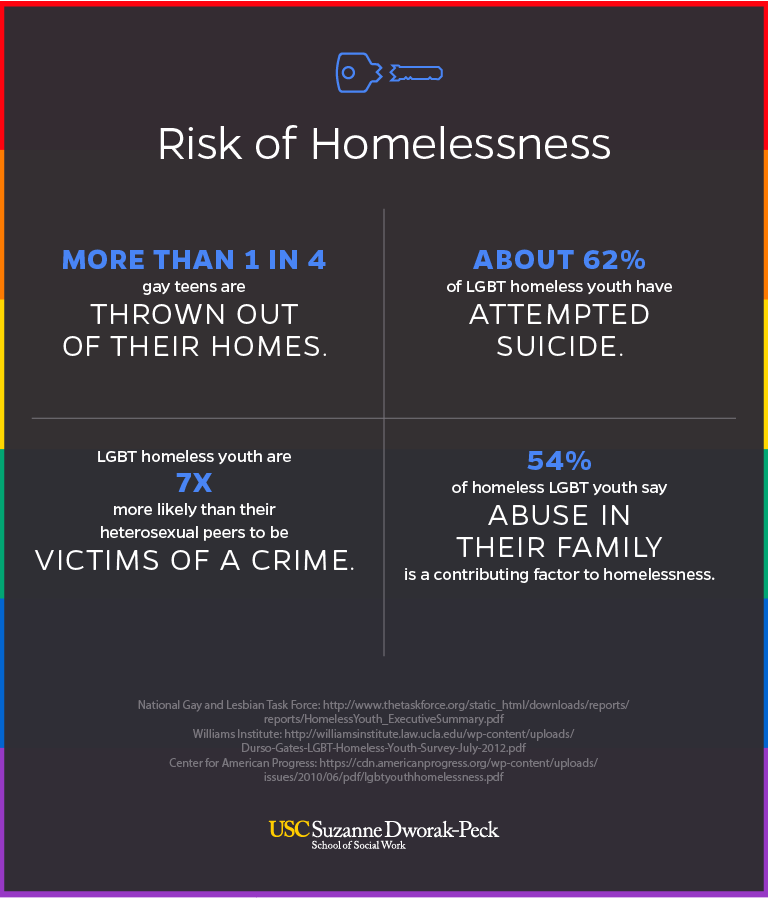 HOMELESSNESS
It is estimated that 40 percent of all homeless youth are LGBTQ, precipitated by familial rejection and made worse by discrimination and abuse in shelters. Transgender people especially have more difficulty because of their gender identity.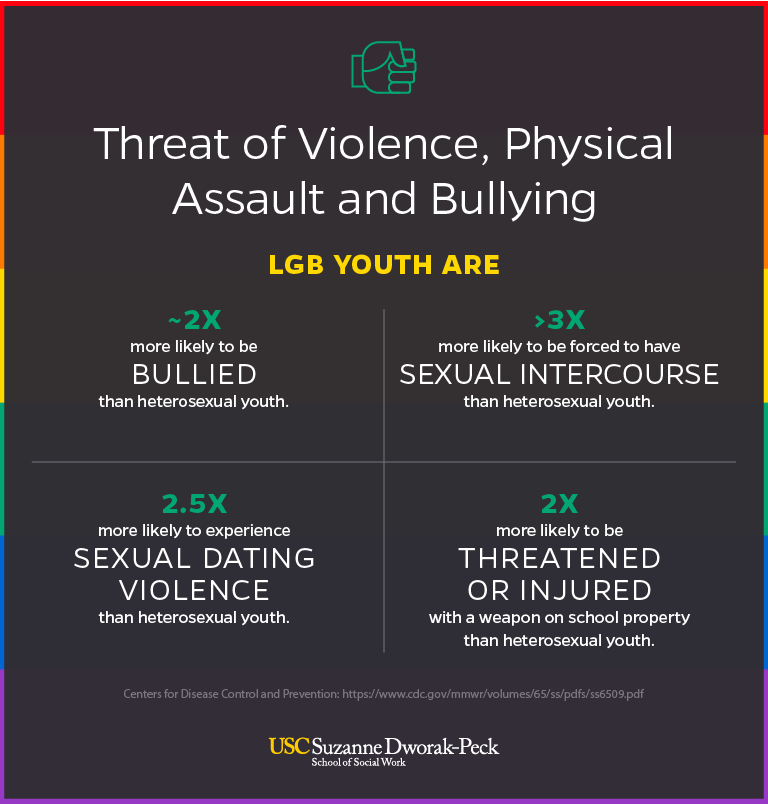 VIOLENCE/BULLYING
The cultural reasons behind violence and discrimination toward LGBTQ people are numerous, violence being most prevalent in workplaces, schools, and public places. Government policies must be changed to put an end to this violence.
Infographics are from the MSW@USC, the USC Suzanne Dworak-Peck School of Social Work's online Master of Social Work program.
Campus Pride is the leading national educational organization for LGBTQ and ally college students and campus groups building future leaders and safer, more LGBTQ-friendly colleges and universities. The organization provides resources and services to thousands of college students and nearly 1400 campuses annually. Learn more online at campuspride.org.