Campus Pride issues a "red alert" warning to prospective LGBTQ+ students and families considering colleges in Florida and Texas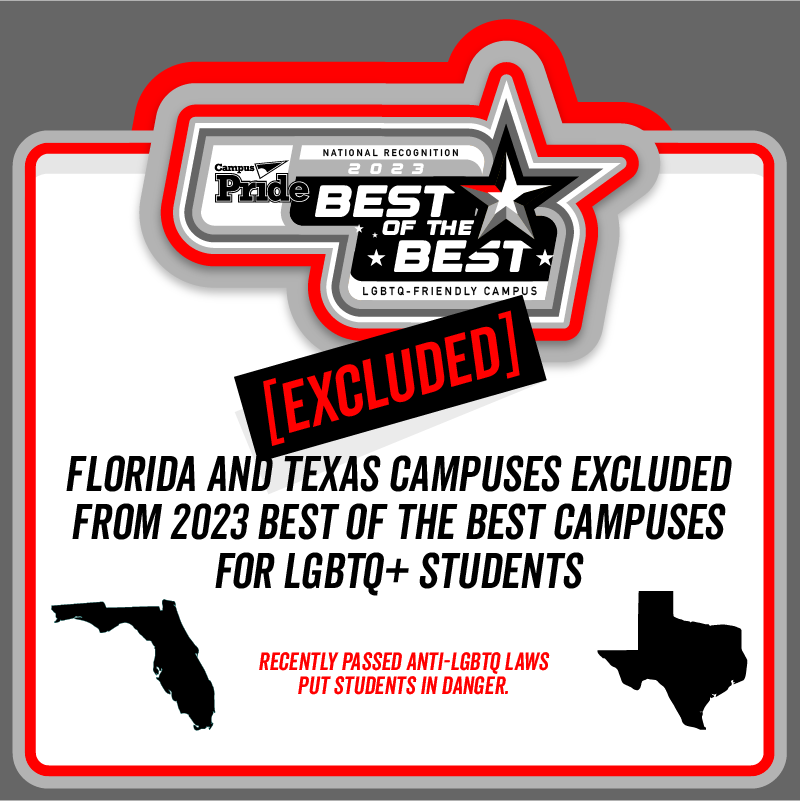 CHARLOTTE, N.C. — Four universities, which were previously honored on Campus Pride's Best of the Best LGBTQ-Friendly Colleges & Universities listing due to their exceptional LGBTQ+ programs and services, are excluded this year. Although they previously earned high ratings by Campus Pride, the campuses — the University of North Florida, the University of Central Florida, the University of Texas at Dallas and Texas Tech University — must abide by new state laws that effectively ban LGBTQ+ inclusion programs and services.
"Campus Pride issues a 'red alert' warning to prospective students and families that the excluded universities' 5 star rating will inevitably go down. New laws in Texas and Florida effectively require colleges and universities in the state to cease LGBTQ+ inclusive programs, services and policies. Students and families must exercise caution in choosing to go to college on any public Florida or Texas campus," said Campus Pride Founder, CEO and Executive Director Shane Mendez Windmeyer. "The new state laws endanger and harm LGBTQ+ people, particularly transgender students, and create hostile and unwelcoming learning environments for all students."
Campus Pride concluded that they could not recommend the excluded universities on the Best of the Best list; however, the four campuses still appear on the Campus Pride Index (CPI) with their respective star ratings, along with others from the two states. The organization anticipates that when colleges update their profiles on the CPI this year, the new restrictions will result in lower ratings for all Florida and Texas colleges and universities.
"It is truly sad, when political leaders use people as pawns," said Manny Velásquez-Paredes, director of the LGBTQ Center at the University of North Florida. "It is clear to every rational human being that diversity, equity, and inclusion are meant to create awareness and embrace, celebrate, and include our differences. However, we have found ourselves in the middle of a political culture war that is meant to divide us. Their attacks on the LGBTQ+ community have been deeply felt this past legislative session, with over 500 anti-LGBTQ+ bills introduced in the US."
"Campus Pride stands by every campus being negatively impacted by anti-LGBTQ+ laws in the states of Florida and Texas. Higher education must instill values of diversity and inclusion in order to create a quality, productive workforce. The classroom must be safe, and create a welcoming academic learning environment," said Windmeyer. "These laws are being weaponized against LGBTQ+ people, needlessly endangering the safety and well-being of students on campuses across the states of Florida and Texas. Already we are hearing from prospective students and families that they are choosing colleges elsewhere."
Campus Pride's 2023 Best of the Best LGBTQ-Friendly College and Universities list includes 30 four-year public and private colleges and universities from around the country. The list is used by college-bound students and families when considering where to pursue higher education and is available online at CampusPride.org/BestoftheBest.
Each institution featured in the Top 30 achieved 5 out of 5 stars, earning 90% or higher on the Campus Pride Index, the premier national benchmarking tool measuring LGBTQ-friendly policies, programs, and practices within higher education. The CPI is visited by over 120,000 prospective students, families/parents and those interested in higher education, each year, with over 95,000 referrals to campuses. The Index features over 240 colleges and universities and is free to the public; it can be accessed at CampusPrideIndex.org.
Information about Campus Pride's decision regarding the Florida and Texas campuses can be found online at CampusPride.org/LGBTQharm.
---
ABOUT CAMPUS PRIDE
Since 2001, Campus Pride has been the leading national organization dedicated to building future LGBTQ and ally leaders and creating safer communities at colleges and universities. Learn more at CampusPride.org.
Find the 2023 Best of the Best list at CampusPride.org/BestoftheBest and learn more about the Campus Pride Index, the premier LGBTQ national benchmarking tool for colleges and universities to create safer, more inclusive campus communities, at CampusPrideIndex.org.