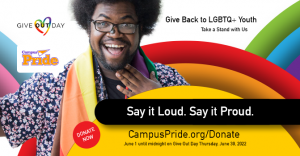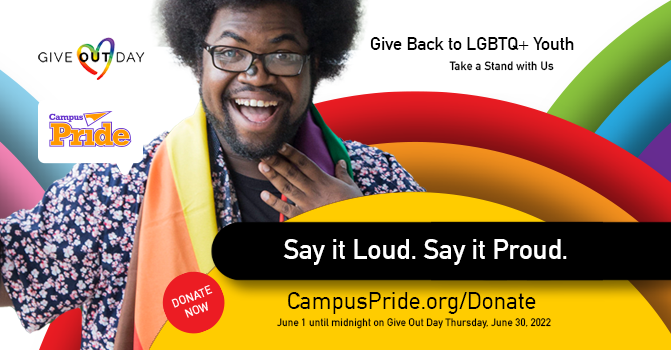 Campus Pride LGBTQ+ student testimony
My name is Jules Schwenderman (they/them), and I'm a member of the student staff at Campus Pride. For the last year, I've been working with the communications team as the blog editor – check out the blog here!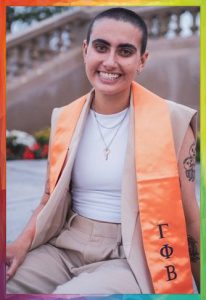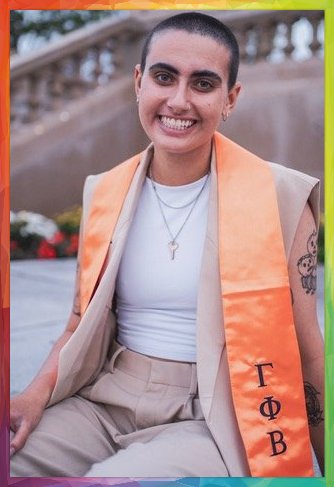 As a recent graduate of Syracuse University, Campus Pride has given me so many opportunities for professional development and personal growth, and I hope you can chip in $10 towards our Give OUT Day campaign today to help provide opportunities for other students, too. Last spring, I applied for the 2021 summer intern cohort and got to work with a talented and diverse team of students and graduates with a passion for LGBTQ+ advocacy. As a student, I didn't have much career experience, but I wanted to work in an environment that was inclusive and focused on making a difference.
I stayed with Campus Pride because its programs encourage young adults to pursue their passions and be their authentic selves. Many of my peers took advantage of the Social Justice Mini-Grants for Activism. I loved hearing about their passions and how they were using Campus Pride's grants to fund their initiatives on menstrual justice, trans-centered theater, sexual education, and more.
I want to give a huge thank you to all of the donors and volunteers that make Campus Pride's amazing programs possible. Our mini grants and other LGBTQ+ student resources would not be possible without the support of donors like you.
This Pride month, Campus Pride is participating in Give Out Day, the biggest fundraising event for LGBTQ+ organizations nationwide. Until June 30, each donation of just $10 or more gets us closer to a $10,000 grant – and the money we raise this month helps Campus Pride fund future student activism projects on campuses across the country.
I know I can count on you to support us this Give OUT Day!
# # #
ABOUT CAMPUS PRIDE
Celebrating its 20th anniversary year in 2021, Campus Pride is the leading national nonprofit organization dedicated to building future leaders and creating safer, more inclusive communities for LGBTQ people and allies at colleges and universities. Founded in 2001 by nationally-recognized LGBTQ civil rights leader and campus pioneer Shane L. Windmeyer, Campus Pride offers a wide variety of programs and resources for students and prospective students, including the Campus Pride Index, HBCU Clearinghouse, Trans Policy Clearinghouse, Lambda 10, Stop the Hate and Safe Space trainings, and the annual Camp Pride leadership camp. www.campuspride.org.