The third annual Lil Purple Backpack Resource Guide will release this Fall – Advertise for as low as $550 and reach thousands of students across the nation
Advertise Directly to LGBT & Ally Students
ADVERTISING DEADLINE: 

Friday, August 20, 2014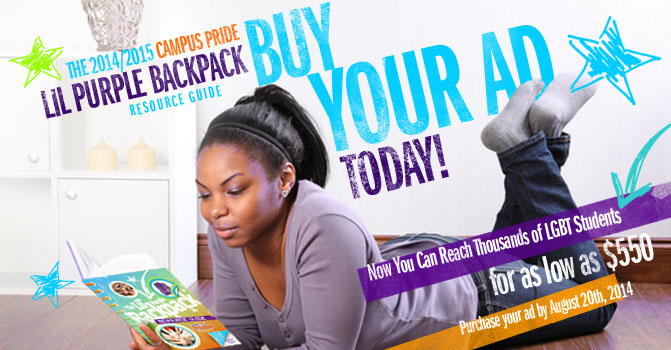 Campus Pride's "Lil Purple Backpack" Resource Guide is a 40+ page, full-color, pocket-sized resource guide filled to the brim with exciting student organizing and social justice tips and tricks, how-to's and action guides for LGBT students, campus and community organizers, student organizations and staff and faculty. The resource guide contains campus tools, features and teaching aids including:
* Annual event and conference listings
* How-to organizing tips for fundraising and event planning
* Brainstorming and student organization team-building tools
* Campus safety and inclusion checklists
* Other unique resources tailor-made for college and university students and faculty working to make their campuses safer and more inclusive for LGBT students.
The Purple Backpack is distributed in print copies (25,000 copies) to thousands of individuals on colleges and universities across the nation, as well as, at Campus Pride's National LGBT-Friendly College Fairs, national and regional LGBT student and activism conferences. The guide is also distributed online and promoted through the Campus Pride website, blog, social media, e-news and distribution list (100,000+ per semester).
You may purchase ads immediately online with a credit card or by check made payable to Campus Pride (Fed ID: 14-1969456). Full payment will confirm your ad placement. There is limited space.  Availability is on a first-come, first-serve basis. Once you buy your ad online, please email your advertisement to info@campuspride.org prior  to the deadline of Friday, August 8, 2014. Confirmation of your ad will be sent within 5 business days. Failure to send your ad will not entitle you to a refund. 
Campus Pride is the leading national educational organization for LGBTQ and ally college students and campus groups building future leaders and safer, more LGBTQ-friendly colleges and universities. The organization provides resources and services to thousands of college students and nearly 1400 campuses annually. Learn more online at CampusPride.org.