Alpha. Beta, What?
Let's face it, for many of us LGBTQ folk, Greek life is confusing. The members of Fraternities and Sororities seem to speak another language. This can build barriers between communities of those who are and those who are not Greek affiliated.
First, Let's clear some air. You have more in common than you think.
Greeks and LGBTQ student groups both have a history of being heavily stereotyped. Media has portrayed both of our communities in lights that may not be a true reflection.  Now there may be individuals on your campus who you believe live up to the stereotype, but you should never judge a whole community based off the interactions with one member.                                                                 Each person is different.
Now, for some practical organizing tips
1. Get to know your campus' Greek Life Coordinator. This person is your first step into the door of all things Greek. They are the in-between for Greek organizations and the administration. They may play key roles in educational events, recruitment, and social events for the Greek community at large. This person can answer your questions, offer suggestions, and be a great ally as you pursue further organizing.
2. Research the organizations you have present on your campus. Each Greek organization has their own way of doing things, their own colors, symbols, mission, values and traditions. Understanding what the organization is and stands for will allow you to have more productive conversations.
3. Collaborative programming. The easiest way to begin a relationship with Greek communities is through programming. Social event, often called "mixers," are really great ways to introduce your organization to these Greek groups and vise versa. Community service events are also great ways to collaborate.
4. Go to the Greeks. Don't expect the Greeks to come to you. Most Greek organizations set their programming calendars well in advance. It's up to us to take the initiative and approach the organizations. I suggest that you plan early, have option, and always ask more than one group.
5. Philanthropy, Philanthropy, PHILANTHROPY! All Greek organizations have philanthropy, either local or national, that they care a lot about. Some examples are: Girl Scouts of America, YouthAIDS, Feeding America, Special Olympics, SeriousFun Children's Network, and March of Dimes. Use this as an easy way to start the conversation about collaborative programs. Greeks love to raise awareness for their philanthropies.
6. If you can't work from the outside… try working from within. There are Greek organizations that are LGBTQ inclusive that would love to be represented on your campus. You can find more information about groups like Delta Lambda Phi, Gamma Rho Lambda, Sigma Phi Beta and Theta Pi Sigma online and begin the process of starting a chapter, or check Campus Pride's Out in Front Policies for more progressive organizations.
Some final notes
Remember that success may not be immediate. It may take some time to cultivate positive, working, relationships with your campus' Greek community. If you try to speak with a group, or collaborative programming, and you are rejected or it's a flop then be glad you tried and keep trying. You may not see it immediately, but your efforts are not in vain.
Campus Pride's Lambda 10 Project has loads of resources for you. You can find more information at: campuspride.org/lambda10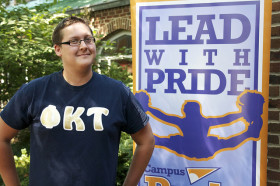 Written by D. Andrew Porter   This resource is written by a LGBTQ Greek specifically catered to LGBTQ student leaders who would like to build a working relationship with their campus' Greek community.   
Campus Pride is the leading national educational organization for LGBTQ and ally college students and campus groups building future leaders and safer, more LGBTQ-friendly colleges and universities. The organization provides resources and services to thousands of college students and nearly 1400 campuses annually. Learn more online at CampusPride.org.