Voice & Action National Leadership Award
The Voice & Action National Leadership Award program embodies our mission, values and vision for inclusion and recognition of young adult leaders. The annual awards are an honorary national recognition program highlighting the outstanding accomplishments of LGBTQ and ally young adult leaders and those who work to support LGBTQ issues at colleges and universities across the United States. The recognition program is the only honor of its kind, focused on the work of undergraduate college students who are creating positive change for LGBTQ and ally issues within their campus communities, local communities and region of the country.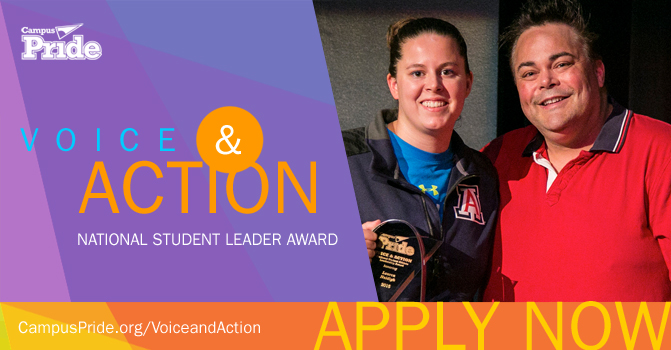 View the 2015 Voice & Action Award winners here.
About
Campus Pride has recognized outstanding LGBTQ and ally student leaders since 2008 with the Voice & Action National Student Leader Award (undergraduate students).  Every year Campus Pride hopes to honor at least one outstanding young adult in each region of the country. The individual receives the official Voice & Action Award from Campus Pride.
Application
All applications and materials are due by Wednesday, December 9, 2015. 
– Resume highlighting your leadership experiences
– (2) Faculty/Staff Recommendations
– Peer Recommendation
– Essay response answering the following questions:
Please share the main challenges facing LGBTQ people and their allies in regards to achieving greater justice and fairness for all people regardless of their sexual orientation, gender identities, and gender expressions. How has your work created a positive environment for LGBTQ people and Allies on your campus and in your community? How have you addressed the challenges outlined above? Your answer may be in either essay or video form. Videos may not exceed 5 minutes, and essays may not exceed 1200 words. 
Once completed, you will receive a confirmation email from the selection committee chair to remind you of your next steps.
All recommendations must be completed via this form no later than 11:59 PM EST Wednesday, December 9, 2015.