Written by Emmala Alfaro (she/her/hers) and Eric Coleman (he/him/his), Clemson University Sophomores and Co-Student Site Leaders for Clemson's Alternative Break Programs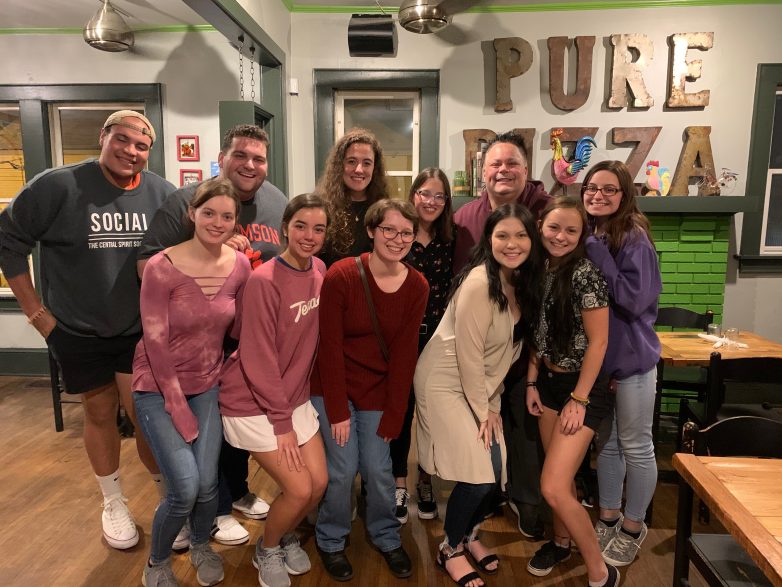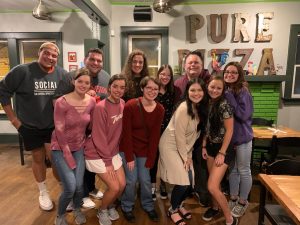 As site leaders for Clemson University's Alternative Break Program (ABP), we have been able to work with 7 of the most amazing students that Clemson has to offer by facilitating conversations, building connections, and sharing our passion for service. We were lucky enough to have some of the important aspects of the trip, such as housing and service location, coordinated by Savannah Lockman, Cara Snider, and Kate Radford, all of whom work in Clemson's Student Involvement and Leadership office. We both had different reasons for participating in this particular trip. Emmala was a past site leader for Clemson, who most recently served women and children in Nashville. "I was really excited to learn, and gain a greater understanding of people who are different than me by giving back to Campus Pride," says the sophomore management major from Fort Worth, TX. Eric, on the other hand, has never lead an alternative break trip. "As a gay man at a pre-dominatly white, rural unversity, I've never really talked about being gay and what that's like. So, after applying to be a site leader and then hearing about this opportunity, I saw that it could be really eye-opening for me", states the sophomore psychology major from Lexington, SC. 
Our  ABP group consists of 7 students,  Madi (she/her/hers), Erin (she/her/hers), Kaitlyn (she/her/hers), Sapphyre (she/her/hers), Amy (she/her/hers), Sydney (she/her/hers), Katerina (she/her/hers), and a staff learning partner, Andrew (he/him/his). Our group consists of participants from places such as rural Tennessee to Long Island, NY and even Thailand! With such a wide range of personalities, we didn't really know what to expect of the interactions on our trip, but we were excited nonetheless. In one of our pre-trip meetings we were able to get the feel of what our participants knew regarding LGBTQ+ social issues, and history. The groups knowledge was quite mixed, so we were even more excited about the different perspectives we would get. During our pre-trip meetings, we looked over Campus Pride's websites including their Campus Pride Index. We were shocked to learn that Clemson had a 3/5 star rating because of its history as well as being located in the Bible Belt. After 8 weeks of training on a variety of topics ranging from how to facilitate positive reflection, to planning ice breakers, to making a meal plan on a budget, we were ready to head to Charlotte in our big, white, rental van. 
In Charlotte, we stayed at St. Mark's Lutheran Church, and we are so grateful for their hospitality and generosity. Finding a place that has housing for 10 people, accessible showers, and a full sized kitchen can be pretty hard but St. Marks checked all of those boxes and then some. After getting into town late on Friday, Oct. 8th, we decided to call it quits for the day because we had a big day ahead of us since we would be arriving at Campus Pride's offices by 9am the next morning. 
On Saturday, we were greeted by Campus Pride's executive director, Shane Windmeyer. He provided a lesson on all of Campus Pride's resources and opportunities for young people, and why he decided to get so involved with supporting LGBTQ+ youth. We then transitioned into work mode. From changing Campus Pride's voicemail, to scouring hundreds of colleges to find admissions offices's numbers, to updating Campus Pride's website, we knew that we had a lot to do in order to provide service so Campus Pride. After a morning of work, we ate lunch and then had a lesson from Shane on the state of higher education for LGBTQ+ people. This informative lesson really put into perspective what going to college is like for LGBTQ+ people. We definitely suggest looking into The 2010 State of Higher Education for Lesian, Gay, Bisexual, & Transgender People by Campus Pride. Although a little dated, this national college climate survey offers so much useful information that can still be used and referenced today. After a successful day of working and learning, we went back home to get ready for a midnight drag show at The Hideaway in Rock Hill, SC hosted by the one and only Buff Faye, 2019 Entertainer of the Year. The show was absolutely amazing and we saw performances by Jayla Serena Mitchell and Amber Rochelle. 
On Sunday, we were back to work in the Campus Pride offices, but we were surprised with a visit from Jayla Serena Mitchell, a drag queen from the night before. Jayla, whose legal name is Selena, answered any and all questions about what it is like to not only be a drag queen, but a trans woman living in the South. This conversation was such an eye-opening experience for all participants, and we are so thankful that Selena gave up some of her day to speak with us. We  then continued to work on our assigned projects, and then we were introduced to Don Wilson a volunteer with Campus Pride and President of Queen City Connects. During our conversation with Don, he told us about the role that Queen City Connects in connecting local firms and organizations with LGBTQ+ individuals and allies. We wrapped up our workday by finishing some of our projects.
Monday, our last full day of service, was spent at Ally Bank in Uptown Charlotte. We spoke with Brian Roach, Marketing Director at Ally Bank, and we learned so much about the company and all of the services they offer. Brian and his team are very innovative in the ways that they try to market Ally Bank and their services. It was also amazing to see an LGBTQ+ identifying person work in such a high position in a major company. We then finished up the projects that we had been working on for the past few days, and it was so amazing to see how proud each of the participants were to have completed a service project. In the afternoon, we were able to speak with Don, Business Transformation and Culture Leader for Wells Fargo, and Marty McKinnney, Interaction Visual Designer for Ally Bank. We heard about LGBTQ+ inclusiveness in the workplace, harassment policies, and each business's goals for becoming more diverse. To wrap up our time with Shane and Campus Pride, we were treated to a pizza party at the delicious Pure Pizza. 
On Tuesday, we departed from St. Marks Lutheran and headed back to good 'ole Clemson, SC. 
As we traveled back to TigerTown, we asked each of the participants what the trip was like and what did they feel was their biggest takeaway from this experience. "This trip really broadened my perspective on LGBT+ issues and helped me meet new people from a variety of backgrounds," said Erin, a freshman biological sciences major from Crossville, TN. Katerina Bogdan, a sophomore chemical engineering major from Long Island, NY said, "The trip was educational, engaging, and allowed me to meet people in the LGBT+ community."
This trip was such an amazing experience for our little Alternative Break group from the little town of Clemson, SC. We met new people, gained new friends, and learned more about the LGBTQ+ community than we thought we could. For us, as site leaders, we wanted our group to become educated about a social issue in order to take what they learned and apply it back in our own community. We definitely feel as if we accomplished our goal. Each of our 7 participants has found a way to take the knowledge from Campus Pride and apply it back at Clemson. We are thankful for each of them and the growth that they've shown in just 3 days of service. 
We would like to say thank you to Shane Windmeyer at Campus Pride, St. Mark's Lutheran Church, the talented drag queens from The Hideaway, Don Wilson, Ally Bank, and Clemson's Office of Student Involvement and Community Engagement for making all of this possible. 
Go Tigers!