Purchase tickets to the hilarious comedy P.S. Your Cat is Dead! and support LGBTQ youth on opening night, Thursday, August 25, 2016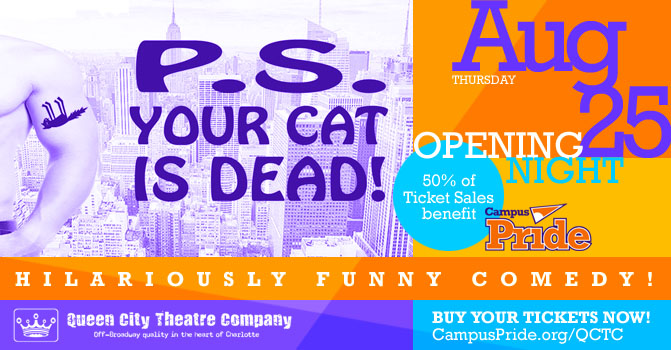 P.S Your Cat is Dead is the regional premiere of the award-winning play by James Kirkwood (Pulitzer Prize winner for A Chorus Line) – the show is also considered one of the very first gay plays in theatre, and a work way ahead of its time. In this adaptation, Glenn T. Griffin explores the show from a very different and revealing perspective, with a hilarious and outrageous script that will have the entire town talking.   Queen City Theatre Company is partnering once again this Fall and Spring Season with Campus Pride with proceeds supporting LGBTQ youth on Opening Night.
Queen City Theatre Company will donate 50% of proceeds on opening night to Campus Pride to support LGBTQ youth.
OPENING NIGHT – Thursday, August 25, 2016
or go to CampusPride.org/QCTC
About the Show
QCTC open 10th season with P.S. Your Cat is Dead! by Pulitzer Prize-winning author James Kirkwood!
The concept is very simple, or so we like to think: It's New Year's Eve in the West Village of New York City. You've been robbed twice, your girlfriend is leaving you, you've lost your job…and the only one left to talk to is the gay burglar trying to seduce you and you've got tied up in the kitchen… P.S. your cat is dead. The extremely successful play arrives to Charlotte in its regional premiere after worldwide acclaim with a new, innovative, hilarious, and yes, revealing staging.
Opening Queen City Theatre Company's 10th season, P.S. Your Cat is Dead presents an award-winning cast starring Joe Rux, Iesha Nyree, Berry Newkirk, and Dan Grogan. This is the summer comedy you can't miss!
"A darkly hued comedy…Raunchily funny. Wonderful show-biz dialogue that crackles." – L.A. Free Press
For mature audiences – Contains nudity
Campus Pride is the leading national educational organization for LGBTQ and ally college students and campus groups building future leaders and safer, more LGBTQ-friendly colleges and universities. The organization provides resources and services to thousands of college students and nearly 1400 campuses annually. Learn more online at CampusPride.org.