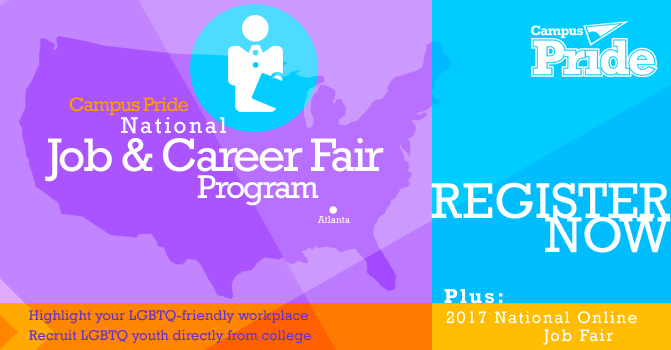 Charlotte, NC — Campus Pride announces its first national job and career fair date on Saturday, October 8 from 12:30 p.m. to 3:30 p.m. in tandem with the Atlanta Pride Festival.  The fair is located in the large tent near the playground and Greystone Pool House. Sponsored by Nissan, the job fair is specifically designed for LGBTQ young adults entering the job market from college.  RSVP & Register at CampusPride.org/JobFair
"As a national LGBTQ youth organization, Campus Pride strives to build future leaders and supply resources, programs, and services to support these LGBTQ and ally students from high school to college – and to the workplace," said Shane Windmeyer, Executive Director of Campus Pride. "The job fair is one way to help transition these young adults from college into the workplace."
According to Campus Pride, the goal is to make the job search easier and more accessible. It is important that LGBTQ youth know which workplaces are leading the way for LGBTQ people, and in particularly transgender people," Windmeyer said.
Job seekers can RSVP online for free and employers can register for a table online. Go to https://www.campuspride.org/jobfair/ In addition, Campus Pride will host its LGBTQ-friendly college fair on the same date and time at the Atlanta Pride Festival.
For more information about the Campus Pride LGBTQ-Friendly Job Fair Program, please visit https://www.campuspride.org/jobfair/. Any questions, please email info@campuspride.org or call 704-277-6710 ext 0.
Campus Pride is the leading national educational organization for LGBTQ and ally college students and campus groups building future leaders and safer, more LGBTQ-friendly colleges and universities. The organization provides resources and services to thousands of college students and nearly 1400 campuses annually. Learn more online at CampusPride.org.