Campus Pride founder and CCNY honor Native American Heritage Month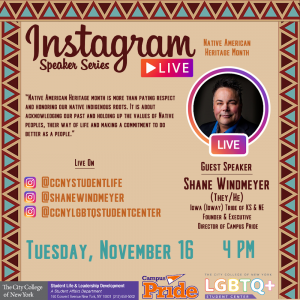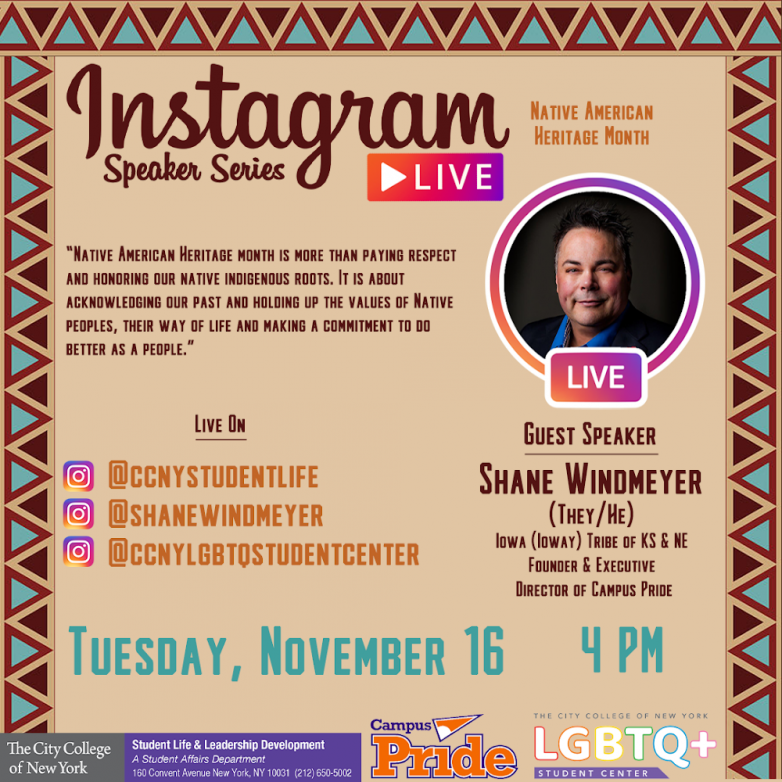 Join Campus Pride today, Tuesday, November 16, at 4 p.m. EST, for our Instagram Live Native American Heritage Month speaker series event. The event will feature Campus Pride Founder and Executive Director Shane Windmeyer and the City College of New York Student Life and LGBTQ Student Center. View the IG Live at instagram.com/campuspride/.
Windmeyer, who is a member of the Iowa (Ioway) Tribe of Kansas and Nebraska, and the CCNY community members will discuss the importance of Native American Heritage Month. They will acknowledge indigenous peoples' impact on American and queer culture and discuss how to uphold the values of Native people.
"It is important to acknowledge the indigenous history of our nation and to honor LGBTQ and Two-Spirit Native Americans when learning about LGBTQ history. We can make a commitment to be better as a community by listening to indigenous voices and including them in our conversations," says Windmeyer.
Learn more about the special IG Live Native American Heritage Month speaker event at campuspride.org/cp-events/ig-live-speaker-series-native-american-heritage-month/.
# # #
ABOUT CAMPUS PRIDE
Celebrating its 20th anniversary year in 2021, Campus Pride is the leading national nonprofit organization dedicated to building future leaders and creating safer, more inclusive communities for LGBTQ people and allies at colleges and universities. Founded in 2001 by nationally-recognized LGBTQ civil rights leader and campus pioneer Shane L. Windmeyer, Campus Pride offers a wide variety of programs and resources for students and prospective students, including the Campus Pride Index, HBCU Clearinghouse, Trans Policy Clearinghouse, Lambda 10, Stop the Hate and Safe Space trainings, and the annual Camp Pride leadership camp. www.campuspride.org