We're sorry, but all tickets sales have ended because the event is expired.
October 16, 2021




1:00 pm - 2:00 pm
University of Michigan
Campus Pride LGBTQ-Friendly Spotlight Series: 20th Anniversary Special Live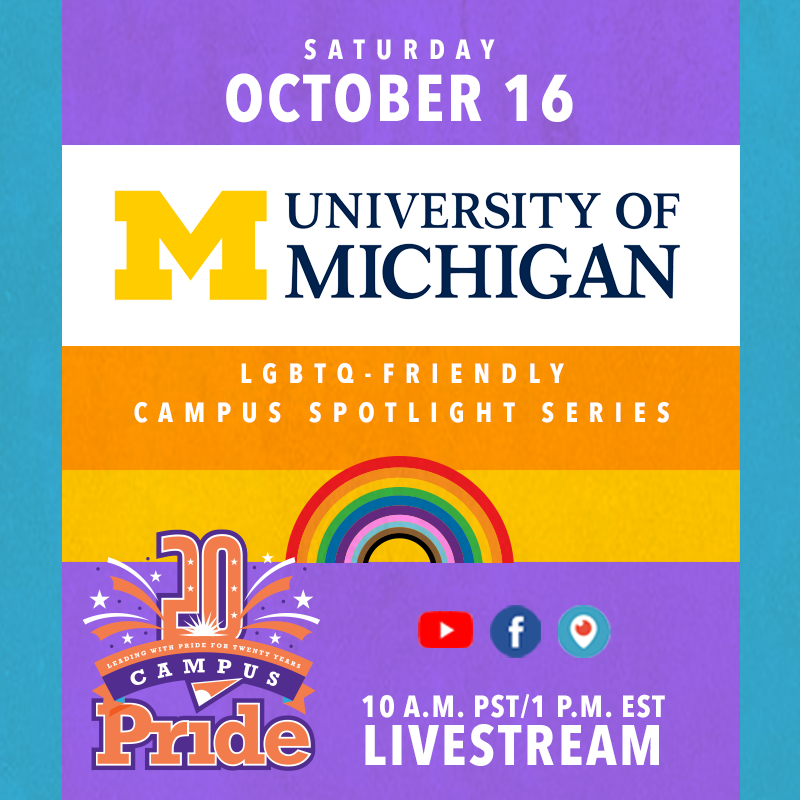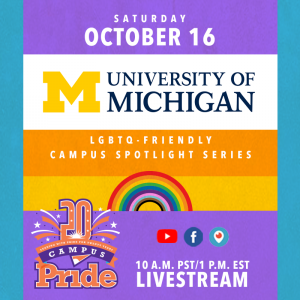 Oct 16: Watch Campus Pride Intern Ayla Azim (She/Her) interview representative, Will Sherry (He/Him), from University of Michigan Ann Arbor, a university which holds a 5/5 ranking on the Campus Pride Index. Will is the Director of the Spectrum Center which aims to serve LGBTQ+ students by being both an open safe space and the starting point for students' exploration and understanding of their own sexuality and/or gender. 
The Spectrum Center offers a variety of ways for students to become involved on campus. Undergraduate and graduate students both can work for the center in a variety of ways including leading student cohorts. FreshSpectives is a cohort for first year and transfer students which is designed to be an organic way for students to meet and make community while also gaining tools to navigate the University of Michigan. The other cohort offered is Second Year Navigation Cohort which continues the work of FreshSpectives while also shifting focus to getting more involved with campus life. Additionally the Spectrum Center hosts a yearly event known as Pride Outside. Each fall student organizations, campus resources, and community resources table allow students the chance to see all the opportunities that they could be involved in. On Michigan's campus there are 20 plus student organizations ranging from identity groups to politically focused or department focused. The university also hosts a yearly Lavnder graduation allowing queer students to graduate as themselves. 
The University of Michigan has a variety of policies designed to make campus accessible to any LGBTQ+ student. In their portal students have the ability to change their name and provide pronouns which are then shared to all of their teachers, administrators, academic councliers and more. Students living in the dormitories can access inclusive housing and have access to gender neutral bathrooms. Additionally the university has a non discrimation policy which includes sexual oration, gender identity and gender expression. Will also commented that the University can always work to improve their policies and that they are striving to make the University of Michigan's campus even more inclusive and welcoming. 
To learn more, go to https://campusprideindex.org/