We're sorry, but all tickets sales have ended because the event is expired.
October 9, 2021




1:00 pm - 2:00 pm
University of Colorado Boulder
Campus Pride LGBTQ-Friendly Spotlight Series: 20th Anniversary Special Live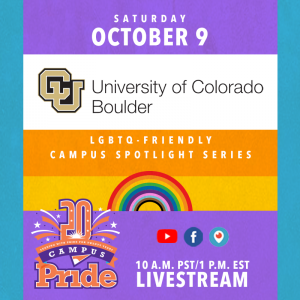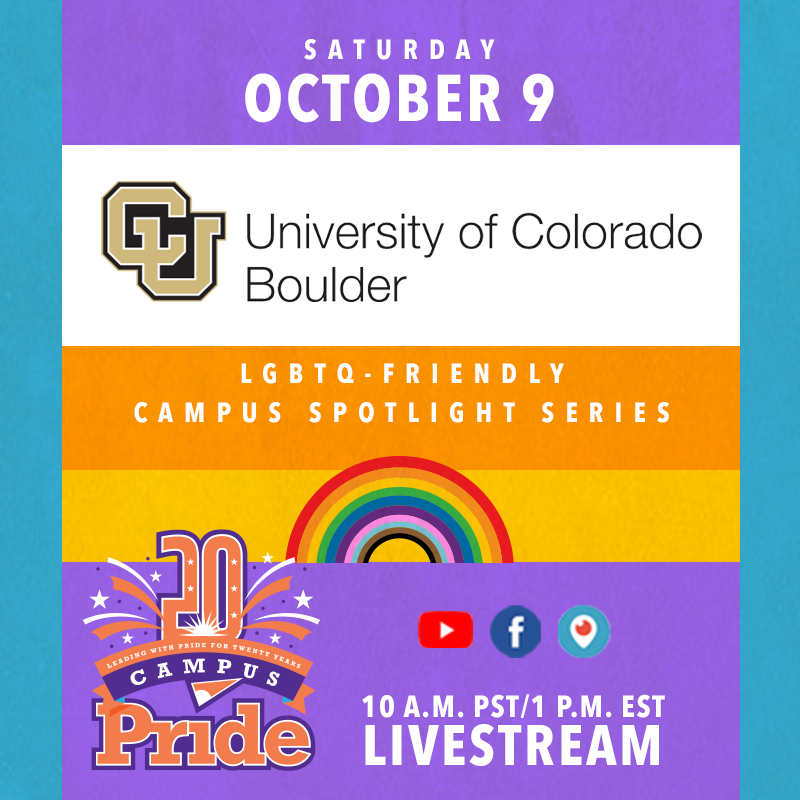 Oct 9: Watch Campus Pride Intern Ayla Azim (She/Her) Interview representatives, Morgan Seamont (He/Him) and Alex Dutro-Maeda (She/Her), from University of Colorado Boulder, a university that holds a 5/5 ranking on the Campus Pride Index. These two work in Boulder's Pride office to ensure that students can live their proud lives. 
The Pride Center for many students is the starting line of their involvement with LGBTQ+ life at University of Colorado Boulder. Each fall the Center puts on a Pride Picnic to greet both returning LGBTQ+students and incoming ones. Additionally the center can help students find clubs such as Out in Stem, a group who won best student group of the year, or the Gender and Sexuality Allience who hosts an annual drag show and a queer formal. Additionally, there are a variety of smaller groups that are specialized in the spectrum of gender expression and sexual orientation within the LGBTQ+ community.  
University of Colorado Boulder also holds a variety of policies designed to make campus life for LGBTQ+ students seamless. Gender inclusive bathrooms have and are being included across campus along with a gender neutral bathroom and locker room in the sports facility building. Additionally a spectrum floor was created in the dorms to serve as housing for LGBTQ+ students to live in community with each other. If students are interested in living in other dorms or living learning communities, policies have been made to ensure LGBTQ+ students are paired with affirming roommates. University of Colorado Boulder also has a Trans Care team which specializes in gender affirming care and creating a positive environment for LGBTQ+ students as they receive healthcare.  
To learn more, go to https://campusprideindex.org/