We're sorry, but all tickets sales have ended because the event is expired.
September 18, 2021




1:00 pm - 2:00 pm
Purdue University
Campus Pride LGBTQ-Friendly Spotlight Series: 20th Anniversary Special Live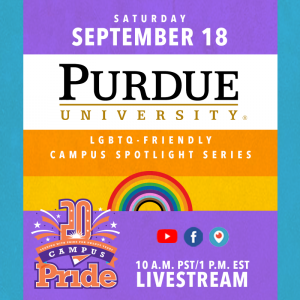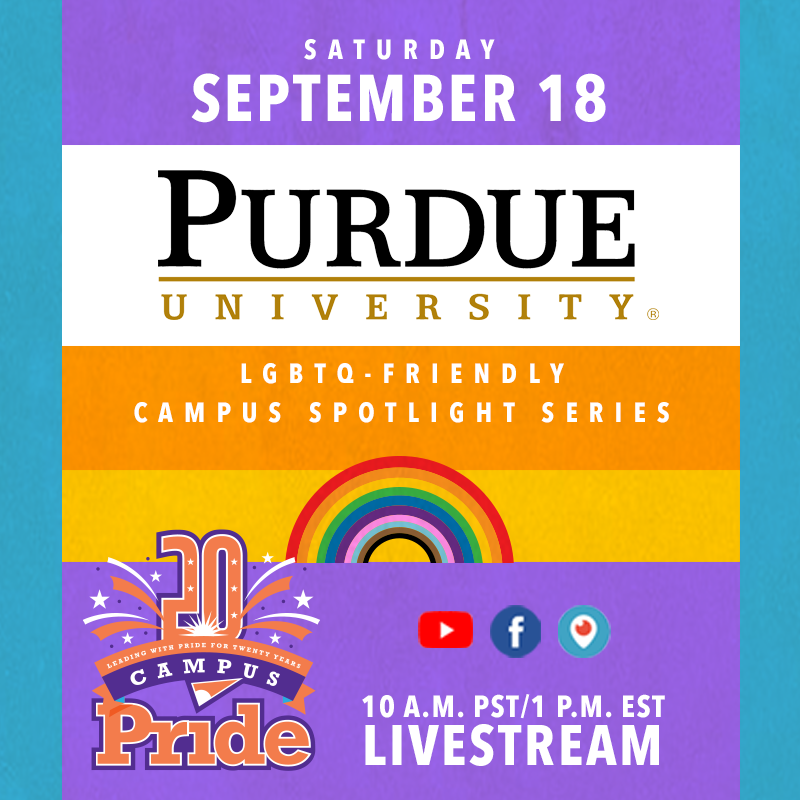 September 18: Watch Campus Pride Intern Ayla Azim (She/Her) Interview representatives, Lowell Kane (He/They), Kelsey Chapman (She/Her), Aiden Powell (They/He), from Purdue University, a university that holds a 5/5 ranking on the Campus Pride Index. All of these representatives work together at Purdue's LGBTQ Center which has been central to the leaps made at Purdue University to cultivate a culture that welcomes and celebrates LGBTQ+ students. 
Located in the heart of Purdue's campus the LGBTQ Center sits next to other culture centers and works with them to help students grow in all of their identities. Furthermore, the center has strong working relationships with the financial aid office, the office of the Dean of Students, the Counseling and Psychological Services Center, and more to ensure that whatever need a student has when they walk through the door the LGBTQ Center can help. 
To welcome back students and welcome in the incoming ones the LGBTQ Center puts on their Rainbow Call Out, allowing students to connect with over 100 on and off campus departments and organizations. While not hosted by the center, West Lafayette's OutFest runs parallel to the Rainbow Call Out allowing students to find even more resources and safe spaces. The center also runs Safe Zone Trainings for allies on Purdue's campus so that they can be even better allies. 
Instituted before the center was formed Purdue University holds a non discrimination policy that incluessexual oriation, gender identity, and gender expression. The center helped in the efforts to also establish student healthcare plans that included trans and gender affirming care, gender inclusive housing, and ensuring ID cards for both students and staff would have a person's chosen name.    

To learn more, go to https://campusprideindex.org/