We're sorry, but all tickets sales have ended because the event is expired.
October 30, 2021




1:00 pm - 2:00 pm
University of Pennsylvania
Campus Pride LGBTQ-Friendly Spotlight Series: 20th Anniversary Special Live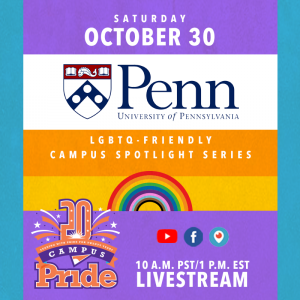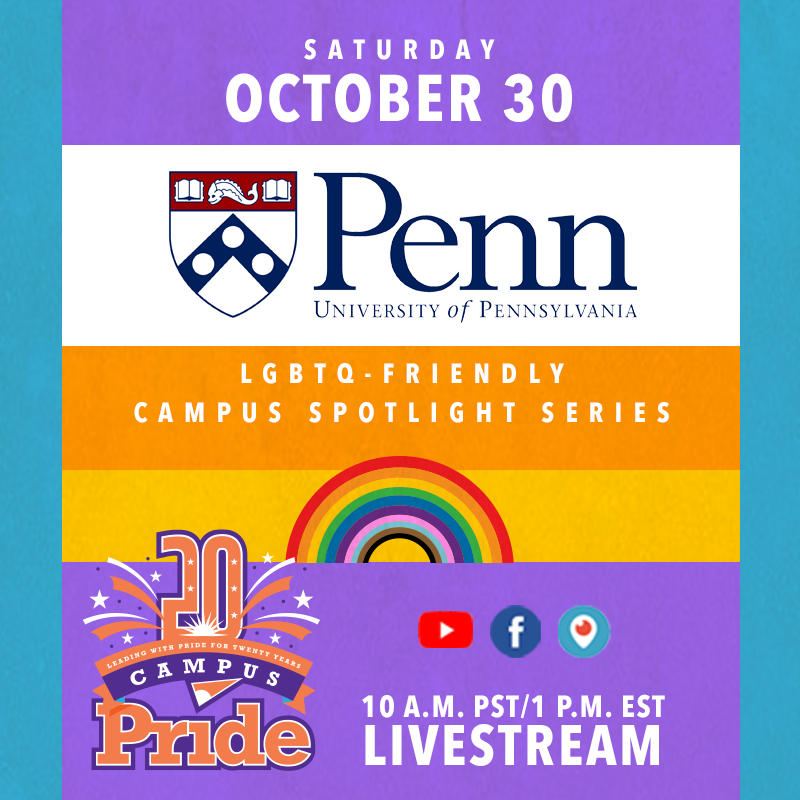 Oct 30: Watch Campus Pride Intern Ayla Azim (She/Her) interview representatives, Malik Muhammad (He/Him) the Associate Director of the LGBT Center, Erin Cross (She/Her) the Director of the LGBT Center. The University of Pennsylvania has the second oldest LGBT center on a college campus and is proud of its dedication to the pillars of education, advocacy, and support. Malik and Erin highlight the ease with which students can get involved on campus in a variety of LGBTQ+ organizations and the programming that the center provides. The University of Pennsylvania has around 25 student organizations that are dedicated to LGBTQ+ life and issues. These organizations include; Penn J-Bagel a Jewish LGBTQ+ group, the Lambda Alliance a general LGBTQ socail organization, and oSTEM a group for LGBTQ people in STEM feilds. 
The University of Pennsylvania is exceptionally proud of their policies aimed at making campus inclusive. The representatives stress that all of their policies stem from the foundation of the non discriminaion polcy that invludes secual oriation and gender identity and expression. This has led to the development of health care plans that are available to students, faculty, and staff that includes trans and gender affirming care. The construction of all gender housing and stall only bathrooms has also been a major focus to increase comfortability and inclusion. Students may also receive multiple diplomas with their legal/dead name on one and their chosen name on another. Currently the center is petitioning the office of the registrar to make it easier for students to designate what pronouns and what name they wish to be used for them in class and on university documents. Erin and Malik are excited to see the university continue to grow in its inclusive policies and even better serve the needs of the LGBTQ population at their school. 
To learn more, go to https://campusprideindex.org/