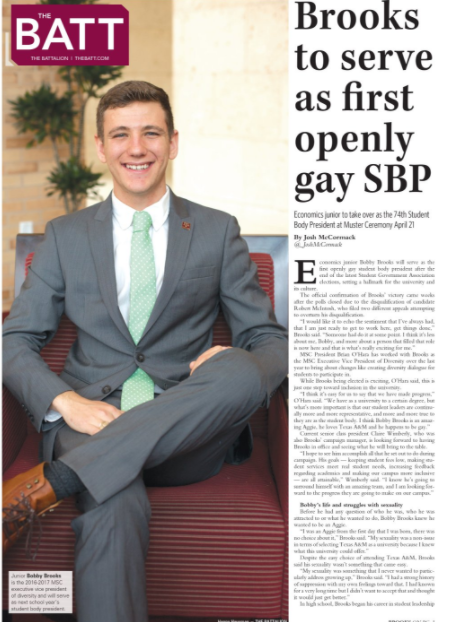 Yesterday, U.S. Secretary of Energy and Texas A&M alum Rick Perry penned an editorial criticizing his alma mater's election of its first openly gay student body president, suggesting that the victory was "stolen."
Perry's editorial, in which he claims the election was rigged as part of the administrations "quest for diversity", has left all of us dumbfounded and sent shock waves across the country. With all the political upheaval in Washington, it seems illogical that Secretary Perry should focus his energies on a student body government election instead of the looming nuclear crisis in North Korea or addressing environmental cleanup.
When Bobby Brooks starts his term next month, it will be the first time an openly gay student will hold that office at the notoriously conservative university. Campus Pride supports the decision of Texas A&M University and congratulates Bobby Brooks on his election as student body president.
Campus Pride Statement from Shane Windmeyer, Executive Director of Campus Pride
"U.S. Secretary of Energy Rick Perry's editorial is another example of what is becoming a terrible trend under the Trump Administration: unwarranted political attacks on our LGBTQ community.   Surely, Secretary Perry has better things to do with his time than writing editorials about student elections at his alma mater? I can't imagine why this is even a priority for the Secretary – and it is laughable, if not for the serious nuclear threats our nation is facing today and environmental concerns.

Campus Pride congratulates newly elected Texas A&M Student Body President Bobby Brooks.  We also support Texas A&M as it continues to become more LGBTQ-inclusive in policy, program and practice.  Undoubtedly, we need to create a wave of diverse, next generation out LGBTQ leaders to continue to help shape our world. And Campus Pride is committed to do just that."
Campus Pride is the leading national educational organization for LGBTQ and ally college students and campus groups building future leaders and safer, more LGBTQ-friendly colleges and universities. The organization provides resources and services to thousands of college students and nearly 1400 campuses annually. Learn more online at campuspride.org.