Summer Fellowships & Internships – Check back for more information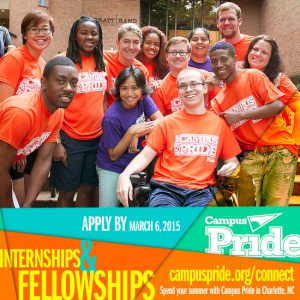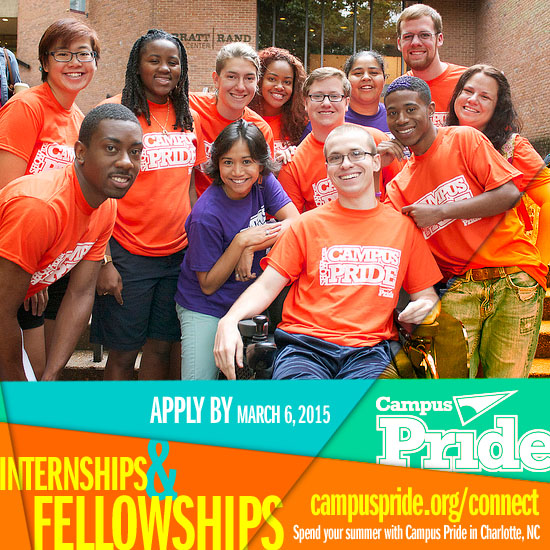 Campus Pride seeks college students with a desire to learn more about campus organizing and social justice issues to work as summer fellows and interns in our home office based in Charlotte, NC. Individuals selected have opportunities to observe and participate in substantive work and develop resources to support student leaders across the United States.
Please submit the following in an email to the Campus Pride Executive Director Shane Windmeyer at shane@campuspride.org:
1 cover letter (detailing your interest and qualifications)
1 professional resume
2 letters of recommendations
Deadline for summer consideration has passed.  Individuals selected for will be notified by March 30, 2015.  Internships are one month to three months depending on the individual interest and availability. Summer internships will take place from May 18 through August 14, 2015. The Summer Fellowship begins the week of May 18 through August 14, 2015.
Learn more about the summer fellowship program and internships.
Campus Pride is the leading national educational organization for LGBTQ and ally college students and campus groups building future leaders and safer, more LGBTQ-friendly colleges and universities. The organization provides resources and services to thousands of college students and nearly 1400 campuses annually. Learn more online at www.campuspride.org.