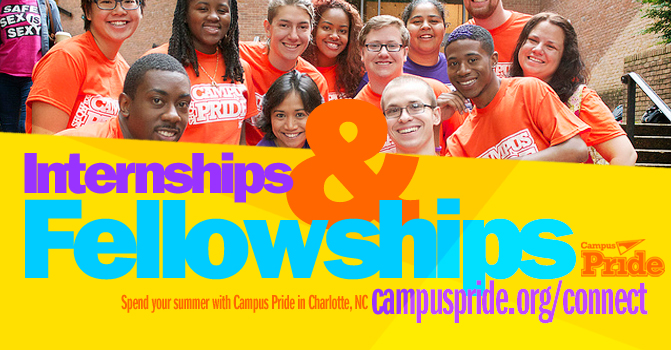 Campus Pride seeks college students with a desire to learn more about campus organizing and social justice issues to work as Summer Fellows in our home office based in Charlotte, NC. Summer Fellows have many opportunities to observe and participate in substantive work and develop resources to support student leaders across the United States.
The Campus Pride Summer Fellowship will run from Tuesday, May 17 through Sunday, August 14, 2016. You will be expected to relocate to Charlotte, NC where you will placed in housing in Charlotte, NC. You will be expected to arrange your own transportation to and from the office Monday through Friday. For questions please email Rebby Kern.

Submit Your Application
1 cover letter detailing your interest and qualifications
1 professional resume
Recommendations
Summer Fellow Details:
40 hours/week
Works from the office in Charlotte, NC.
Requires strong writing, editing, and communication skills, as well as adaptability, self-motivation, and knowledge about the various Campus Pride programs.
Monthly stipend with shared host housing;
Vehicle is necessary for transportation.
Summer Fellow responsibilities include:
Special project work based on organization priorities.
Assisting the Programs Manager and staff with the daily operations of the office, including email and phone correspondence (including checking voicemail).
Preparing for Camp Pride summer leadership camp in July.
Updating web pages and social media websites.
Writing and editing blog pieces.
Contacting potential advertisers, sponsors, and donors.
Planning Campus Pride programming for the upcoming academic year.
Working with staff to coordinate interns and volunteers.
In charge of long-term projects related to Campus Pride programs such as the LGBTQ-Friendly College Fairs, Stop the Hate program, Camp Pride, the Campus Pride Index, Lambda 10, Speakers Bureau, etc.
Attends and supports Camp Pride (July 14-19) in a to be determined capacity.
Attends annual Board of Directors meeting and monthly conference calls
Summer Fellows receive a monthly stipend of $650 for three months plus host housing accommodations. It is highly recommended that Summer Fellows have transportation. Food is not provided.

Campus Pride is the leading national educational organization for LGBTQ and ally college students and campus groups building future leaders and safer, more LGBTQ-friendly colleges and universities. The organization provides resources and services to thousands of college students and nearly 1400 campuses annually. Learn more online at CampusPride.org.