Campus Pride special IG Live for #PronounsDay
Tonight, Wednesday, October 20 at 8 p.m. EST, join Campus Pride students for a special IG Live celebrating International Pronouns Day. Tune in for a conversation on the importance of pronouns and inclusive language. Our students will discuss how we can support and include trans and nonbinary individuals in the LGBTQ community. For more information, go to campuspride.org/cp-events/international-pronoun-day-ig-live. Check us out on Instagram @campuspride.
"Inclusion makes us stronger" on International Pronouns Day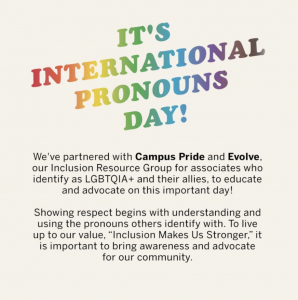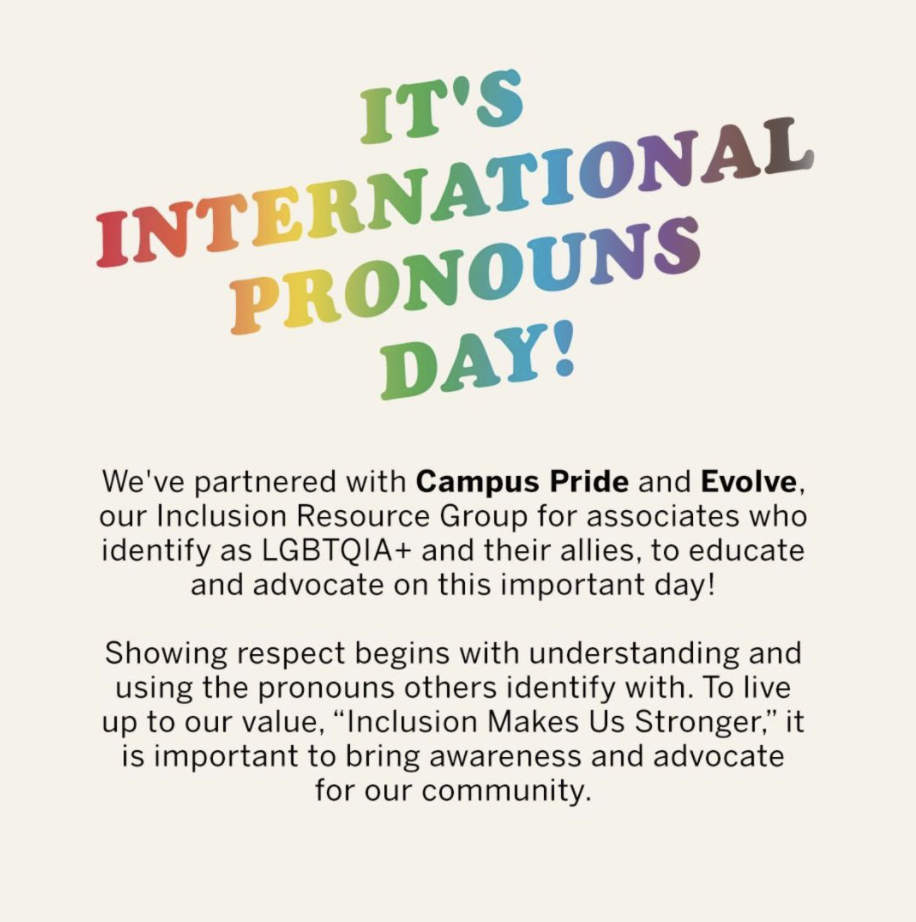 Campus Pride is partnering with our sponsor, Victoria's Secret Pink, to spread awareness about sharing and using pronouns correctly. Check out the @vspink Instagram story for more resources for International Pronouns Day. "Words are powerful; they convey meaning and connect with others. Showing respect begins with understanding and using the pronouns others identify with," says VS Pink in an Instagram post.
Campus Pride works hard to ensure that all students feel safe and included on their college or university campuses. There are many resources available about the proper usage of pronouns and other ways you can support trans and nonbinary students. For a guide to common pronouns and their usage, check out the resources tab on our website.
"Pronouns are important to me because mine are an extension of who I am. And using someone's correct pronouns is a simple way to show respect and that you care. Remember to create safe environments and inclusion by asking and sharing pronouns every day," says Campus Pride student intern Laryn Jackson.
Quick links to Campus Pride trans and nonbinary student resources:
# # #
ABOUT CAMPUS PRIDE
Celebrating its 20th anniversary year in 2021, Campus Pride is the leading national nonprofit organization dedicated to building future leaders and creating safer, more inclusive communities for LGBTQ people and allies at colleges and universities. Founded in 2001 by nationally-recognized LGBTQ civil rights leader and campus pioneer Shane L. Windmeyer, Campus Pride offers a wide variety of programs and resources for students and prospective students, including the Campus Pride Index, HBCU Clearinghouse, Trans Policy Clearinghouse, Lambda 10, Stop the Hate and Safe Space trainings, and the annual Camp Pride leadership camp. www.campuspride.org