Written by Darren McDonald, Safety Net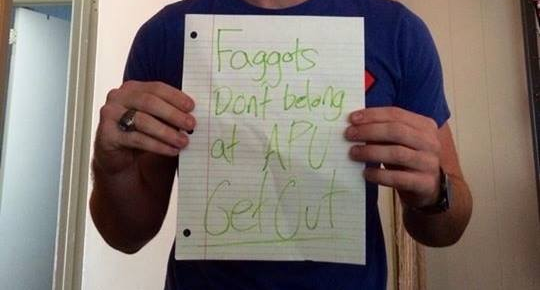 How would you respond if a hate note like this was posted on your door?
Do not be overcome by evil, but overcome evil with good  (Romans 12:21)
How do we respond when we encounter discrimination and violence?  How can we confront dehumanizing systems of oppression with our humanity and dignity intact?  Where can we find the endurance to continue the struggle for justice?   LGBTQQI and Allied students, faculty, and staff at Christian Colleges and Universities are forced to wrestle with these questions on a daily basis, as they confront oppressive system after oppressive system of education, religion, housing, and employment.  The students from Haven at Azusa Pacific (the unsanctioned LGBTQQI & Allied student group from Azusa Pacific University) recently demonstrated the importance of supportive communities in helping sustain their members as they collectively face injustice.
An anonymous hate sign was left on the door of a student at Azusa Pacific University.  The targeted student posted a picture of himself holding the hate sign on Facebook, so that he could highlight his choice to embody God's love in response to this act of faceless aggression.  As he put it, "At first, I was very upset when I saw this posted on my front door, but the more I thought about it, the more I realized how much love I've received since I came out at APU. This is the first hate mail I've ever gotten from anyone at this school, and the best thing about it is that they were too cowardly to even say it to my face. I'm not posting this for people to pity me or apologize on the persons behalf, I'm posting this to show that I'm not ashamed of who I am and I'm proud to stand up for what I believe in. I wholeheartedly respect anyone for having their own opinions against what I believe, but what I can't respect is when people are too ashamed to even say it to my face. As Christians, we are called to show God's LOVE in everything we do, and that's what I plan on doing if this person ever confronts me. To whoever did this: I forgive you and I know God does too. Have a blessed day everyone and don't ever let the little things get you down!"
In meeting the hate note of a nameless aggressor with a smile and words of love, the targeted student was able to expose the cowardice and violence behind posting words of hate on a student's door and running away.   In the process, the targeted student reclaimed control of his identity, reasserting his faith as a Christian and his control of his reaction to his assailant's harmful words.  Rather than accepting the hate note's label of f@g, or even accepting that he was merely a powerless victim of a hate crime, he chose to be defined by his faith and love.
In writing his response to the hate note, the targeted student pointed to remembering the love he has received from supportive friends at Azusa Pacific as the turning point in moving through the pain of receiving this note to responding with love.  Part of the power of student and alumni groups like Haven at APU comes from the ability of the group to share the burden when one person is singled out for attack.   This support can equip students, alumni, faculty, and staff to respond with the courage and strength of their community when they are faced with discrimination and aggression.  Thankfully, APU Haven (the unsanctioned student group from Azusa Pacific University) was able to be there for this student, despite this incident sending all of them a chilling reminder that even their living quarters are unsafe.
At schools like APU, instances of aggression like this hate note are all too common.  For  The same week that the hate note was posted, more students anonymously posted comments on a community bulletin board declaring that LGBTQQI people in "no way…can be Christian" and seeking those who will "speak the truth" to LGBTQQI people at school without fear of being called out for their hate.  Once again the students of Haven and their allies were able to respond by posting words of love and support for LGBTQQI students at Azusa Pacific.  Responding to hostility is a daily challenge for students at an institution that feels it can only protect "God honoring diversity" while rejecting those forms of diversity that they refuse to give their stamp of approval. Indeed, over a week after the first hate note was left on a student's door, APU has continued to refuse requests to publicly comment on the hate note.
When an entire community is embattled, surrounding communities can play a key role in offering support.  The purpose of Safety Net is to ensure that LGBTQ & Allied students, alumni, faculty, and staff do not have to face the all too often hostile environments of their Christian Colleges and Universities alone.  Safety Net stands in solidarity with Haven, and we are working closely with their leaders to provide emotional, spiritual, and practical support in the face of this crisis.  Please join us in sending our support and love to Haven as we continue the work of overcoming evil with good.
Established in 2013, Safety Net equips and empowers Lesbian, Gay, Bisexual, Transgender, Queer, Questioning, and Allied (LGBTQ&A) student and alumni organizations from institutions of higher education where religion plays a significant role in the challenges faced by LGBTQ&A students, faculty, staff, administration, and alumni. Safety Net is a coalition of leaders from these groups primarily consisting of alumni and former staff from these institutions.