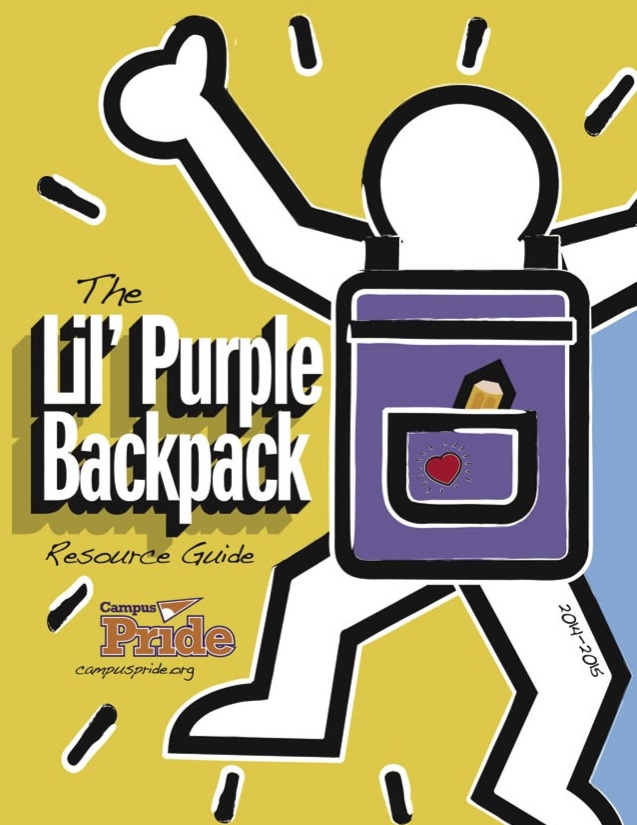 2014-15 Campus Pride Lil' Purple Backpack Student LeaderResource Guide Now Available
Looking for the answers to all of your LGBT college organizing and leadership questions in one place? The Campus Pride 3rd Annual Lil' Purple Backpack Student Resource Guide is just what you need. This Campus Pride Resource Guide is a 64+ page, full-color, pocket-sized resource guide filled to the brim with exciting student organizing and social justice tips and tricks, how-to's, and action guides for LGBT students, campus and community organizers, student organizations and staff and faculty.
Now you can order your FREE set of 25 resource guides for your campus. Quantities above 200+, please contact Campus Pride by phone at 704-277-6710 or by email at info@campuspride.org. The only cost is shipping/postage.
Published at the beginning of each academic year, the resource guide contains campus tools, features and teaching aids like:
how-to organizing tips for fundraising and event planning
brainstorming and student organization team-building tools
campus safety and inclusion check-lists
information about the Campus Pride Speaker's Bureau
other unique resources tailor-made for college and university students and faculty working to make their campuses safer and more inclusive for LGBT students
View and download the resource guide online.

Campus Pride is the leading national educational organization for LGBTQ and ally college students and campus groups building future leaders and safer, more LGBTQ-friendly colleges and universities. The organization provides resources and services to thousands of college students and nearly 1400 campuses annually. Learn more online at CampusPride.org.