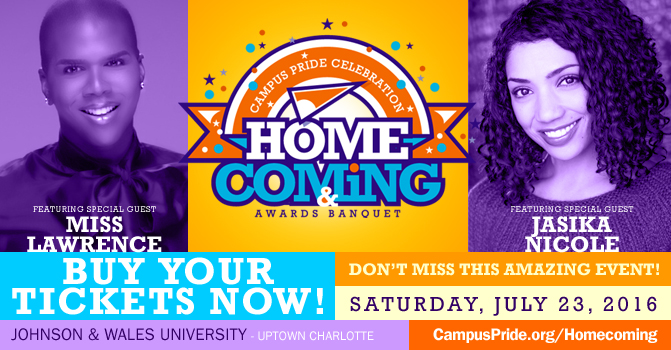 Campus Pride Homecoming & Awards Banquet celebrates 15 year anniversary featuring Scandal star, Jasika Nicole and Bravo and Empire star, Miss Lawrence
Campus Pride Homecoming and Awards Banquet will take place on Saturday, July 23, 2016, at Johnson & Wales University Wildcat Center at 235 S. Cedar Street in Uptown Charlotte.  Campus Pride Homecoming will be celebrating the 15 year anniversary of Campus Pride and the 10 year anniversary of Camp Pride, the nation's premiere LGBTQ Leadership Academy for undergraduate students.  Buy tickets and learn more online at CampusPride.org/Homecoming.
Scandal and Fringe, actor and artist, Jasika Nicole and fashion icon, celebrity stylist, and actor from Golden Globe-nominated TV series, Empire, Miss Lawrence will be the featured speakers at the Homecoming and Awards Banquet.  Campus Pride will recognize them for their significant contributions to the LGBTQ community through media with this year's Campus Pride Voice and Action National Leadership Awards.  Lifelong LGBTQ activist and Southern pioneer, Mandy Carter, will also be recognized for her outstanding service to social justice along with other special awards that night.
"Everyone is welcome to this Homecoming celebration as we celebrate Campus Pride's milestone with past, present, and future LGBTQ leaders," said Shane Windmeyer, executive director of Campus Pride. "This summer we honor the voices who have advocated for our community and recognize the dedication of those who continue this fight.  It's going to be a very special, memorable night."
Campus Pride Homecoming and Awards Banquet will be recognizing LGBTQ youth, alumni, and advocates by awarding Voice and Action National Leadership Awards.  These annual awards recognize the outstanding accomplishments of LGBTQ and ally leaders and those who support LGBTQ issues at colleges and universities across the United States.
Campus Pride will also be recognizing a number of outstanding student alumni of Camp Pride at this gala, occurring during the weekend of the 10th Annual Camp Pride LGBTQ Leadership Academy, who have provided service and advocacy beyond the mission of Campus Pride, through the Champion of Campus Pride Award.  To nominate students or Camp Pride alumni, please visit CampusPride.org/Champions.
Tickets
General Admission | $85.00 per ticket
Camp Pride Alumni / Current Student (with ID) | $42.50 per ticket
Table Sponsor | $650 for 1 table with 10 seats
Location
Johnson and Wales University
JWU Wildcat Center
235 S. Cedar Street
Charlotte, NC 28202

About the Speakers
Jasika Nicole is best known for her role as Agent Astrid Farnsworth on the hit JJ Abrams sci-fi series FRINGE on Fox and has a recurring role on ABC's SCANDAL as Kim, Huck's wife.
Jasika made her feature film debut in the ballroom-dancing movie TAKE THE LEAD with Antonio Banderas, and starred alongside Natasha Richardson and Molly Shannon in THE MASTERSONS OF MANHATTAN, the highly praised TV pilot directed by James Burrows; as well as on FOX's THE RETURN OF JEZEBEL JAMES with Parker Posey and Lauren Ambrose. Her most recent film, SUICIDE KALE, which she both produced and stars in, is receiving high praise from the indie film community it won Best Feature at the Queer Hippo Festival. jasikanicole.com.
Miss Lawrence is the personality and talent behind Atlanta's upscale, boutique salon Lawrence Washington Salon.
Having trained at the Paul Mitchell Institute, Lawrence has built a solid reputation as the go-to stylist for clients like Kenya Moore, Jennifer Holiday, Ciara, Serena Williams Elise Neal, and Angela Basset. His Pressed For Time Salon in Atlanta has become a destination for Atlanta's top executives and socialites, all of who rely on Miss Lawrence and his team of experts for cutting-edge, sophisticated designs.
"I am so fortunate to be able to live my dreams, but there are so many other LGBTQ people who hide in the shadows," Miss Lawrence says. "Hopefully, I help them discover that they can have full, rich lives exactly as they are." Learn more.
Campus Pride is the leading national educational organization for LGBTQ and ally college students and campus groups building future leaders and safer, more LGBTQ-friendly colleges and universities. The organization provides resources and services to thousands of college students and nearly 1400 campuses annually. Learn more online at CampusPride.org.