College Administrations Must "Articulate a Clear Plan to Combat Systemic Racism in Admissions"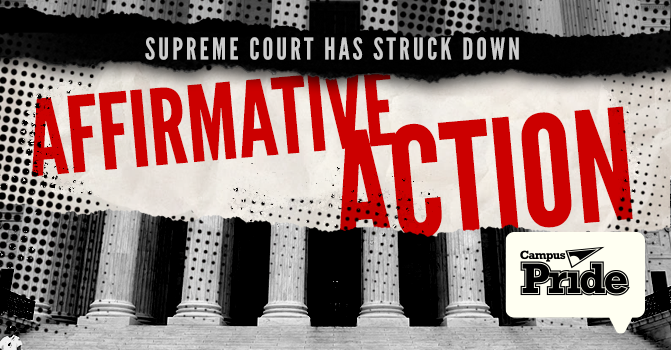 CHARLOTTE, N.C., June 29, 2023 — Campus Pride decries the Supreme Court's ruling in Students for Fair Admissions, Inc. v. President and Fellows of Harvard College, which prohibits colleges and universities from considering race as an independent factor in admissions. This decision adds to pervasive racism and the real challenges LGBTQ+ students of color are facing today.
The court found that affirmative action policies at Harvard University and the University of North Carolina violate the Equal Protection Clause of the Fourteenth Amendment. The ruling reverses decades of decisions on affirmative action that began with 1978's Regents of the University of California v. Bakke, in which the court supported the consideration of race as a factor in admission, while condemning the use of racial quotas.
"The Supreme Court's decision eliminates a critical tool that helps ensure equity and diversity in higher education," said Campus Pride Founder, CEO, and Executive Director Shane Mendez Windmeyer. "Systemic racism is real and pervasive, and campuses should be able to use every tool at their disposal to empower and uplift students of color. We also know that students of color are more likely to identify as LGBTQ+ and we are deeply concerned about growing barriers to higher education for LGBTQ+ students of color, who are currently facing mounting legislative attacks on their identities and—with this decision—fewer opportunities to gain admission to college."
As we speak out against this ruling, Campus Pride asks others to do the same, and we redouble our commitment to supporting student leaders in creating campuses where all students—including LGBTQ+ students of color—are afforded the same opportunities to succeed and thrive.
"Now more than ever, it is absolutely vital that every single college and university articulate a clear plan to combat systemic racism in admissions—and put forth policies and programs that level the playing field, encourage and empower students of color," said Windmeyer.
# # #
ABOUT CAMPUS PRIDE
Since 2001, Campus Pride has been the leading national organization dedicated to building future LGBTQ and ally leaders and creating safer communities at colleges and universities. Learn more at CampusPride.org.