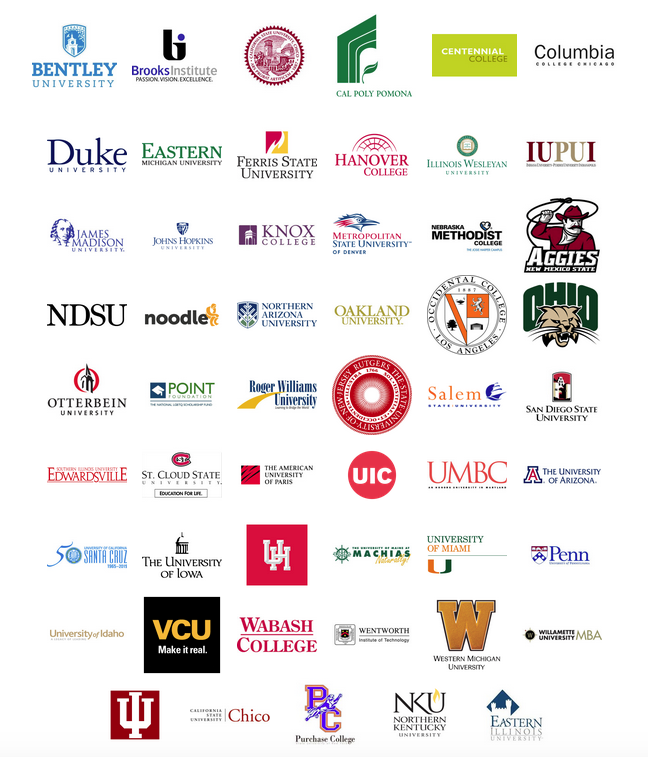 CHARLOTTE (March 19, 2015) – Hundreds of students will meet with representatives from over 50 colleges today during the first-ever online college fair specifically focused on helping lesbian, gay, bisexual, transgender, queer and/or questioning (LGBTQ) and ally students find colleges and universities that are inclusive and supportive.
Hosted by Campus Pride and GLSEN, with support from Toyota, the online fair allows students to meet virtually with representatives from colleges, universities and scholarship funds to talk about issues of particular interest to LGBTQ students, including discrimination policies, gender-neutral housing and access to LGBTQ-focused student organizations.
As part of the online fair, Campus Pride and GLSEN also will host Twitter chats focused on finding an LGBTQ-friendly campus, financial aid and scholarships, and tips for applying and making the most of the first year on campus. Using the hashtag #LGBTQcollege411, students are able to ask recruiters, advisors and current college students for advice on everything from filling out financial aid forms to which clubs to join on campus.
"Despite the significant strides colleges and universities have made in recent years to be more inclusive and supportive of LGBTQ students, many are still unwelcome environments or are located in communities that are," said Campus Pride Executive Director Shane Windmeyer.
"Despite this and the negative experiences many LGBTQ students encounter in high school, the majority still want to pursue higher education. We have to ensure that they all have access to the colleges and universities that will be most welcoming to them."
"LGBTQ students deciding on a college or university have to contend with a variety of questions, including whether the school has gender neutral housing or a discrimination policy that protects them," said Dr. Eliza Byard, GLSEN's Executive Director. "The online fair helps to LGBTQ-Friendly Online College Fair, Presented by Toyota answer many of these questions and more. As the leading voice for LGBTQ students in K-12 education for the past 25 years, GLSEN is committed to ensuring that students have access to the information they need to succeed in the next phase of their education."
The online fair is part of a partnership between GLSEN and Campus Pride, expanding Campus Pride's LGBTQ-friendly college fairs, which began in 2007, to eight cities across the country over the past year. In addition to the in-person fairs, the online college fair supports LGBTQ students in finding friendly higher education options regardless of where they live.
"Studies have shown that young people who are unable to attain a post-secondary education are less likely to gain full access to our country's economic, political and social opportunities," said Mike Groff, President and CEO of Toyota Financial Services. "Across the Toyota family, we are particularly proud to be the presenting sponsor of the first-ever LGBTQ-friendly online college fair. Joining Campus Pride and GLSEN is an extension of our efforts to help young people receive the support needed to succeed in their academic careers and in life regardless of their sexual orientation or gender identity."
Participating colleges and universities include Indiana University-Purdue University Indianapolis, North Dakota State University, Occidental College, Rutgers University, San Diego State University, the University of Illinois at Chicago, University of Arizona and University of Miami. A full list of participating universities can be found at www.campuspride.org/collegefair.
About Campus Pride
Campus Pride is the leading national educational organization for LGBTQ and ally college students and campus groups building future leaders and safer, more LGBTQ-friendly colleges and universities. The organization provides resources and services to thousands of college students and nearly 1400 campuses annually. Learn more online at www.CampusPride.org.
About GLSEN
GLSEN is the leading national education organization focused on ensuring safe and affirming schools for all students. Celebrating its 25th year, GLSEN envisions a world in which every child learns to respect and accept all people, regardless of sexual orientation or gender identity/expression. GLSEN seeks to develop school climates where difference is valued for the positive contribution it makes to creating a more vibrant and diverse community. For information on GLSEN's research, educational resources, public policy advocacy, student organizing programs and educator training initiatives, visit www.glsen.org.