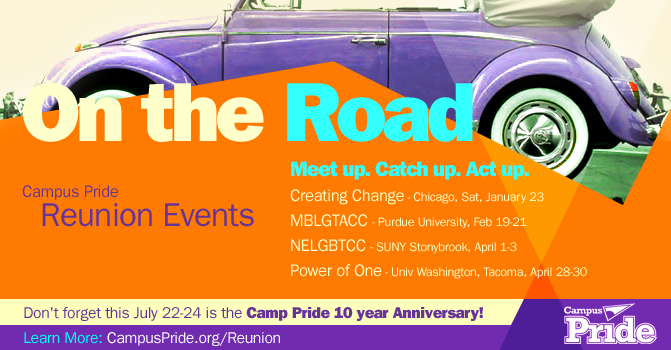 This year Campus Pride is gearing up to celebrate its 10-Year Anniversary for Camp Pride Summer Leadership Academy. Camp Pride Alumni across the nation are meeting up, gearing up and preparing for the one-time Camp Pride Reunion Weekend July 22-24, 2016 in Charlotte, NC.
You can find other Camp Pride Alumni from 2007-2015 at the following events. Let us know you'll be there!
​On The Road: Camp Pride Reunion Events
Meet up. Catch up. Act up.
Creating Change – Chicago, Sat, January 23
MBLGTACC – Purdue University, Feb 19-21
NELGBTCC – SUNY Stonybrook, April 1-3
Power of One – University of Washington, Tacoma, April 28-30
​Don't forget this July 22-24 is the Camp Pride 10 year Anniversary!
Do you plan to attend the Camp Pride Reunion Weekend? Sign up here: CampusPride.org/Reunion​
Campus Pride is the leading national educational organization for LGBTQ and ally college students and campus groups building future leaders and safer, more LGBTQ-friendly colleges and universities. The organization provides resources and services to thousands of college students and nearly 1400 campuses annually. Learn more online at CampusPride.org.