139 campuses documented as "not safe" for LGBTQ students on this year's worst listing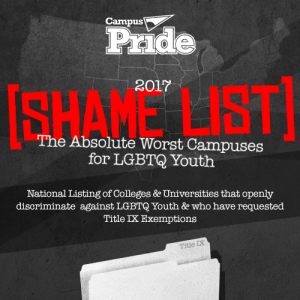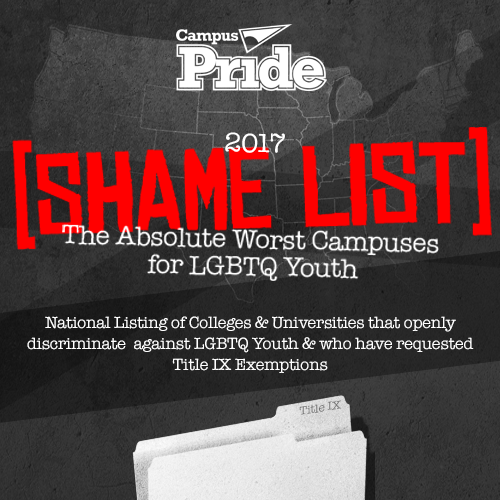 (Charlotte, NC – September 13, 2017) Campus Pride today releases its 2017 Shame List highlighting for the second year in a row a national listing of "The Absolute Worst Campuses for LGBTQ Youth." Up from 102 campuses last year, the national listing includes 139 campuses that openly discriminate against LGBTQ youth in policies, programs and practices as documented on the site listing.   Find the detailed list online at CampusPride.org/ShameList
According to Campus Pride, the 139 campuses have a learning environment that is not supportive and "not safe" for LGBTQ people, particularly transgender students, staff and faculty. Seventy of the colleges listed have received Title IX religious exemptions to allow discrimination against LGBTQ people and 32 campuses have pending Title IX exemption requests. This is up from 58 campuses last year holding discriminatory Title IX religious exemptions and 17 campuses having pending requests.
"The Shame List uncovers the religion-based bigotry that is unsafe, harmful and perpetuates harassment toward LGBTQ youth. Everyone has a right to know that these 'absolute worst campuses for LGBTQ youth' do exist and what they are doing to discriminate in policies, programs and practices," said Shane Windmeyer, Executive Director of Campus Pride. "That is what the Shame List does as a resource for youth and families – it gives them all the information to make the best decision for their young person, where they will be safe and feel welcomed."
The Shame List was first published online December 1, 2015 as a way to highlight fifty-seven campuses who had received or requested Title IX exemptions to freely and openly discriminate against LGBTQ youth. At that time, the campuses applying for these discriminatory waivers did so privately. It was not public information.  According to Campus Pride, often times even faculty, staff and students did not know.
Under the Obama Administration, the United States Department of Education began to publish the letters of campuses requesting Title IX exemptions online in Spring 2016.  Campus Pride has filed for Freedom of Information Act (FOIA) requests quarterly and also receives bias reports through its website.  The criterion to be the "absolute worst" campus includes, at minimum, either of the following: 1) Received and/or applied for a Title IX exemption to discriminate against LGBTQ youth and/or 2) Demonstrated past history and track record of anti-LGBTQ actions, programs and practices.
"Now more than ever we need the Shame List as a resource. Schools on this list must do a lot better, developing faith leaders of tomorrow," said Donald Scherschligt, a recent college student at Westmont College, one of the colleges on the Shame List, and the volunteer program manager working on this project with Campus Pride. "The Shame List plays a vital role not only in helping youth make choices on where to go to school, but also in calling out, and holding the campus officials accountable, for the religion-based bigotry and harm where it begins – on these 'absolute worst' campuses."
According to Campus Pride, there have been attempts to "shut the list down" by those who are on the list or associated with the campuses. Others have attempted to thwart efforts to receive information from the U.S. Department of Education or have tried to disassociate from the listing. Windmeyer cited a letter sent this past year to the U.S. Department of Education from an organization representing some of the campuses citing the negative public attention of "lists" with this information. There was also a legal inquiry to the U.S. Department of Education, according to Windmeyer, asking if campuses could withdraw their Title IX exemption and then ask for the same exemption at another time in the future.
"That is when you know you are doing something important and begs the question: 'Why are these campuses concerned about letting people know that they have a Title IX religious exemption that discriminates against LGBTQ people or anti-LGBTQ actions, programs and practices. Why?,'" Windmeyer said.
This is the second year Campus Pride has released a listing of the worst anti-LGBTQ campuses across the country. Annually Campus Pride releases a "Best of the Best" listing highlighting college campuses with the most inclusive LGBTQ-friendly policies, programs, and practices. The 2017 Best of the Best list can be found online at Campuspride.org/2020bestofthebest. The full listing of 250+ LGBTQ-friendly campuses can be found online at CampusPrideIndex.org
"If you have an anti-LGBTQ policy, program or practice, put it on your Admission brochure. Otherwise Campus Pride will do it for you," Windmeyer concluded.
A detailed Shame List can be found online at CampusPride.org/ShameList   The listing will be updated annually. Any questions, or media inquiries, please call 704-277-6710 or email info@campuspride.org
(Alphabetical Order)
American Indian College
Anderson University
Andrews University
Appalachian Bible College
Arlington Baptist University
Asbury Theological Seminary
Asbury University
Azusa Pacific University
Belmont Abbey College
Bethany Global University
Bethel College
Bethlehem College and Seminary
Biola University
Blue Mountain College
Bob Jones University
Boston Baptist College
Brewton Parker College
Brigham Young University
Brigham Young University-Idaho
Bryan College
Cairn University
California Baptist University
Carson-Newman University
Catholic University of America
Cedarville University
Central Christian College of the Bible
Charleston Southern University
Charlotte Christian College and Theological Seminary
Clear Creek Baptist Bible College
College of Biblical Studies
Colorado Christian University
Compass College of Cinematic Arts
Concordia University Irvine
Corban University
Covenant College
Criswell College
Crown College
Dallas Theological Seminary
Dordt College
East Texas Baptist University
Elim Bible Institute and College
Emmanuel College
Evangel University
Faith Baptist Bible College and Theological Seminary
Faith International University and Seminary
Family of Faith Christian University
Florida College
Franciscan University of Steubenville
Freed-Hardeman University
Fresno Pacific University
Gateway Seminary
Geneva College
George Fox University
Gordon College
Grace Bible College
Grove City College
Hannibal-LaGrange University
Hardin-Simmons University
Harding University
Houston Baptist University
Howard Payne University
Indiana Wesleyan University
John Paul the Great Catholic University
Judson College
Kentucky Mountain Bible College
LABI College
Lancaster Bible College
Liberty University
Life Pacific College
Louisiana College
Manhattan Christian College
Maranatha Baptist University
Midwestern Baptist Theological Seminary
Mississippi College
Missouri Baptist University
Moody Bible Institute
Multnomah University
New Orleans Baptist Theological Seminary
North Greenville University
Northpoint Bible College
Northwest Nazarene University
Nyack College
Oak Hills Christian College
Ohio Christian University
Oklahoma Baptist University
Oklahoma Christian University
Oklahoma Wesleyan University
Olivet Nazarene University
Oral Roberts University
Ozark Christian College
Phoenix Seminary
Point Loma Nazarene University
Randall University
Reformation Bible College
Reformed Theological Seminary
Regent University
Rhema Bible Training College
Shepherds Theological Seminary
Shorter University
Simpson University
Southeastern Baptist Theological Seminary
Southeastern University
Southern Evangelical Seminary
Southern Nazarene University
Southern Wesleyan University
Southwest Baptist University
Southwestern Assemblies of God University
Southwestern Baptist Theological Seminary
Southwestern Christian University
Spring Arbor University
St. Gregory's University
Tabor College
The Baptist College of Florida
The Master's University
The Southern Baptist Theological Seminary
Toccoa Falls College
Trinity Baptist College
Trinity Bible College
Trinity International University
Truett-McConnell University
Union University
University of Dallas
University of Mary Hardin-Baylor
University of Mobile
University of Northwestern-St. Paul
University of the Cumberlands
Vanguard University
Virginia Baptist College
Wayland Baptist University
West Coast Baptist College
Westminster Seminary California
Westminster Theological Seminary
Westmont College
Wheaton College
William Carey University
William Jessup University
Williams Baptist College
Yeshiva University
Zaytuna College

Campus Pride is the leading national educational organization for LGBTQ and ally college students and campus groups building future leaders and safer, more LGBTQ-friendly colleges and universities. The organization provides resources and services to thousands of college students and nearly 1400 campuses annually. Learn more online at CampusPride.org.