$10 is all it takes.
CHANGE LIVES.   SAVE LIVES.
Campus Pride is participating in the only national LGBTQ giving day – GIVE OUT DAY – Tuesday, August 2, 2016!   We can win BIG PRIZES by getting as many individuals to give $10 or more.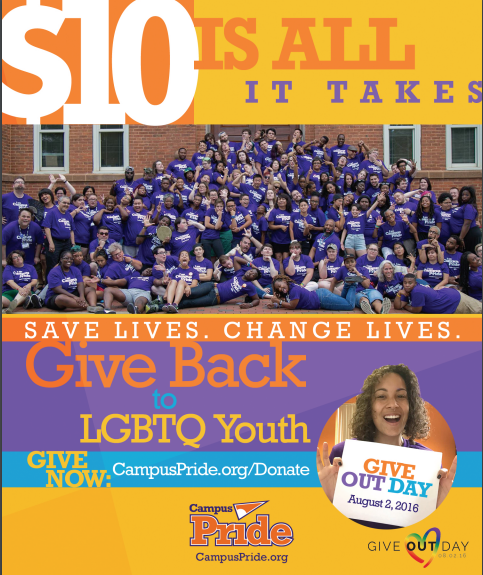 Help us win so we can continue our positive impact on LGBTQ youth lives –building future leaders and safer campus communities.
Give OUT Day | August 2, 2016
You can start giving NOW.

Please take 5 minutes and make a $10 or more donation.
Now through Give OUT Day donate $10 or more to support LGBTQ youth.
ABOUT CAMPUS PRIDE
Since 2001, Campus Pride has impacted thousands of students as well as improved the LGBTQ safety and campus climate at 1400+ two-year colleges, public and private four-year colleges and universities, technical and trade schools, HBCUs, women's colleges and religious institutions.
Over sixty percent of the work Campus Pride does is targeted toward under-resourced and under-represented rural campuses and Southern communities. Everything we do is with a small core staff, volunteers and primarily with the help of our young adult leaders who are passionate about these issues.
Campus Pride is the leading national educational organization for LGBTQ and ally college students and campus groups building future leaders and safer, more LGBTQ-friendly colleges and universities. The organization provides resources and services to thousands of college students and nearly 1400 campuses annually. Learn more online at CampusPride.org.