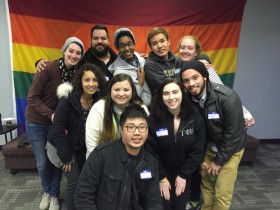 Campus Pride utilizes the time, talent and skills of students, faculty, staff and educators to fulfill our mission of creating safer, more LGBTQ-friendly colleges and universities. Volunteers help our organization continue to grow in supporting the needs of LGBTQ and ally student leaders and campus groups. In the coming weeks, there are several opportunities to volunteer with Campus Pride in our office or at an event.
Campus Pride is located in Charlotte, NC where there are many opportunities to volunteer and support LGBTQ youth. Please refer to the schedule below for our upcoming volunteer opportunities.
Please fill out the form to become a Campus Pride volunteer. You may also attend an in-person training/orientation training on the first and third Wednesday of every month.