Starting NOW! 30 Days to Give to Support LGBTQ Youth
Every $1 You Give is MATCHED up to $10,000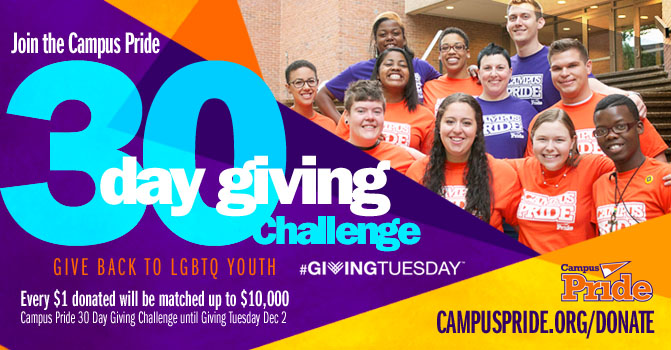 Hello, my name is Katie. I am the President of the Campus Pride Advisory Board and a member of the Board of Directors.

I want to personally ask you to please make a gift to Campus Pride this year – $10, $50 or whatever you can.

Starting today you can donate until Giving

Tuesday

on

Dec 2

. Every $1 will be DOUBLED up to $10,000.

We have 30 days – but please

Donate Now.

Please join Campus Pride in this

30 Day Giving Challenge

from

November 2 until December 2

on Giving

Tuesday

. Your donation supports LGBTQ and ally youth on college campuses across the country and in building future LGBT and ally student leaders.

Your donation of $10, $50 or more will help us reach our goal of $10,000 over the next 30 days. Every dollar will be doubled with a matching gift of $10,000 until Giving

Tuesday, Dec 2

.
Your donation to Campus Pride will directly benefit our programs for youth including:

* Supporting over 1400 colleges and universities across the United States in our mission to build safer, more LGBTQ-friendly colleges and universities

* Providing training for over 120 college students and staff at our annual Campus Pride, the nation's longest running LGBTQ college leadership academy

* Hosting LGBTQ college fairs throughout the county for LGBTQ youth and their families

* Strengthening the Campus Pride Index serving as a tool for over 600 colleges to increase safety and implement LGBTQ- inclusive policies, programs, and practices

We sincerely thank you for your support of Campus Pride and through your help can continue to provide resources, programs and services to support LGBTQ and ally youth. Thank you.

Yours Truly,

Katie Barnes,

Campus Pride Board of Director

& Advisory Board President
Campus Pride is the leading national educational organization for LGBTQ and ally college students and campus groups building future leaders and safer, more LGBTQ-friendly colleges and universities. The organization provides resources and services to thousands of college students and nearly 1400 campuses annually. Learn more online at CampusPride.org.