On Wednesday, April 27, Campus Pride was contacted by email about a student Title IX complaint that had been filed against Brigham Young University – Idaho.  Campus Pride confirmed with the U.S. Department of Education today that Brigham Young University – Idaho has received a Title IX exemption to discriminate against a transgender young person.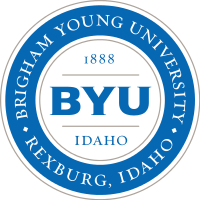 The Office for Civil Rights (OCR) confirmed via email today that Brigham Young University-Idaho received and, in March 2016, granted a religious exemption request of Brigham Young University – Idaho.  OCR also confirmed the closure of a Title IX investigation of Brigham Young Univeristy – Idaho in April 2016 because a previous decision precluded further proceeding with the investigation.
"No student should fear for their safety in higher education — and no college should be allowed to openly discriminate against youth using religion-based bigotry.   Tax payer dollars are being used to sanction discrimination toward LGBTQ youth.  This is harmful to these young people. It is shameful and wrong," said Shane Windmeyer, Executive Director of Campus Pride.
In December, Campus Pride created the #ShameList for the purpose of calling out the harmful and shameful acts of religion-based prejudice and bigotry. The list can be found online.  The list names each institution who has requested a Title IX exemption to openly discriminate against LGBTQ people due to their anti-LGBTQ religion-based bigotry. An educational institution that is "controlled by a religious organization" may apply for a Title IX exemption if it "would not be consistent with the religious tenets of such organization."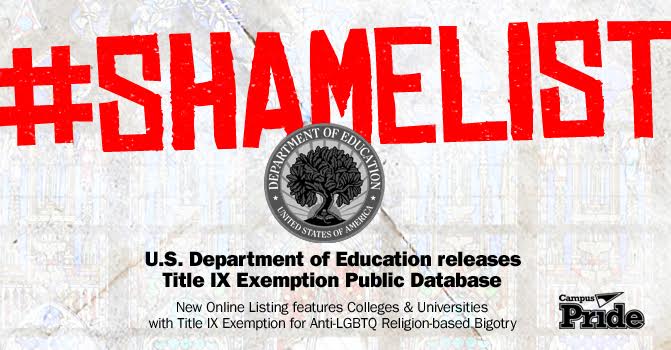 The U.S. Department of Education Office for Civil Rights released a new website database of all Title IX exemptions granted and pending.  The next update will list Brigham Young University – Idaho who recently received the exemption this March.
"Families and young people deserve to know who these campuses are.   These schools listed are not loving, welcoming, safe spaces to live, learn and grow.  They openly discriminate against young people in the worst possible way – by using religion-based bigotry to justify prejudice, fear and hate," said Windmeyer. "Campus Pride and our partners are committed to ensuring all youth have safe places, including our LGBTQ youth of faith."
Campus Pride has partnered with Soulforce in the #GiveBackIX Campaign to encourage student leaders and campus officials to take action against discriminatory Title IX exemptions.  Campus Pride will also continue to update its #ShameList online and draw attention to these campuses nationally as well as the outside orchestration of these Title IX exemptions by the anti-LGBTQ Alliance Defending Freedom.
"Discrimination is wrong," said Windmeyer. "Now more than ever, youth and families of all religious beliefs want to send their young person to a campus that is loving and welcoming, one that recognizes human dignity and worth of all people – not one that goes out of its way to hurt or harm a young person because of who they are."
Campus Pride is the leading national educational organization for LGBTQ and ally college students and campus groups building future leaders and safer, more LGBTQ-friendly colleges and universities. The organization provides resources and services to thousands of college students and nearly 1400 campuses annually. Learn more online at CampusPride.org.