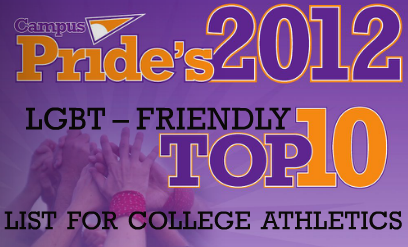 Colleges and universities must take responsibility for the academic success and safety of all lesbian, gay, bisexual, transgender and queer (LGBTQ) students-including their college athletes. Nobody knows where colleges and universities stand on inclusion and the safety of LGBTQ players, coaches and staff in college sports.In 2012 Campus Pride, the nation's leading nonprofit organization for LGBTQ and ally college students and campus groups, teamed up with Compete Magazine to find out which U.S. campuses are leading the way by compiling he first-ever national "LGBTQ-friendly Top 10 List for College Athletes."
Campus Pride's goal with the Top 10 List is to being the dialogue of LGBTQ safety and inclusion in college athletics while providing the necessary research to broaden efforts to combat anti-LGBTQ conduct, bias and slurs in sports. This Top 10 List is a first step in the process. In Fall 2012, Campus Pride released its full report, the most comprehensive national collegiate research to date, sharing the experiences of nearly 400 self-identified LGBTQ athletes and providing necessary resources for further progress on LGBTQ issues in college athletics.
Campus Pride and Compete Magazine are proud to highlight these colleges and universities for their progressive leadership efforts to address LGBTQ issues in college sports. While the Top 10 List highlights these positive efforts in relation to LGBTQ-friendly policies, programs and practices, it is also worth nothing that there is sill lots more work to be done around LGBTQ issues in college athletics – especially transgender athletic issues.
Special recognition goes to Pat Griffin of GLSEN'S Changing the Game; Cyd Zeigler, founder of OutSports.com; former college athlete Brain Sims; national sports writer Dan Woog; and Shelly Weiss, founder of OUTmedia for their input and expertise during this process. Online nominations were gathered over a ten month period in 2011 in tandem with the launch of Campus Pride's newly-formed "Out to Play Project," designed to address anti-LGBTQ slurs, biases and conduct in college sports. The research, review and final selection process was handled by Campus Pride. When available, each of the following college profiles has a star rating from the Campus Pride Index (www.CampusPrideIndex.org), scoring the overall LGBTQ-friendly campus climate of the college, five stars being the highest rating.
If you would like to nominate your college for the next year's edition of their "LGBT-friendly Top 10 List for College Athletics," please go online to www.CampusPride.org/OutToPlay.
Bates College BOBCATS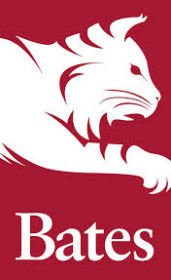 Lewiston, Maine
NCAA Div III, New England Small College Athletic Conference & Colby-Bates-Bowdoin Consortium
LGBT-Friendly Campus Climate Index Rating: No Rating Available
Bates College athletics has a history of embracing diversity, especially LGBTQ issues and out players.  It was no different with our transgender track and field athlete Keenlin Godsey. Bates College is actually credited for helping Godsey discover and explore his gender identity. Until a freshman seminar class introduced him to the transgender concept, Godley had always seen his sexuality as undefined. But his track and field coach supported him throughout the entire process of coming out as trans on campus. After the coach took time to learn about transgender issues, he then facilitated a team dialogue, raising awareness about being trans.
While Godsey did encounter harassment and challenges from opponents on other teams, Bates College officials stood by him, educating themselves on the often overlooked, misunderstood issues faced by trans athletes on college campuses. Since then, the entire Bates College athletic department has individually signed he "Ally Athlete" pledge. This affirms each person's commitment to a safe environment in college sports and "to promote he best of athletics by making all players feel respected on and off he field."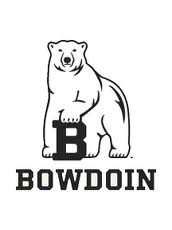 Bowdoin College POLAR BEARS
Brunswick, Maine
NCAA Div. III, New England Small College Athletic Conference & Colby-Bates-Bowdoin Consortium 
LGBTQ-Friendly Campus Climate Index Rating: 4.5/5
Bowdoin College has institutionalized its commitment to an LGBTQ-Friendly climate by creating an LGBTQ-inclusive athletic program at all levels- from the athletic director to coaches to players to staff. A strong partnership exists between the Center of Sexual Diversity and the athletic department, providing consistency in training for LGBTQ issues. Even beyond the campus the Bowdoin athletic director serves as a spokesperson for transgender inclusion and overall LGBTQ progress within the NCAA
Over the years a number of out players along with the current out men's tennis coach Colin Joyner have opened the closest doors at Bowdoin College. The athletic department considers itself to be an active partner the LGBTQ awareness and purchases over 500 shirts for student athletes to wear every year with the words: "Respect All Sexualities and All Genders." The department also plans an annual Anything but Straight in Athletics program that includes national LGBTQ speakers and athletes; it also encourages out players and coaches to share their stories to create and support for others. An annual dinner with over 65 emerging sophomore leaders representing every sport developed an athletic-wide effort to promote a more welcoming team culture for LGBTQ issues. George Aumoithe, Bowdoin student winner of Campus Pride's Voice and Action Award, chose as his prize from OUTmedia to bring in ESPN and CNN's LZ Granderson who played to a packed audience that drew not only LGBTQ students but also coaches, mangers, and players.
Columbia University LIONS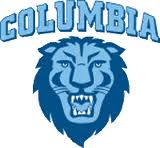 New York, NY
IVY League, NCAA, DIV. I
LGBT-Friendly Campus Climate Index Rating: 4.5/5
Columbia University was nominated and selected for the Top 10 List for a specific reason. Not only is there an on-going active presence of out gay athletes in sports, like the swim team, but the university also has one of the nation's most outspoken and visible straight allies as a coach-Hudson Taylor. One of many nominations echoed these sentiments: "I chose to nominate Columbia University because of my coach and friend, Hudson Taylor, due to the impact he has had on myself, my teammates and others on LGBTQ issues in college sports."
Taylor, a three-time NCAA All-American wrestler who now serves as the university's assistant coach of the wrestling team, founded the national organization, Athlete Ally. His transformative leadership has not only impacted Columbia's wrestling team, it has also impacted college sport teams across the country. One student athlete stated,  "Being raised in Alabama, I had not seen many athletes with the courage to stand up for the LGBTQ community. … After having Hudson as my coach for a year, I can fortunately say I have stopped using any language that could be seen as discriminatory; I am a member of Athlete Ally and I support all LGBTQ rights."
Columbia University reminds us that being LGBTQ-friendly requires hiring coaches and staff who uphold and enforce values of respect and dignity among their players. Taylor has drastically changed the outlook of many athletes at Columbia University, bring a new honor code to sportsmanship.
Indiana University HOOSIERS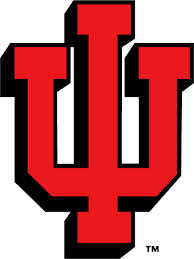 Bloomington, Ind.
Big 10, NCAA, DIV. I 
LGBT-Friendly Campus Climate Index Rating: 5/5
Indiana University (IU) has come a long way since the days of Bobby Knight. The campus athletic department has been an ongoing, active partner with the office of GLBT Students Services. In June 2010 the athlete program even participated in Indianapolis PRIDE with The Advocate, noting that it was the first time an athlete program participated in a PRIDE event. The athletic program also sponsor an LGBTQ Fan Appreciation Day offering special deals on tickets and refreshments to LGBT friends and family. Athletic staff joined the "Safe Zone" program and displayed stickers on their doors expressing their commitment to being an ally to LGBT students. And a number of coaches and staff also participated in LGBTQ sensitivity training with sports writer Dan Wood and attended a lecture by out former NFL football player Esera Tualo
The head of GLBT Student Services Doug Bauder nominated the IU Department of Athlete. In his nomination he mentioned that IU athletics has been and continues to be "deserving and a true team partner in creating inclusion for all students. As a result, the athletics department recently received the IU GLBT Spirit Award given by Bauder's office to individuals and organizations supportive of LGBTQ diversity and supportive of LGBTQ diversity and acceptance. The athletic department has put words inclusion into action for LGBT athletes, setting the bar high for other schools in the Big Ten Conference.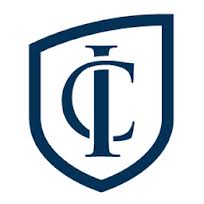 Ithaca College BOMBERS
Ithaca, NY
Empire Eight, DIV. III
LGBTQ-Friendly Campus Climate Index Rating: 5/5
With many notable LGBTQ-inclusive efforts happening in the area of college athletic, Ithaca College continues to be a leader in higher education and diversity. Numerous educational programs, speakers and training have been implemented and sponsor by the athletic department. Additionally, there are many positive LGBTQ-friendly advocates, including Ellen Staurowsky and Annemarie Farrell, who have served as outstanding leaders and coaches at Ithaca. Their efforts helped Ithaca College host the 2009 Sport, Sexuality and Culture conference featuring the work of nearly 125 scholars from North America, Asia, Europe and South America. In partnership with the Ithaca College Center for LGBTQ Education, Outreach and Services, Farrell also took LGBTQ and Ally students from the center to work as interns at the 2008 Beijing Olympic Game.
As a result of these LGBTQ investments by Ithaca College coaches, two Ithaca student athletes, Morgan Ewing and Ruthie Goff, formed the Association for Gay and Straight Student-Athletes (AGSSA). This student campus organization is dedicated "to change prevailing attitudes and perceptions in regards to homosexuality, athletes, and athletics, to combat homophobia and heterosexism in sports and athletes." Most importantly, the AGSSA seeks to provide outreach for openly gay student athletes while encouraging an LGBTQ-affirming dialogue between athletes, coaches and teams, Although still rare in higher education, such LGBT-focused student athlete organizations provide positive proof that Ithaca College is on the right track.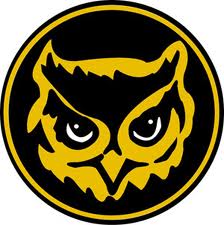 Kennesaw State University OWLS
Kennesaw, GA
Atlantic Sun, NCAA DIV. I
LGBT-Friendly Campus Climate Index Rating: 4/5
While it may surprise some to find Kennesaw on this list, the primary reason it has being recognized as gay-friendly is due to the perseverance of openly gay coach TJ Greggs. Beginning as a volunteer assisting the struggling women's tennis program, Greggs also helped to create a new men's tennis program. Based on the success of tennis programs, Greggs was later offered a full-time job in athletics without any concerns about him being gay. With support from the school's athletic director, he continues to provide LGBTQ sensitivity "Safe Space" training for students, faculty, staff and coaches across the Kennesaw campus.
Thanks to the effort of Greggs and others, Kennesaw State has been actively working to make the campus, including athletics, a more LGBTQ-friendly one. As a featured speaker at the annual campus diversity forum, the athletic director spoke about his vision for an inclusive athletic program. The university as an out champion for equality has also recognized Greggs. One-nomination states: "Greggs is a role model as a coach who lives by example out and honestly." Kennesaw State also participated in the national It Gets Better project, and Greggs recorded his own story.
Undoubtedly the athletic program has been impacted positively by having an out gay coach on the athletic staff. Greggs is one of few openly gay tennis coaches in college sports. Out coaches and players have a vital role, along with LGBTQ-inclusive policies, in creating an affirming environment in creating an affirming environment in college athletics.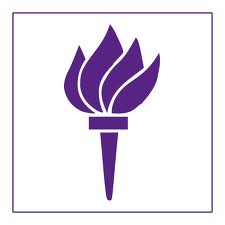 New York University VIOLETS
New York, NY
United Athletic Association (UAA), NCAA DIV. III
LGBT-Friendly Campus Climate Index Rating: 4/5
In support of all its men's and women's athletic teams, New York University (NYU) is committed to equality of opportunity, inclusion and equity. As members of the NYU community, the university expects students to be thoughtful, to take responsibility for their own actions, to practice responsible citizenship and to respect the right of others.
The NYU Department of Athletics in valuing these principles actively partners with the NYU LGBTQ and Queer Student Center. The Student Athletic Advisory Committee (SAAC), representing all twenty-one NYU varsity sports, participated in the fall 2011 "Safe Space" training with nearly forty coaches and athletic staff participating. SAAC is an annual co-sponsor of "Ally Week" that engages athletes in becoming allies to LGBTQ campus students. For release at this year's Ally Week celebration, the students have even created an "It Gets Better Project" video. Featured in the video are the captain of the men's volleyball team and the head coach of the women's volleyball team sharing their positive coming out stories in college sports.
One student athlete comments that "NYU is extremely gay-friendly in sports and elsewhere. I have never felt more welcome and accepted. Despite my fears, my coming out has helped me grow as an athlete and in my self-esteem." NYU has built a strong foundation of LGBTQ inclusion in college athletics through its policies which are into practice on a daily basis.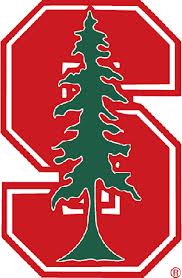 Stanford University CARDINAL
Stanford, CA
Pac-12, NCAA DIV. I 
LGBTQ-Friendly Campus Climate Index Rating: 5/5
Hailed as the number one athletic department in the country, Stanford University has also been viewed as a progressive national leader on LGBTQ issues. With out athletes  and the LGBTQ Community Resource Center providing outreach and training to student athletes and coaches, Stanford has consistently scored high from Campus Pride for the overall campus climate for LGBTQ students.
"Stanford has given me as an out athlete the care and respect to be who I am openly and honestly. I value my teammates and experiences on campus and believe it is a good place to be out in sports, " shared in out athlete. Many of the effort at Stanford University are the result of individual coaches and players standing up in the face of harassment on campus.
Stanford is not immune from bias and slurs in sports. Out players have varied experiences and the fear of coming out is still as real here as it is everywhere else. But Stanford has been a national beacon of hope for LGBT students, continuing critical improvements in its LGBTQ policies, programs and practices. Nominations for Stanford University all cite LGBTQ-inclusive atmosphere and the level of openness.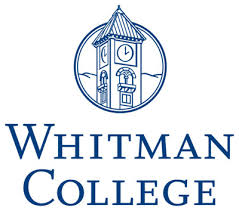 Whitman College MISSIONARIES
Walla Walla, WA
Northwest Conference, NCAA DIV. III
LGBTQ-Friendly Campus Climate Index Rating: 5/5
Whitman College competes to win. And the same spirit prevails when it comes to being LGBTQ-friendly giving the college a high score on the Campus Pride LGBTQ-friendly Campus Climate Index.
In fall 2012 Whitman's entire athletic program stood up against LGBTQ bias by endorsing the "Athlete Ally" pledge and providing sensitivity training to its athletes. The athletic department not only promotes diversity and tolerance, it also holds student athletes accountable for their language and for promoting values of respect in athletics. Student athletes initiated the campaign to have athletes serve as campus role model to create positive change.
One nomination stated: "Whitman has truly exceled in creating a more inclusive place for LGBTQ student athletes. Student athletes are committed to being allies and it shows on campus. We all have a role to play in creating an accepting atmosphere on campus and in sports."
Whitman College unequivocally out-measures other colleges in the Northwest Conference as being LGBTQ inclusive, standing out as an ally and a voice for inclusive, standing out as an ally ad a voice for inclusion. As long as that voice is heard in athletics, Whitman will continue being viewed as a progressive leader.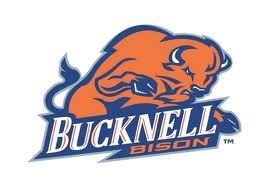 Bucknell University BISON
Lewisburg, Penna.
Patriot League, NCAA, Div. 1
LGBT-Friendly Campus Climate Index Rating
Bucknell University has dedicated a tremendous amount of resources to training various internal communities about LGBTQ issues, including fraternities and college athletics. Longtime Bucknell University LGBTQ pioneer Fran McDaniel is credited with much of the advocacy work that created awareness around LGBTQ issues in the university's athletic program Even after her passing in January 2011, the tireless work of this former director of the Office of LGBTQ Awareness continues at Bucknell.
Track and field athlete Sean Coyne is one of the out gay athletes who worked with McDaniel during his emotionally difficult coming out to share his story at Bucknell. Coyne credits Coach Danielle Hobson and McDaniel for his activism based on his positive coming out experience. "Both helped encourage my personal journey and LGBTQ advocacy," shared Coyne. He decided in 2008 to work with McDaniel on creating a "Safe Space" program for the sports teams meant to institutionalize Bucknell's LGBTQ commitment beyond one coach and one player
Today the university has more than a dozen athletic teams that have participated in the "Safe Space" training and each team commits every year to being "…a place where the rules guard each person's self respect and dignity and strongly encourage everyone to respect others." Bucknell University's "Safe Space" team approach to integrating its LGBTQ office with athletics is one based on the universal values of respect, honor and sportsmanship, a good model for other college athletic programs to follow.