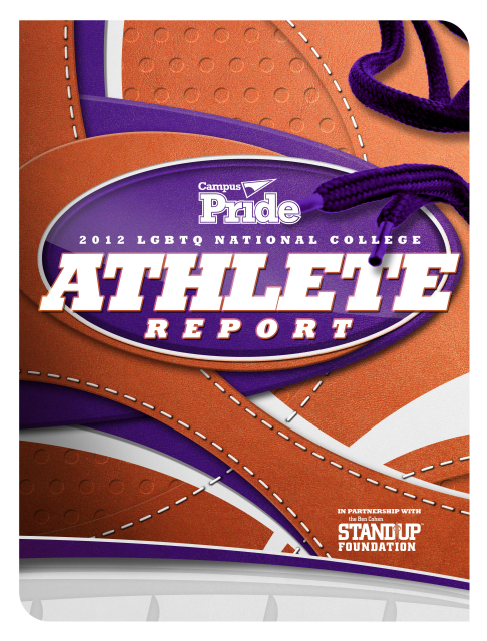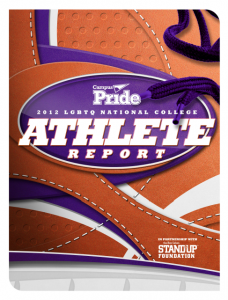 The settings of college campuses have improved for lesbian, gay, bisexual, transgender, and questioning (LGBTQ) students over the years (Rankin, 2003; Rankin, Weber, Blumenfeld, & Frazer, 2010). Yet when we examine the experiences of LGBTQ students, one group routinely missing from studies are student-athletes. What are the experiences of LGBTQ intercollegiate student-athletes? Are their experiences different than other LGBTQ students on campus? Do these experiences vary by sport or division? What are the influences of these questions on LGBTQ student-athletes? Campus Pride, the nation's leading educational organization for LGBT students and campus groups, sought to respond to these questions in the Campus Pride 2012 LGBTQ National College Athlete Report.  The following is a brief summary of a few highlights from the forthcoming full report to be officially released by Campus Pride in mid-November.  Pre-order your copy of the report online.
Who are our Student-Athletes?
The dataset collected for this project is comprehensive and diverse. It includes responses from student-athletes of each identity and from all geographic areas, sports, and NCAA divisions. Demographically, LGBQ student-athletes (n = 394) share other marginalized identities more frequently than heterosexual student-athletes, including being women, Student-Athletes of Color, having a disability, not having a Christian spiritual affiliation, and not playing in a high-profile sport. Although there were only seven student-athletes who identified as transgender, we can say that they are much more likely to identity as LGBQ, all of them did not participate in a high-profile sport, and five of the seven are in Division III.
What Did We Find?
It is clear from the findings that climate affects LGBQ student-athletes' academic and athletic outcomes. LGBQ student-athletes generally experience and perceive a more negative climate than their heterosexual peers in relation to four climate variables: Perceptions of Climate, Perceptions of Respect, Athletic Department Addresses Discrimination, and Diversity Leadership from Athletic Personnel. LGBQ student-athletes experience a more negative climate than their heterosexual peers which affects their academic success as well as their athletic identity.
The results also suggest that experiences and perceptions of climate affect student-athlete well-being. And student-athletes do experience harassment—LGBQ student-athletes twice as much as their heterosexual peers. In general, LGBQ student-athletes' experiences with harassment parallel the overall sample in that it's based on sport-related reasons and is usually perpetrated by coaches and other student-athletes, most frequently at practice. However, there are many less frequent circumstances that were disproportionately reported by LGBQ student-athletes. They are almost 28 times more likely to report that harassment is based on their sexual identity. They are also pressured to be silent about their identity over four times as much, and are singled out as the resident authority on their sexual identity almost six times as frequently as heterosexual student-athletes.
The proportion of LGBQ student-athletes reporting harassment in on-campus housing or in an off-campus setting is three times that of heterosexual student-athletes. In addition, the percentage who reports that the source of harassment is a student on campus (not an athlete), a student-athlete at a different institution, or Campus Security/Police, is two to four times higher. LGBQ student-athletes are less likely to consider leaving the university and are more likely to talk to a coach or make a formal complaint to a university official.
It's clear that, while many of the experiences of LGBQ student athletes are similar to the general population, there are several ways in which their lives are very different from their heterosexual peers. Overall, "in-house" harassment, whether intentional or not, is the most prevalent kind experienced by our respondents. It follows, therefore, that athletic departments have the power to improve the collegiate experiences of the student-athletes in their charge through cooperation with athletic personnel, student-athletes, and faculty members at their institutions.
However, in order to effectively address the experiences of LGBQ student-athletes in particular, it behooves athletic personnel to look beyond the obvious and attend to the myriad of ways in which LGBQ student-athletes encounter discrimination and harassment as they strive to achieve both academic and athletic success.
Footnotes:
The report is based on a secondary analysis of data from the 2009 Student-Athlete Climate Study (SACS)[1] that included 8,481 student-athletes enrolled in American universities representing all intercollegiate divisions and all NCAA sports. The purpose of LGBTQ Student-Athlete project was to examine the climate[2] for the 394 self-identified LGBTQ student-athletes in the SACS project. We explored how the climate (campus, departmental, team) influences LGBTQ student-athletes' identity and success.
References
Rankin, S. (2003). Campus climate for gay, lesbian, bisexual, and transgender people: A national perspective. New York: National Gay and Lesbian Task Force Policy Institute.
Rankin, S., & Reason, R. D. (2008). Transformational tapestry model: A comprehensive approach to transforming campus climate. Journal of Diversity in Higher Education, 1(4), 262-274. doi: 10.1037/a0014018
Rankin, S., Weber, G., Blumenfeld, W., & Frazer, M. S. (2010). 2010 state of higher education for LGBT people. Charlotte, NC: Campus Pride.
---
[1] The research presented in this paper is part of the Student-Athlete Climate Study (SACS).  The LGBT research findings for this report were funded by Campus Pride.
[2] For the purposes of this project, climate is defined as "the current attitudes, behaviors, and standards and practices of employees and students of an institution" (Rankin & Reason, 2008, p. 264) and is measured by seven factors that gauge student-athletes' (a) perceptions of respect, (b) perceptions of climate, (c) personal comfort with teammate diversity, (d) interactions with faculty members, (e) interactions with athletic personnel, (f) leadership from athletic personnel related to diversity, and (g) perceived extent to which the athletic department addresses discrimination.